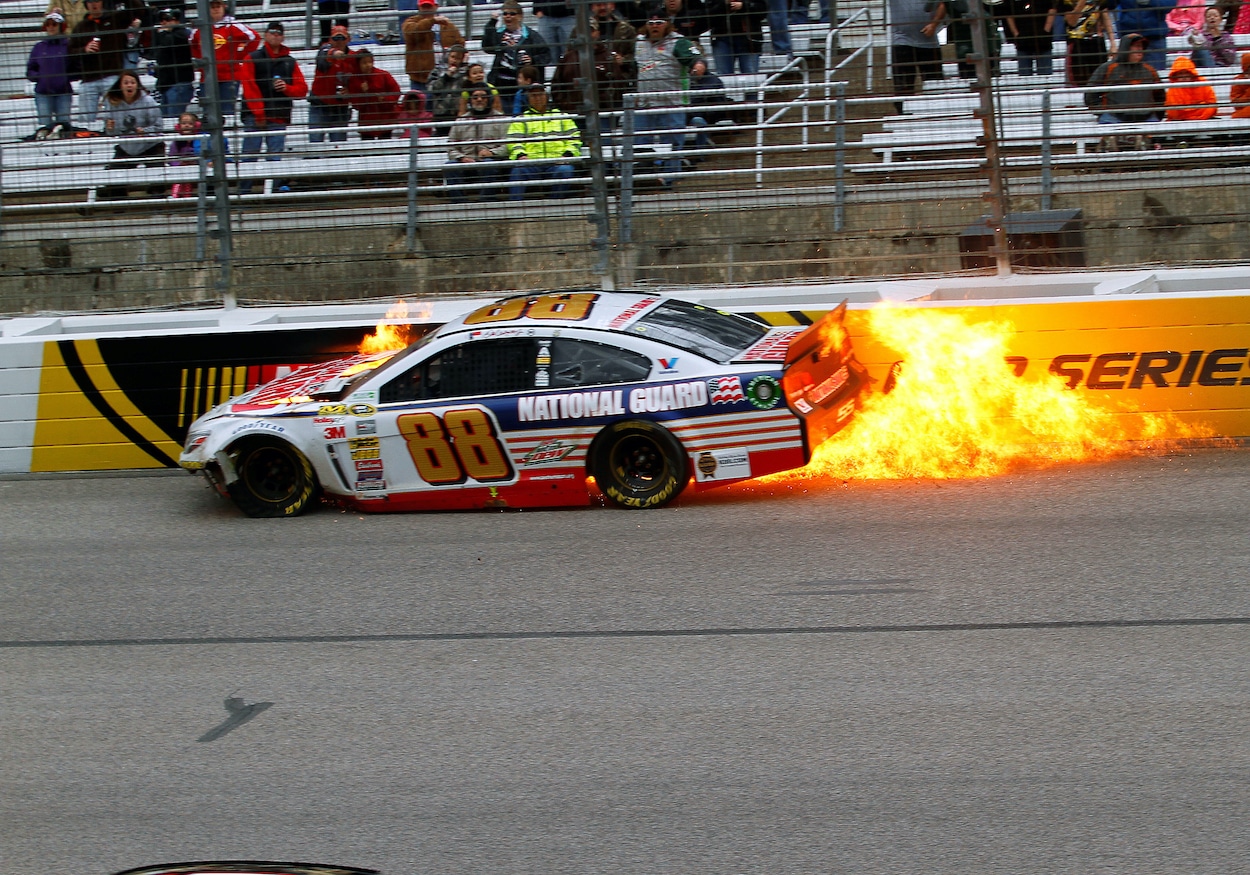 Dale Earnhardt Jr. Takes Fans Behind the Curtain on What Happens When a Driver Goes to the Infield Care Center
Dale Earnhardt Jr. shared on his podcast this week what it's like to take a trip to the infield care center, including why it's often surreal and always includes heartbreak.
Dale Earnhardt Jr., like every NASCAR driver, was involved in plenty of crashes throughout his career and made his fair share of trips to the infield care center. This week on his popular weekly podcast, the two-time Daytona 500 winner was asked what happens when you go inside for treatment. He provided a detailed description of his personal experiences, including the heartbreaking moment during the visit when you realize that your race is over and you had a bad day. 
Dale Earnhardt Jr. details a trip inside the infield care center
Dale Earnhardt Jr. has always been good at providing fans with a behind-the-scenes look at the things that happen to NASCAR drivers that fans can only imagine. For example, he's talked in detail about his trips to the NASCAR hauler and receiving a tongue-lashing from Mike Helton.
This week during the "Ask Jr." segment of the Dale Jr. Download, a fan asked what it's like when a driver goes to the infield care center. Unsurprisingly, Earnhardt didn't disappoint with his thorough answer.
"When you go into the infield care center they're all a little different as far as the layout, but there's usually like a horseshoe desk in the middle and there'll be a bunch of people in there doing different roles and responsibilities," he said. "And I'm not sure exactly what their roles are, but there'll be a lead like a neurosurgeon and possibly a lead doctor. 
"So there'll be a guy in there to be able to check you out for a concussion in the room. But there will also be a physician to manage any kind of breaks or any kind of severe wound or whatever you might have, right? And so if you got pain anywhere that may be a break or a bruise. There's two different people working on top of you. 
"And so off to the side, there's gurneys and they're divided by curtains, right? So there's one room with about three gurneys for however many drivers are in there at the same time, and you're all divided by a curtain. You don't go to — you don't have a room. 
"And the times that I've actually been in there where there's a multi-car crash, it's interesting because every driver is in a different state of mind. Guy might be in there madder than hell. Somebody might be in there not in too bad of a mood. 
"But it's a really surreal moment when you're all sitting there and everybody's kind of getting checked out. They check your pulse and give you a good kind of physical exam and ask you a lot of questions. And they're watching you listening to you answer questions, listening to how you're responding, paying attention. 
"They've seen the wreck, maybe on television and a monitor in the room. They weren't in the car with you. They weren't out there watching it live. So they're very inquisitive, and it sometimes can be annoying because you're mad, right? You're out of the race. You're upset about that. But they're asking these questions for a reason trying to truly understand how they might need to examine you and what they might want to pay most attention to."
Earnhardt describes what happens when released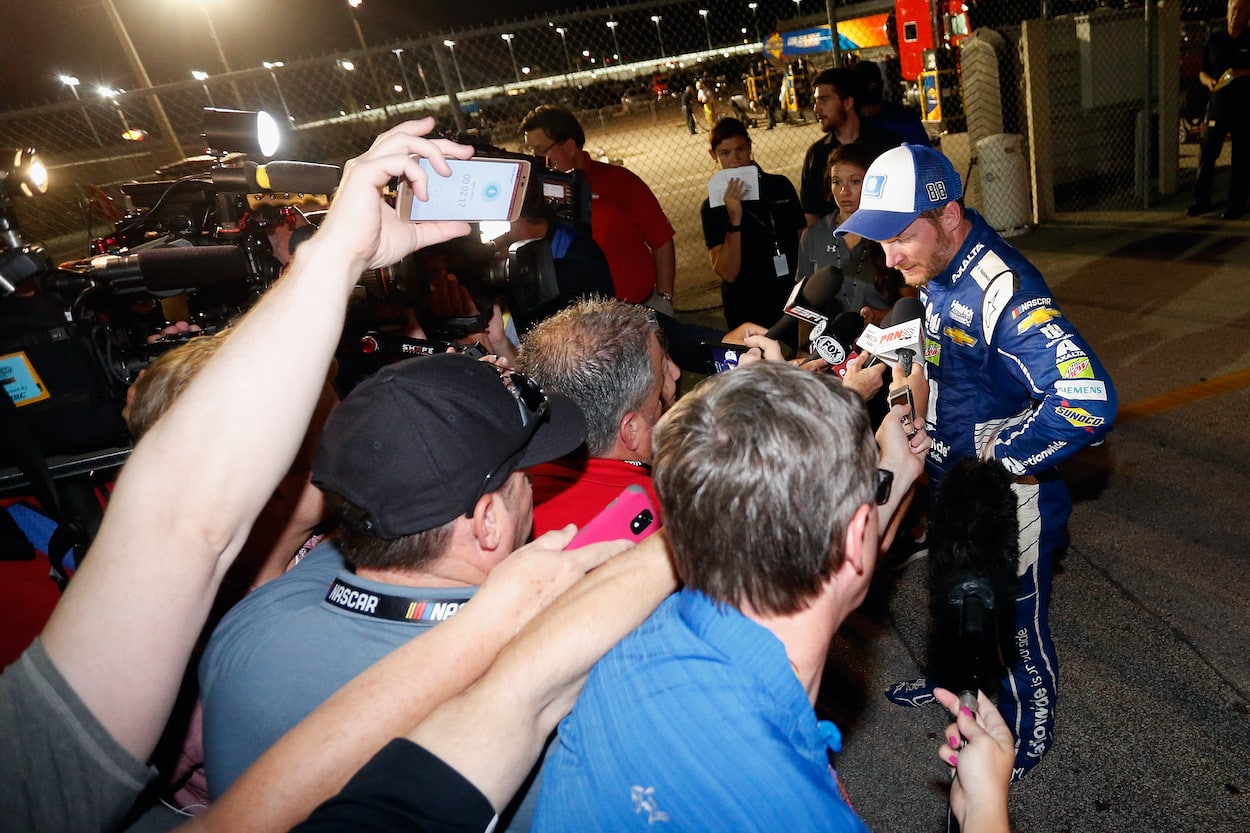 Earnhardt said if things go well, which they do most of the time unless it's a serious injury, they'll release the driver. And that is a completely different process. 
"Eventually, they're like, 'Hey, you're good to go,'" he recalled. "You get up and you walk toward the exit, and there'll be maybe a PR person or somebody with your team, or somebody in your own family or your own group that's with you holding on to all your s***. They got your helmet and your earplugs, and your gloves. 
"And they're like, 'Hey, you feeling, OK?' And you're like, 'Yeah, doing alright.' Then, I'll be honest with you, in that moment right there the heartbreak sets in of the actual fact that you crashed and you're out of the race, right?
"The result is going to suck. You have to wait all week to go back to the racetrack to redeem yourself. It's like this right as you're walking out of that medical center. You're like, oh yeah, the reality of all of this is that I had a terrible day. A terrible result. And then you end up walking into a media scrum or something like that, trying to explain what's going on."
Dealing with the media and their questions about the incident is a whole different process, and, as any driver will tell you, can also be painful.
To stay up to date on the latest happenings in NASCAR, including breaking stories you can't find anywhere else, follow Kyle on YouTube and Twitter.