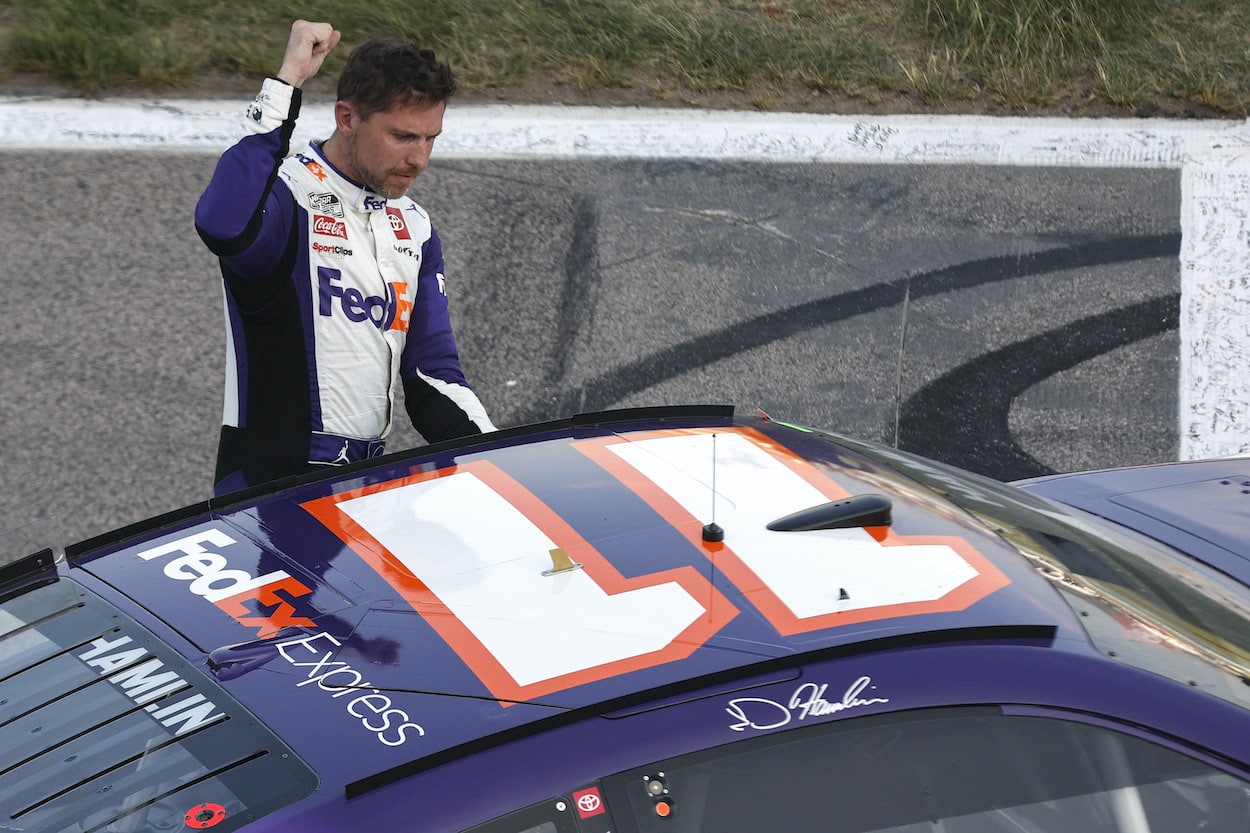 The Single Denny Hamlin Stat That All but Confirms He Makes the Championship 4 in Phoenix
A single eye-opening stat reveals that it's a good bet Denny Hamlin advances to the Championship 4 race in Phoenix.
Denny Hamlin has never won a NASCAR Cup Series championship. The driver doesn't shy away from talking about the painful topic. His critics love bringing it up. 
But his fans and critics alike will agree on one thing — you have to be in the Championship 4 race to win it. And that's something the three-time Daytona 500 winner has done on a consistent basis. A single revealing stat shows how. 
Denny Hamlin has been consistent in 2023
The history books may never identify Denny Hamlin as a Cup champion driver, but they will always show that his performance was consistent throughout his career at Joe Gibbs Racing. In his 17 full-time seasons, which has included 51 Cup wins, he has finished inside the top 10 of the final points standings an impressive 14 times. 
The 2023 season appears to be no different. Through 32 races, the No. 11 car has been consistent with 16 top 10s, 13 inside the top five, and three trips to Victory Lane.
What's even more encouraging to fans of the JGR driver is focusing on the last dozen races. In that stretch, Hamlin has been one of the hottest drivers, scoring eight top-five finishes, including a pair of runner-ups and a pair of victories. 
Translation: he's carrying a lot of momentum into the Round of 8.   
Hamlin record at Round of 8 tracks
While Hamlin and his team are undeniably rolling in the right direction, the next round of the playoffs will pose a bigger challenge simply because all the drivers who've made it this far are just as capable of getting as hot as him. 
There is one thing Hamlin definitely has on his side heading into the semifinal round — history. At the next three tracks — Las Vegas, Miami-Homestead, and Martinsville — the No. 11 car has historically been better than the rest of the competition, and it's not really even close. 
The 42-year-old driver has a series-best average finish of 11.0 on the three circuits, with Ryan Blaney coming in second at 12.6. That's somewhat close. 
Where the JGR driver is head and shoulders above his fellow competitors remaining in the playoffs is in total number of wins. Four other drivers have combined for 13 wins on the three Round of 8 tracks. Martin Truex Jr. leads the way with six wins, while Hendrick Motorsports teammates Kyle Larson and William Byron each have three. Christopher Bell has one.
Hamlin has nine, including one on the round-opening track at Las Vegas Motor Speedway, three at Homestead, and five at Martinsville. His most-recent win came in 2021 at Vegas. Last year, he finished fifth, seventh, and fifth and only missed advancing to the Championship 4 because of Ross Chastain's once-in-a-lifetime move in the Hail Melon. 
Failing to qualify for the title race last year ended a three-year streak of making it to the season's final race with something on the line. Based on history, there's every reason to believe the No. 11 returns to the Championship 4 race this year. If that happens, the question is whether he can close the deal and finally break through and claim that elusive title. 
Time will tell.  
To stay up to date on the latest happenings in NASCAR, including breaking stories you can't find anywhere else, follow Kyle on YouTube and Twitter.