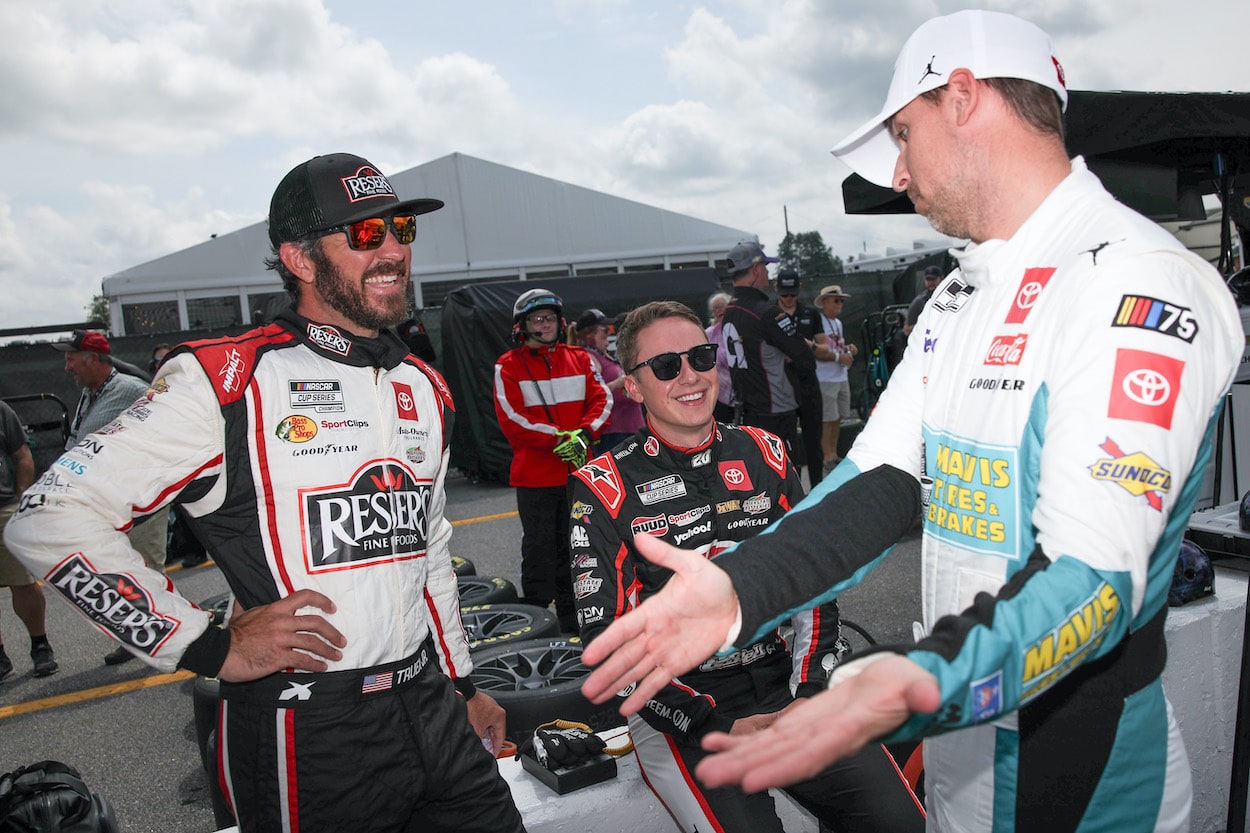 Martin Truex Jr. Doesn't Hesitate to Call Out Joe Gibbs Racing Teammate Denny Hamlin for 'Dirty' Move With Kyle Larson Late at Pocono
Martin Truex Jr. didn't hesitate to call out Joe Gibbs Racing teammate Denny Hamlin for his "dirty" move with Kyle Larson late at Pocono.
Martin Truex Jr. made headlines a week ago, winning on Monday at New Hampshire. On Sunday at Pocono, he didn't win the race. He finished third behind the winner, Joe Gibbs Racing teammate Denny Hamlin, and Tyler Reddick.
While the 2017 Cup Series champion didn't make any news for his finish, he did raise more than a few eyebrows with his post-race remarks when he didn't hesitate to call out his teammate's "dirty" move on Kyle Larson in the race's closing laps. 
Denny Hamlin runs Kyle Larson up track late at Pocono
Denny Hamlin and Alex Bowman have been like magnets lately, with multiple incidents between the two drivers in recent weeks. The Hendrick Motorsports driver believed another happened with 12 laps to go at Pocono when he went for a spin into the wall and the No. 11 right behind him. Instant replay disagreed and showed the cars never touched. 
However, five laps later was a different story. Hamlin had a run-in with his good friend — with friends like this, who needs enemies — Kyle Larson. Going into Turn 1, in a move eerily similar to what happened a year ago with Ross Chastain, the 42-year-old drove it up the track with the No. 5 on his outside, escorting the 2021 champ into the outside wall.  
Larson fell back and finished 20th. 
Hamlin denied ever making contact with either HMS driver in his post-race interview.
"Both guys wrecked themselves," Hamlin said. "There was a lane. He missed the corner first and evidently, he didn't have his right-side tires clean and when he gassed up he just kept going again. You know, you have an option in those positions to either hold it wide open and hit the fence or lift and race it out. Those are choices they made. I didn't hit either one of them. Didn't touch them."
Angry Kyle Larson responds to move 
A few moments later, when the NBC camera caught up with the HMS driver, he unsurprisingly offered a dramatically different version of events.
"Just unfortunate. I've been cost a lot of good finishes by him throughout my career," Larson said. "And I know he says I race a certain way, but I don't think I've ever had to apologize to him about anything. Not that I'm sure he's going to say sorry after this. 
"Is what it is. Whatever. Just move on. Move on, try to, uh, go I don't even know where we're at next week. Richmond, I think. I guess we won there earlier this year and try and get a good run in."
Martin Truex Jr. calls out Hamlin for 'dirty' move  
If there was anyone who had the best view of what happened between Hamlin and Larson, it was Martin Truex Jr. On the restart, the No. 19 car started on the inside lane of the front row next to the No. 5, with the No. 45 of Tyler Reddick directly behind and his 23XI Racing boss lined up next to him. 
After passing the start-finish line, the No. 11 gave the HMS car a good push, allowing both cars to clear Truex down the straightaway. Before reaching Turn 1, Hamlin dropped down to Larson's inside and set himself up for the controversial move. The No. 19 witnessed it all.
SiriusXM NASCAR Radio reporter Claire B. Lang visited with Truex about the end of the race, including the multiple restarts and picking the right lanes while racing up front. And that's when the JGR driver candidly called out his winning teammate for his less-than-savory move with Larson.
"For whatever reason, we couldn't get the push we needed on the front row, but we pushed a lot of guys today forward," Truex said. "Whoever was the leader, if they were in front of me, they were going to keep the lead. 
"I'm not sure exactly what that was all about. I feel like I picked the right lanes. You know, I did exactly what Denny did, other than pushing the No. 5 car too deep in the corner and then running him in the fence off of (Turn) 2. He kind of took it that extra little bit, I guess, to make it a little bit dirty. And you know, I didn't. So maybe that's the difference between why he won, and I didn't."
A week ago, Truex called out JGR teammate Christopher Bell for a late wreck potentially affecting his chance at a win. Yesterday, he called out Hamlin and his move. Next week, Ty Gibbs?
To stay up to date on the latest happenings in NASCAR, including breaking stories you can't find anywhere else, follow Kyle on YouTube and Twitter.