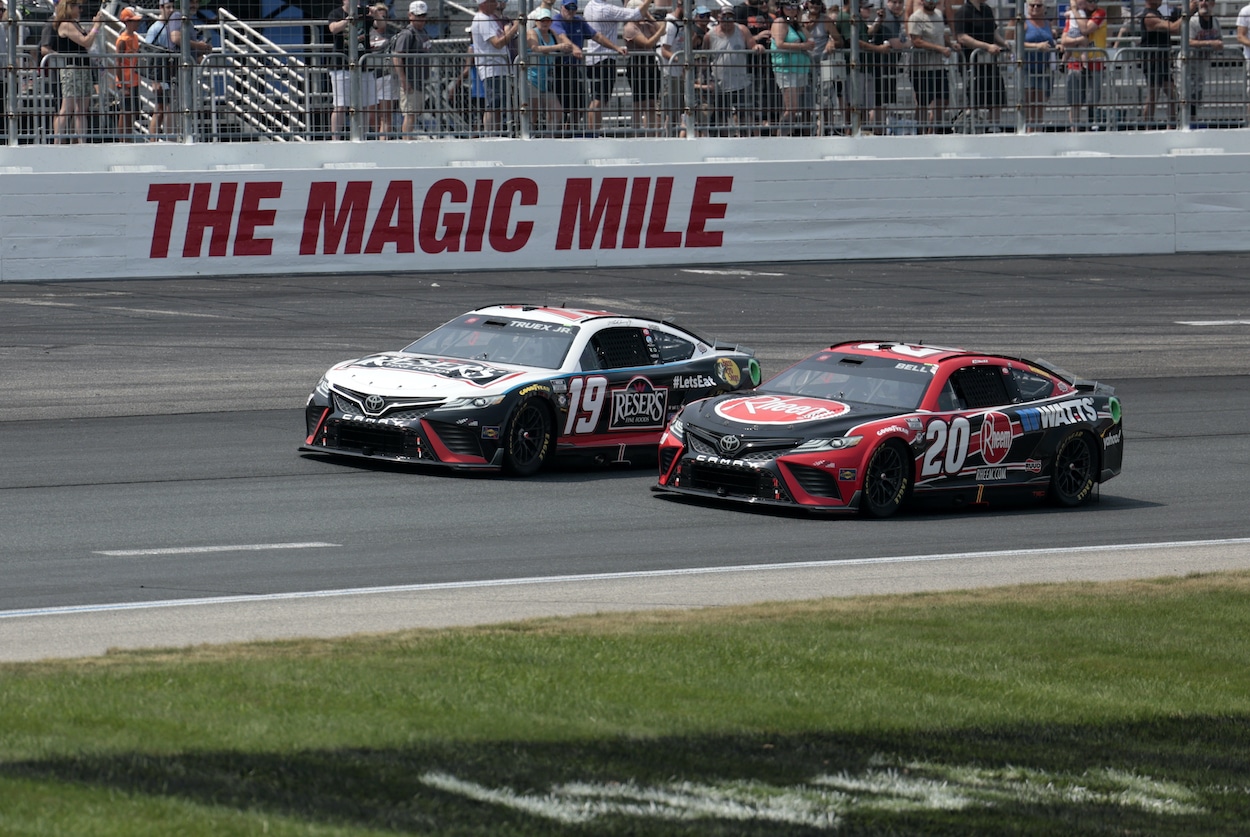 Martin Truex Jr. Can't Hide Frustration With Joe Gibbs Racing Teammate and Calls for Updated Team Policy Moments Before Winning at New Hampshire
Martin Truex Jr. won on Monday at New Hampshire but couldn't hide his frustration late in the race with one of his Joe Gibbs Racing teammates.
Martin Truex Jr. was all smiles on Monday after winning on his home track at New Hampshire Motor Speedway for the first time. It was a dominant performance by the Joe Gibbs Racing driver, but it didn't come without a few tension-filled moments near the end. 
One was a late-race incident by his teammate Christopher Bell. The 2017 Cup Series wasn't happy about what happened and made it clear over the team radio, even suggesting there needed to be a company policy to prevent such a thing from happening in the future. 
Martin Truex Jr. dominates early at New Hampshire
Martin Truex Jr. calls several tracks his home track, but New Hampshire Motor Speedway was where he first attended a NASCAR Cup Series race as a kid. It's special to him.
Naturally, he's had a desire to win on this track more than any others. Unfortunately, it wasn't meant to be in the first 29 attempts. On Monday, a day after rains postponed the original scheduled start, the 43-year-old hoped to change his luck and prove the 30th time was the charm.
He started on the outside of Row 1 next to his JGR teammate Christopher Bell. Not long after the green flag dropped, it was clear that the No. 19 car was the class of the field. And he proved that throughout the day, winning both the first and second stages. 
Christopher Bell wrecks late and a frustrated Truex responds
In the final stage, it was much of the same. But, as the driver has grown to expect from his home track in the past, something inevitably would come up and derail his much-anticipated trip to Victory Lane.
That feeling came up with 22 laps to go when a caution came out after Alex Bowman went for a spin off the front bumper of Ty Gibbs. On the subsequent restart, the No. 19 car fired off strong and quickly moved out in front.
Then, it happened again with 14 laps to. Except this time, it was a single-car accident with Bell, who got loose and slapped up against the outside wall. Moments after the yellow came out, the driver talked with his crew chief James Small about the latest incident.
"How did he wreck?" the driver asked.
"He just lost it, man," Small replied. "Lost it on the entry of three and backed it in."
"Should have a company policy that says when one of your teammates is leading, don't f****** crash by yourself," the frustrated driver suggested.
Wins race and establishes himself as frontrunner for title
On what turned out to be the final restart, Martin Truex Jr. surged out to the lead and never looked back. Joey Logano made a late charge on the final couple of laps, but it wasn't enough, and Truex held on to claim his first lobster. 
The win propelled the driver to the top of the points standings and positioned him as one of the frontrunners to make it to Phoenix for a shot at winning his second Cup Series title.
After the race, he celebrated the win with his team, including Coach Gibbs. No word on if the driver asked his boss about updating the company policy.
To stay up to date on the latest happenings in NASCAR, including breaking stories you can't find anywhere else, follow Kyle on YouTube and Twitter.