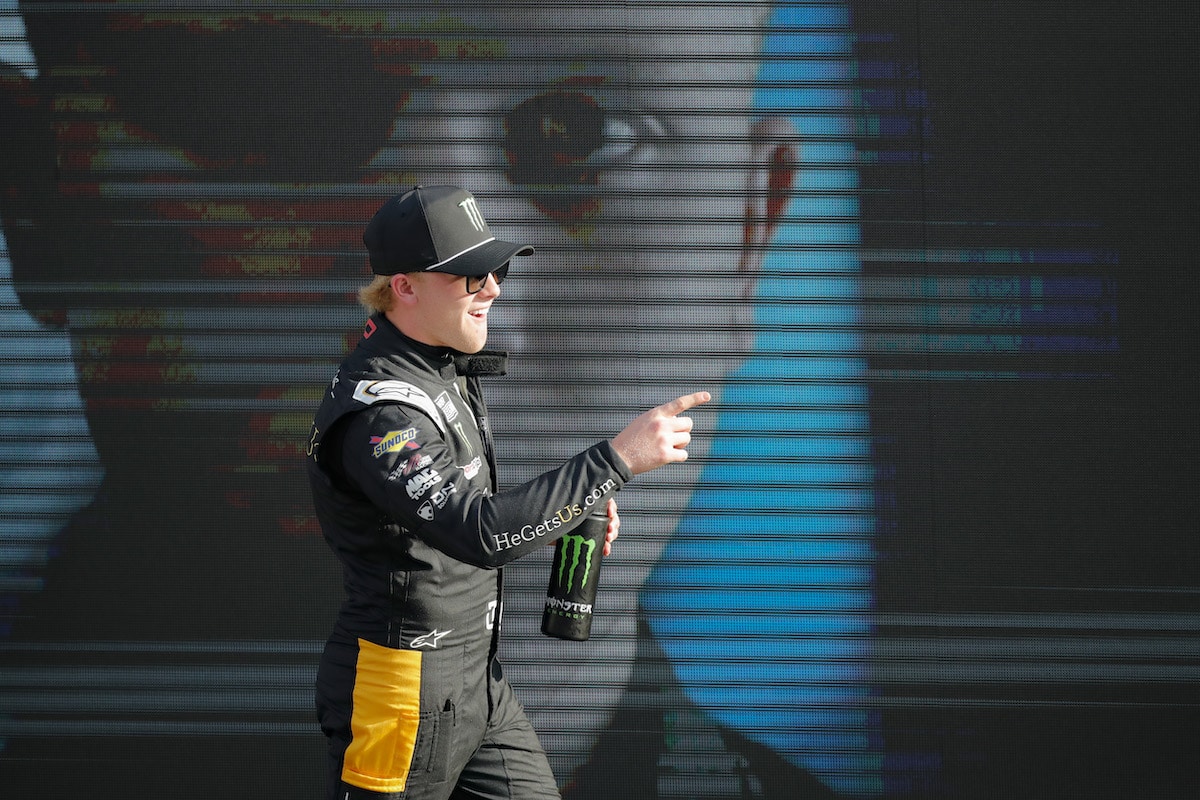 Ty Gibbs, More Subdued Than Ever, Has a Legit Path to NASCAR Cup Series Playoffs a Little More than Halfway Through 2023
Ty Gibbs has had an attitude change and an up-and-down rookie year, both of which are setting him up for playoff possibilities.
Widely excoriated for his overly aggressive and oftentimes downright careless style of driving over a season-and-a-half in the NASCAR Xfinity Series, Ty Gibbs carried some significant baggage into his new role as a full-time NASCAR Cup Series driver for his grandfather's team in 2023.
But just past the halfway mark of his rookie campaign in NASCAR's premier division, Gibbs — the 2022 NASCAR Xfinity Series champion — has managed to steer clear of controversy and avoid making new enemies, at least for the most part.
Along with making repairs to his severely damaged reputation, the 20-year-old grandson of NASCAR Hall of Fame team owner Joe Gibbs has pieced together a solid first season as the driver of Joe Gibbs Racing's No. 54 Toyota in the Cup Series. And he's done so while working through the grief of unexpectedly losing his father, Coy — a Joe Gibbs Racing executive — on the final weekend of the 2022 NASCAR season.
Ty Gibbs has had an up-and-down rookie year in the NASCAR Cup Series
Like any newcomer to NASCAR's top division, Ty Gibbs has experienced his sharing of growing pains despite possessing the high level of driving talent that was on full display over the past two years in the Xfinity Series when he captured 11 wins in 51 starts. (Gibbs is winless in five cameo Xfinity Series appearances in 2023.)
In his first 19 starts as a full-time Cup Series driver, Gibbs posted five top-10 finishes — but no top-5s — and led a total of just five laps.
While these certainly aren't the kinds of numbers you'd expect from a championship-contending driver, Gibbs has actually enjoyed decent results — especially compared to fellow rookie and bitter Xfinity Series rival, Noah Gragson, who's done nothing but lay a total egg in Year 1 with the Legacy Motor Club organization that competed last season under the Petty GMS banner before rebranding when Jimmie Johnson became a co-owner.
In fact, Gibbs even has a realistic chance to be part of the 16-driver field of championship contenders that will be officially locked in at Daytona International Speedway on Aug. 26.
But let's not get ahead of ourselves. For that to happen, Gibbs does have some work to do.
Ty Gibbs is approaching playoff possibilities with a level of maturity he didn't show in previous seasons
Heading into Monday's rain-postponed Cup Series race at New Hampshire Motor Speedway, Ty Gibbs was 19th in the standings — just three positions and 26 points behind the playoff cutline.
Of the seven tracks remaining on the regular-season schedule, Gibbs has won an Xfinity Series race at three of them: Richmond, Michigan, and Watkins Glen.
While Xfinity Series success at a track doesn't necessarily translate to Cup, Gibbs at least knows how to win at these places. And even if he doesn't go to Victory Lane, which would punch an automatic ticket into the playoffs, he still has an opportunity to make the championship field based on points. Twenty-six points and three positions aren't a hill too steep to climb in the time Gibbs has left.
That's especially true for a driver of his talent who's competing for one of NASCAR's best organizations in Joe Gibbs Racing.
Gibbs, for his part, doesn't seem to be sweating the next few weeks or the points standings all that much.
"I see them, of course, so I guess I look at them, but I don't really … I just do the best I can every weekend and not really try to pay attention to them," he told noted Fox Sports reporter Bob Pockrass at New Hampshire Motor Speedway. "Looking at the scorecard is not going to help me shoot below par."
Don't expect him to change up his strategy all that much — if at all — in the next few weeks as he looks to clinch a playoff berth. He seems pretty at peace with keeping his nose clean and not ruffling too many feathers, as he did so often over the past two years in the Xfinity Series.
"Of course I want to make the playoffs and of course I want to win," Gibbs told Pockrass. "To do that, I've got to be the best I can during the race and during the week and working hard. For me, that's not sitting there looking at points [and] every single day waking up and looking at my phone. I just go out there and work and do the best I can, and that's always what I've done."
For a driver who often let his emotions and his desire to win at all costs get the best of him during his time in the Xfinity Series, that's a pretty thoughtful approach. And it might be just enough to get him into the playoffs as a Cup Series rookie.