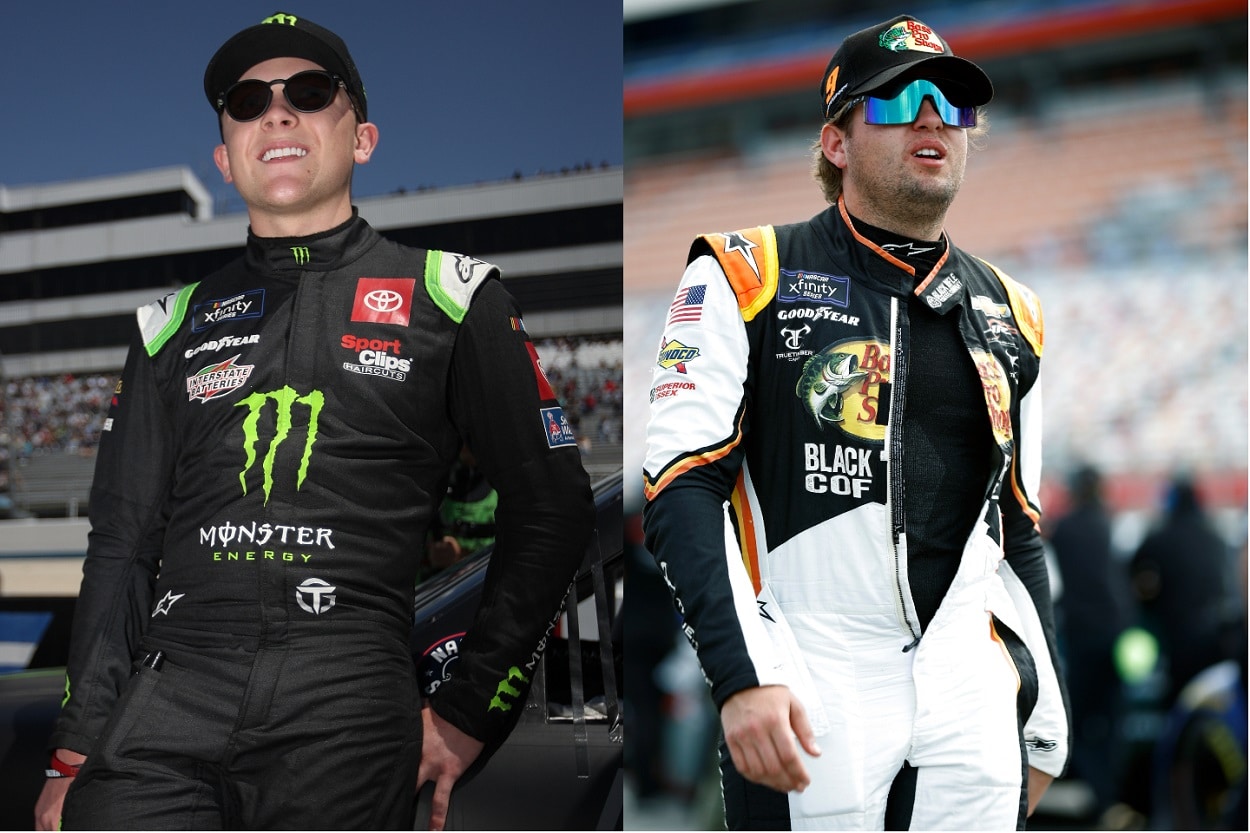 The Ty Gibbs-Noah Gragson Xfinity Series Feud Is the Best Overall NASCAR Battle of 2022
A look at the ongoing battle between NASCAR Xfinity Series stars Ty Gibbs and Noah Gragson.
Ty Gibbs and Noah Gragson have both created or at least been involved in multiple feuds with fellow drivers in their relatively short NASCAR careers. And now, they might have one with each other that could quite possibly determine the 2022 Xfinity Series champion.
Gibbs is the hotshot, 19-year-old grandson of Joe Gibbs Racing owner and NASCAR Hall of Famer Joe Gibbs. Ty burst onto the scene a year ago with four wins in his first 18 Xfinity Series starts. He also won half of the 20 ARCA Menards Series races and the championship in 2021.
Gragson, meanwhile, is in his fourth full-time Xfinity Series for JR Motorsports. He has won at least two races in three straight seasons and finished third in the 2021 championship battle.
Ty Gibbs and Noah Gragson have both been involved in post-race fights
Gibbs did not make many friends among his competitors with his instant success and aggressive driving style. That eventually led to a post-race fight with JRM driver Sam Mayer after the spring race at Martinsville Speedway earlier in the season. Gibbs also tussled with Xfinity Series veteran Ryan Sieg on the track in the third race of the season at Las Vegas Motor Speedway, although there was no post-race confrontation.
Gragson is no stranger to post-race drama, as well. He fought Harrison Burton after a race at Kentucky Speedway in 2020 and Daniel Hemric at Atlanta Motor Speedway in 2021.
Gibbs and Gragson had not previously had a notable issue with one another until the most recent Xfinity Series race on June 4 at the Portland International Raceway road course. 
Gibbs and Gragson lined up on the front row of a restart with seven laps left in Stage 2. Gragson nudged Gibbs in the first corner, and Gibbs came back later in the lap to spring Gragson off the racing surface.
Gibbs eventually finished seventh, and Gragson rallied back to ninth, but Gragson promised in his post-race interview the burgeoning feud would extend beyond Portland.
"He just cheap shot us, but we'll keep that at the back of our minds and just try to go to Nashville and win that race," Gragson said on pit road after the race. "You'll know when I get him back, though."
Gibbs and Gragson could be the Xfinity Series championship favorites
The aspect of the Gibbs-Gragson feud that could make it the most compelling of the season is they are arguably the two championship favorites in the Xfinity Series this year.
Sure, current points standings leader and Portland winner A.J. Allmendinger will likely be a factor for the title, as will Gragson's JRM teammates of Mayer, Josh Berry, and Justin Allgaier. Still, Gibbs and Gragson have been the two most dominant drivers in the series.
Gibbs leads the series with three wins, three pole awards, and 391 laps led, while Gragson has two wins, a series-high nine top-fives, and ranks second in laps led with 384. He also sits one point behind second-place Gibbs in the points standings.
They also currently sit first and second in terms of playoff points, so they would have to falter rather drastically to not be in contention to reach the Championship 4 in the season finale at Phoenix Raceway.
Perhaps the closest comparison to the battle that could shape up between Gibbs and Gragson this season was the 2018 Cup Series playoffs when defending series champion Martin Truex Jr. said Joey Logano "ain't winning the war" after Logano bumped him out of the way on the final lap of the semifinal race at Martinsville.
The problem is Truex never repaid the favor when he had a chance a week later at Homestead-Miami Speedway, and Logano went on to win the championship.
Lack of parity might enhance their battle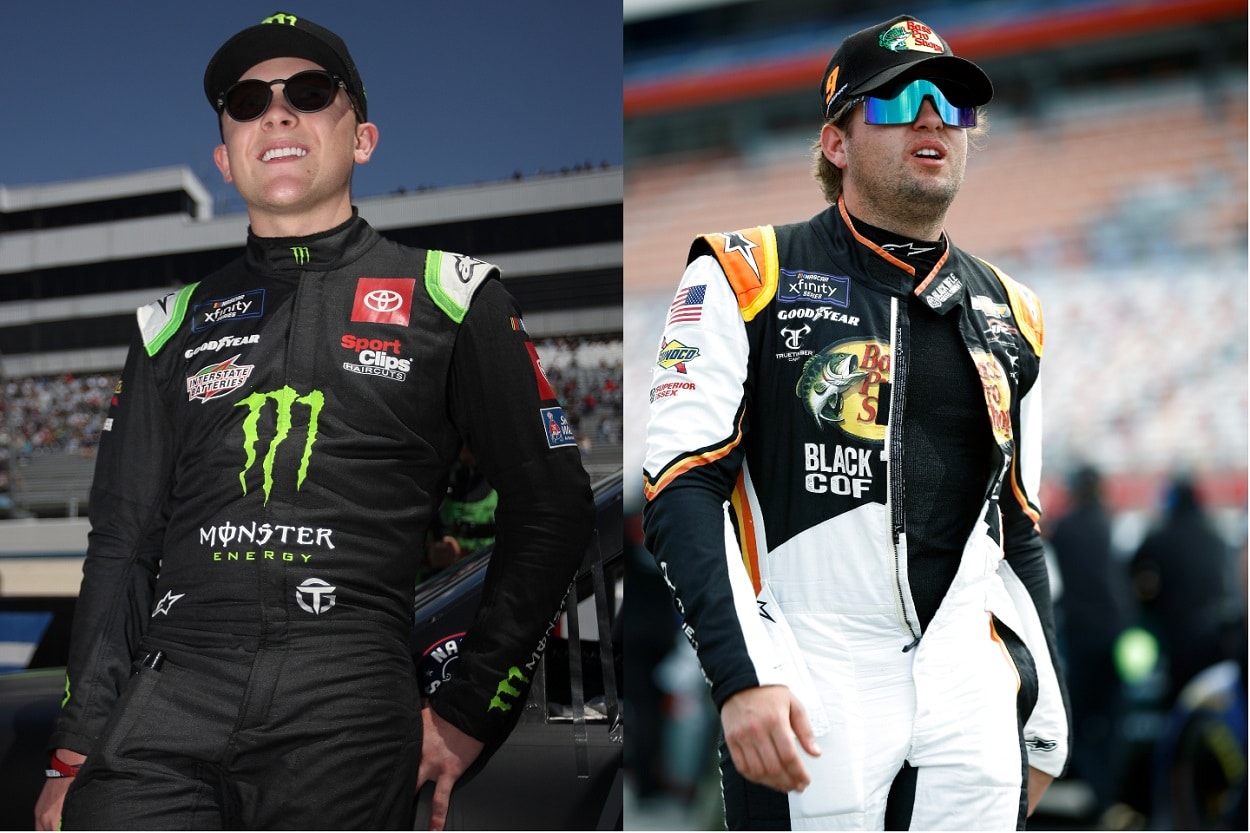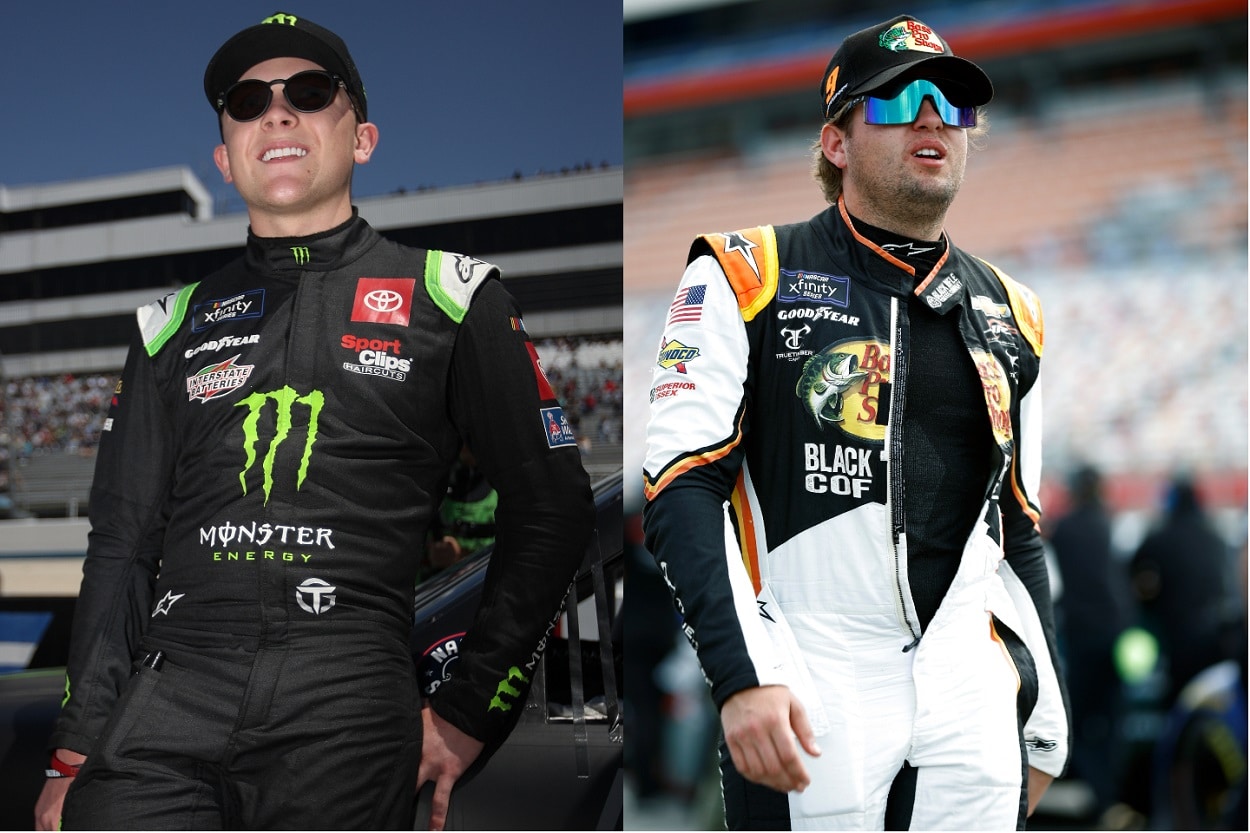 The Ross Chastain incidents with Denny Hamlin and Chase Elliott earlier this season might come back to haunt Chastain in the playoffs, but none of those drivers are far-and-above favorites to reach the Championship 4 given the parity in the Cup series this season with the Next Gen car.
None of those factors exist in the Xfinity Series this year. The Cup Series has had 12 different winners through its first 16 races, while seven different full-time Xfinity drivers have wins, and only 14 have scored a top-five finish through 14 races on that circuit.
The Xfinity Series does not have the depth of competition the Cup Series does this season, but that might be what allows the Gibbs-Gragson battle to be the most intense driver vs. driver struggle in any NASCAR series this season.
The top of the Xfinity Series playoff field might be already assured of a relatively clear path to the Championship 4, but the clashes between Gibbs and Gragson to get the ultimate championship prize could be well worth watching.
Stats courtesy of Racing Reference
Like Sportscasting on Facebook. Follow us on Twitter @sportscasting19 and subscribe to our YouTube channel.