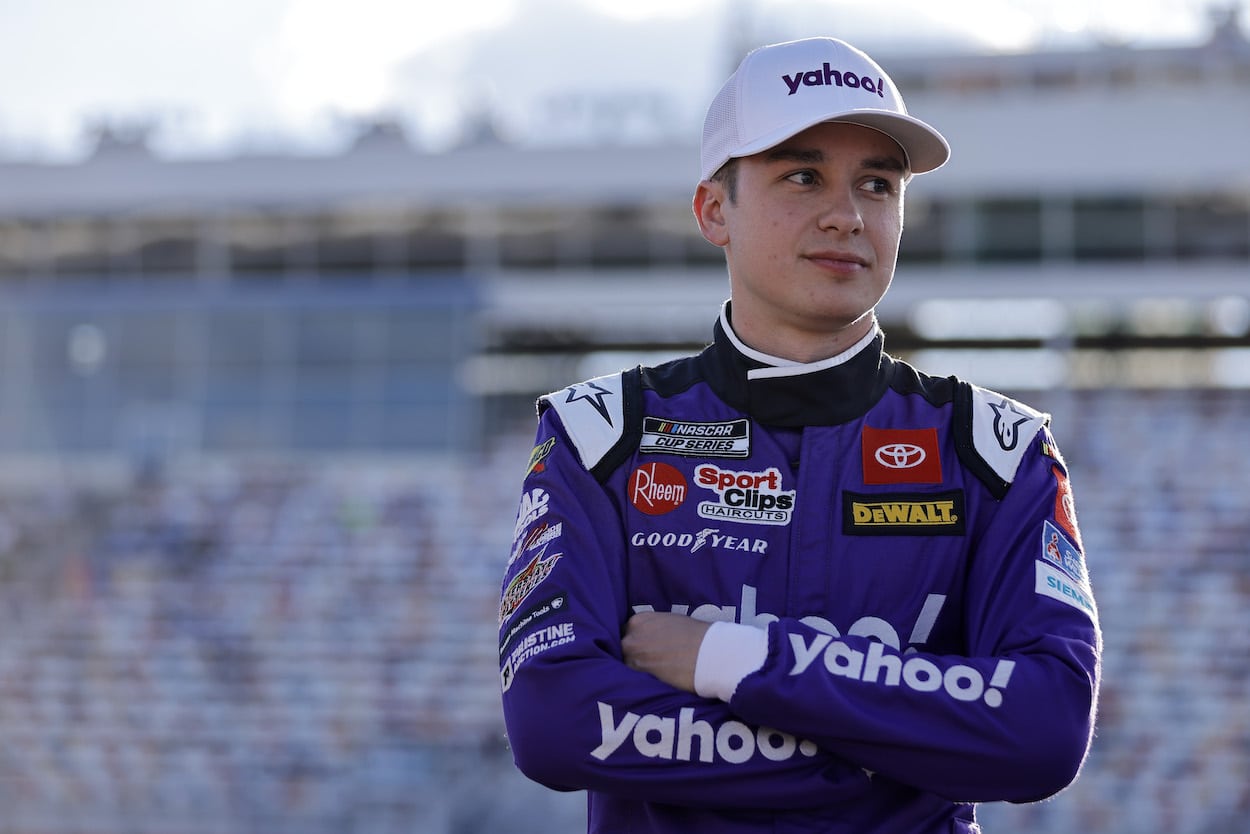 Christopher Bell Is Following in Erik Jones' Footsteps With Joe Gibbs Racing and Might Not Be Able to Avoid a Similar Fate
Erik Jones couldn't last in the No. 20 car, and Christopher Bell seems to be following in his footsteps with Joe Gibbs Racing.
Christopher Bell and Erik Jones have had remarkably similar beginnings to their respective NASCAR careers. They both eventually became the full-time drivers of the No. 20 car for Joe Gibbs Racing, which should make Bell a little nervous about the security of his job for the next two years.
Bell, who at age 27 has plenty of potential but is actually one year older than Jones, won his first career NASCAR Cup Series race at the Daytona Road Course in the second event of his second Cup Series campaign. It came after no wins and a 20th-place finish in the points standings as a rookie in 2020, although he ran that season in the No. 95 car for the single-entry operation of now-defunct Leavine Family Racing.
Jones also won his first career Cup Series race in his second full-time season at Daytona International Speedway in 2018, although it was on the oval in the July race. Similarly, it came after he went winless and finished 19th in the points standings during his 2017 rookie season in the No. 77 car that was a second entry for the now-shuttered Furniture Row Racing.
JGR booted Jones from the No. 20 in favor of Bell in 2021
Erik Jones won again in 2019 with a triumph in the Southern 500 at Darlington Raceway to qualify for the NASCAR Playoffs in a second straight season. He finished inside the top 10 in approximately half his races in 2018-19 but failed to reach Victory Lane in 2020 and narrowly missed the playoffs.
Meanwhile, Christopher Bell tore up the Xfinity Series with a combined 15 victories from 2018-19 to earn his promotion to NASCAR's top level at age 25. After a first season in the JGR-affiliated No. 95 Toyota, Gibbs moved Bell into the No. 20 car and cast Jones aside after three full years.
Jones landed at the single-car No. 43 team for Richard Petty Motorsports, an organization that had not won a race since Aric Almirola captured a rain-shortened victory in the July 2014 race at Daytona. Not surprisingly, he floundered with the mid-tier organization in 2021. He managed six top-10s and no top-5s, led nine laps, and finished a career-worst 24th in the points standings.
Bell, meanwhile, had 16 top-10s and seven top-5s with 100 laps led in 2021. He even made it through to the second round of the playoffs before placing 12th in the final standings.
Bell and Jones are having similar 2022 seasons
Christopher Bell has won his first three Cup Series pole awards this season, which ties him with Ryan Blaney for the most in the series, and sits 10th in the points standings.
Still, he has not capitalized on his series-best 7.7 average starting position. He is also only four spots ahead of Jones among winless drivers this season despite driving for a four-team powerhouse at JGR compared to the two-car organization of Petty GMS Motorsports that began this season when GMS Motorsports moved up from the Xfinity Series and bought our RPM.
If Bell was supposed to bring another level of success to the No. 20 car, it has yet to happen, and the pressure will only increase if Erik Jones continues to be a factor after his seventh-place run Sunday at World Wide Technology Raceway near St. Louis.
It was the seventh time Jones has finished higher than Bell through 15 races this season.
Ty Gibbs should be Bell's biggest fear
Regardless of the pair's individual success the rest of the season, JGR is not going to bring Jones back. That ship has likely sailed for both sides as Jones has said he is happy at Petty GMS and hopes to sign a multi-year extension with the organization.
The most likely potential replacement for Bell would be team owner Joe Gibbs' grandson, Ty Gibbs, who burst into the Xfinity Series with four wins in 18 races as an 18-year-old in 2021 and has three victories in the first 14 races of 2022.
Joe Gibbs has said he wants Ty to remain in NASCAR's second-tier series for another year, so the pressure could really be on Bell to perform in 2023 as his ride might be the only logical opening.
Kyle Busch is currently working on an extension with JGR, Denny Hamlin signed a multi-year extension at the start of 2021, and Martin Truex Jr. is considering retirement at the end of this season (with John Hunter Nemechek poised as a potential replacement). JGR likely wouldn't sign a driver for only one year in the No. 19 car, and Bell would be at the end of the standard three-year contract.
The pressure on young drivers in the No. 20 car is incredibly high, but Christopher Bell must start to capitalize on his good qualifying runs to avoid the same fate as his predecessor.
All stats courtesy of Racing Reference.
Like Sportscasting on Facebook. Follow us on Twitter @sportscasting19 and subscribe to our YouTube channel.