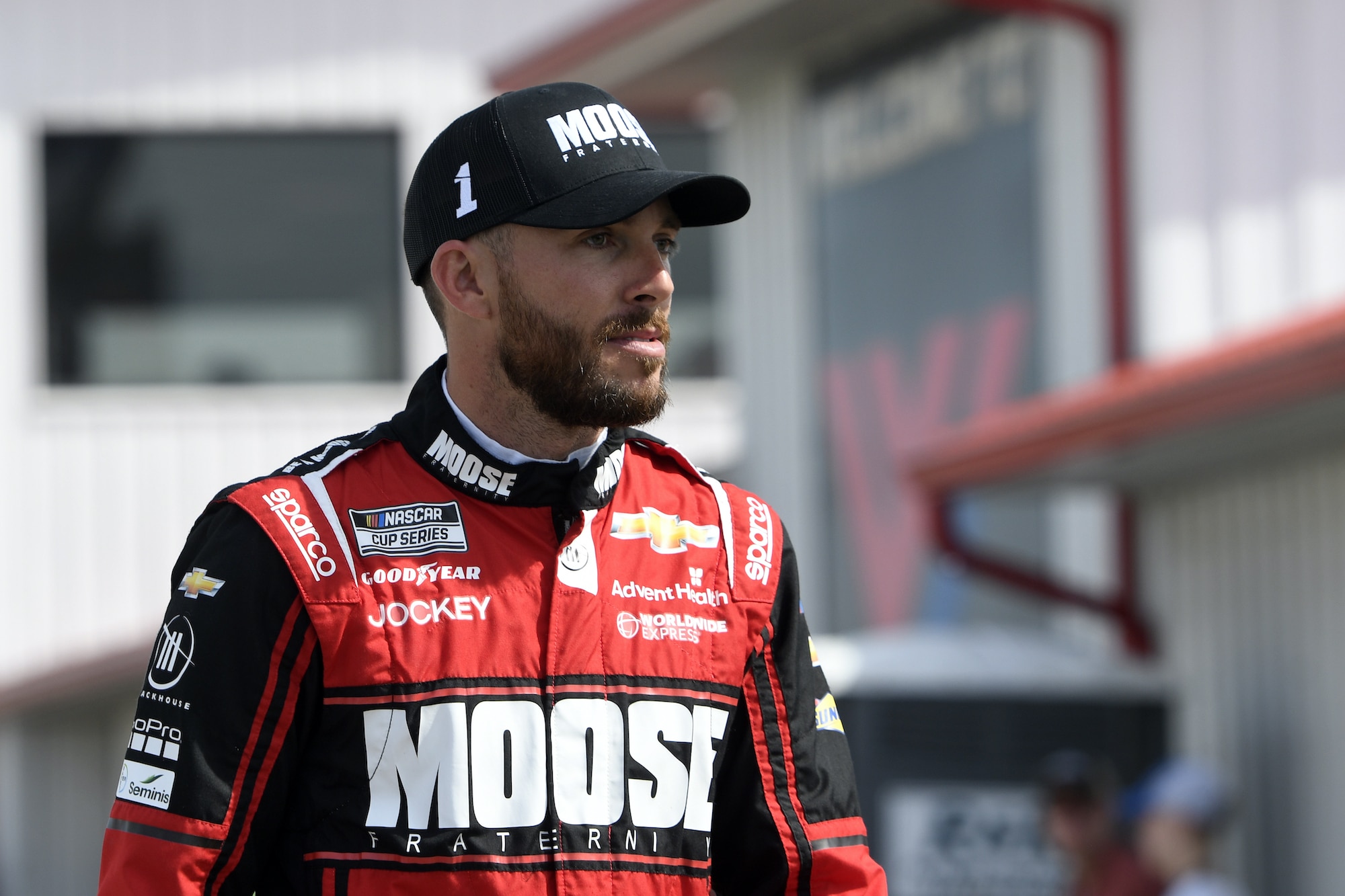 Ross Chastain Admits to Talks With Denny Hamlin and Chase Elliott and Interestingly Brings Up Another Way to 'Hurt Their Feelings More'
Ross Chastain admitted he had some tough talks this week with Denny Hamlin and Chase Elliott. He also said he's thought about another way to hurt the drivers' feelings more.
The last time fans saw Ross Chastain was following the race at World Wide Technology Raceway, where he was profusely apologizing for his "terrible driving," which included causing a couple of incidents with Denny Hamlin and Chase Elliott. The Trackhouse Racing driver acknowledged he needed to have some tough conversations.
This week at Sonoma, the watermelon farmer revealed that he visited with both drivers and did more listening than talking. He also acknowledged that he could only control his own actions going forward and interestingly offered up another way that he could upset the drivers. 
Ross Chastain wrecks Denny Hamlin and Chase Elliott and apologizes
Ross Chastain has upset a few drivers during his career with his aggressive driving style. He added Denny Hamlin and Chase Elliott to that list last week at WWT Raceway near St. Louis, wrecking both drivers during Stage 2.
After the race, Fox's Jamie Little spoke to the driver and asked him what happened. 
"Just terrible driving, Jamie," the driver began. "It's one thing to do it once but I just kept driving into guys. At this level, I'm supposed to be better than that. Such a shame for Moose and Advent Health and Jockey and Worldwide Express. Have all these people believing in me and Justin Marks and Pitbull put me in this car. They deserve better."
"Will you go talk to them?" the reporter asked.
"I will," Chastain said. "I owe half the field an apology. Words aren't going to fix it so I'll have to pay for it on the track. Almost did today and I deserve everything that they do. I can't believe that I continue to make the same mistakes and overdrive the corners and drive into guys. I had time under caution to get reset and we go green and I drive into somebody. Terrible." 
Ross Chastain admits to talking with both Hamlin and Elliott
Unsurprisingly, Chastain's aggressive driving was the hot topic of discussion this week in NASCAR circles.
This weekend at Sonoma during qualifying, Little once again caught up with the 29-year-old driver and asked him if there had been any communication with Hamlin and Elliott.
"Yeah, Jamie. I've talked to all parties involved," Chastain said. "I believe I should be in this car, and I believe that I did make a mistake and hit Denny too hard. I'm not the first guy to do that. I hit him way too hard. I hate that I took them out of the day, but we had a good conversation and whatever happens, happens. 
"I'm here to go fast. I feel like the best way I can probably hurt their feelings more is take our Worldwide Express car and just go fast."
Drivers talk about conversations with Chastain
While Chastain told Fox what happened, both Hamlin and Elliott met with reporters before qualifying and offered up their sides of the story. The Joe Gibbs Racing driver didn't have a lot to say on the subject.
In an exchange with Fox's Bob Pockrass, the three-time Daytona 500 winner said he hadn't changed his view on what happened and characterized the conversation with Chastain as "OK." The reporter then asked if he planned on racing the Trackhouse driver the way he races him.
"I think he knows where I stand," Hamlin responded. 
Elliott was in a more talkative mood and offered up details on their conversation, including that Chastain reached out to him.
"I tried to take the high road and talk to him as if I would want somebody to talk to me," the HMS driver said. "And I just tried to give him my opinion. He can take that or leave it, whatever he wants to do."
The ball is in Chastain's court. The question is, does he tone down his aggressive style and risk losing the edge that has taken him to Victory Lane twice this year? Or, is he the same driver that is there to win, not make friends? We're about to find out.
Like Sportscasting on Facebook. Follow us on Twitter @sportscasting19 and subscribe to our YouTube channel.