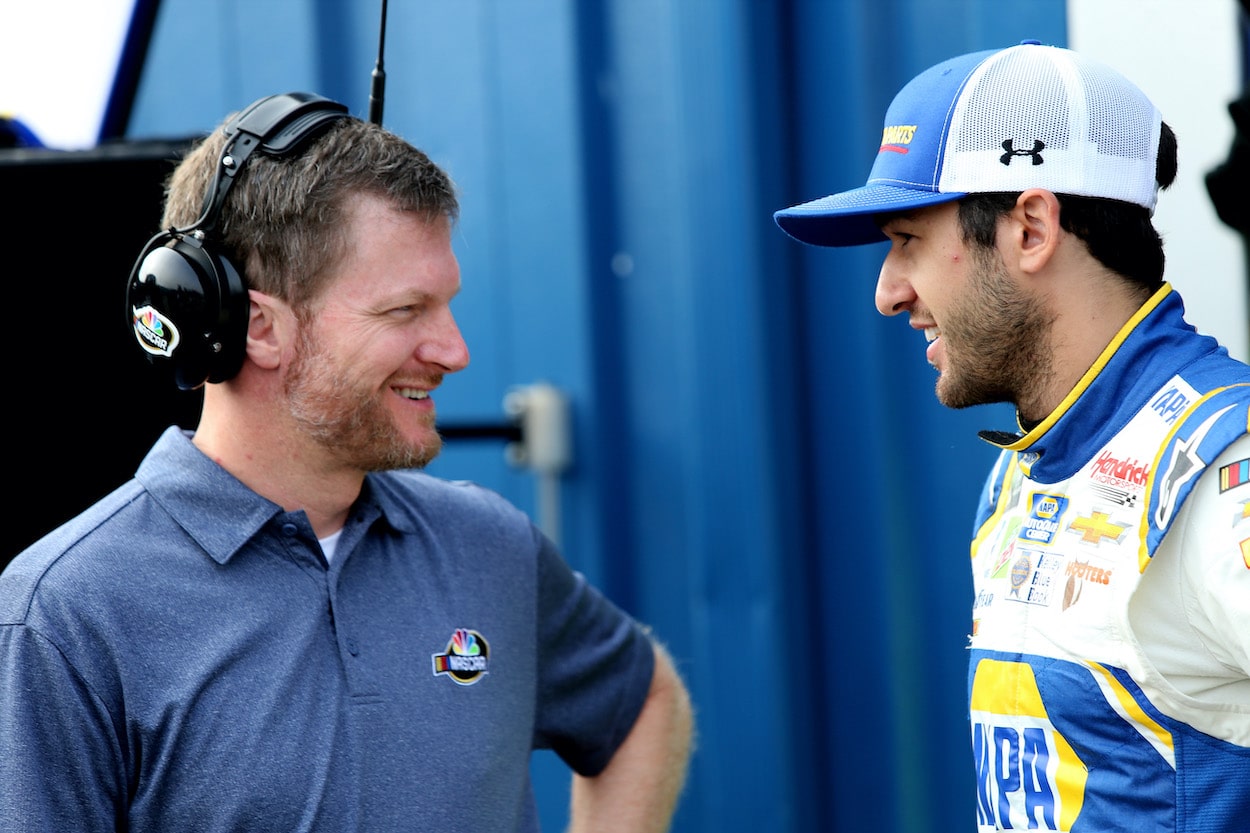 Dale Earnhardt Jr. Accuses Chase Elliott of Not Following Crew Chief's Orders and What He Might Have to Do to Prove Himself in the Future
Dale Earnhardt Jr. said on his podcast this week that Chase Elliott failed to follow orders from his crew chief last week and suggested he might have to prove himself in the future.
Chase Elliott knows a little something about confrontation and payback. Just last year, the 2020 Cup Series champion and Kevin Harvick made headlines for their lengthy feud. 
A year later and the Hendrick Motorsports driver finds himself in another brewing conflict. This time, Ross Chastain is the enemy combatant after he got into the side of the No. 9 car during last Sunday's race at World Wide Technology Raceway, sending him for a spin. Elliott attempted retaliation but failed. 
This week on the Dale Jr. Download, Dale Earnhardt Jr. said because his former Xfinity Series champion driver failed to fulfill team orders, he's now in a situation where he must deliver later in the season. 
Chase Elliott gets turned by Ross Chastain
Chase Elliott was minding his business in Stage 2 of the inaugural race at WWT Raceway near St. Louis when Ross Chastain happened. The Trackhouse Racing driver aggressively drove into the corner and made it three-wide with Austin Dillon on his inside and Elliott on the outside. 
Elliott was on the losing end, got hit by Chastain, and went for a spin. His team was understandably unhappy. 
"That kid needs an ass whipping," spotter Eddie D'Hondt suggested of the Trackhouse driver.
"If we get a chance, let's not mess it up like the No. 11 did," crew chief Alan Gustafson instructed.
"Oh yeah, no worries on that," the driver responded. 
On the subsequent restart, Elliott lined up directly behind Chastain for what many would have thought was a kill shot. It didn't happen. Instead, the No. 9 shoved the No. 1 into the outside wall, but didn't do any damage. 
The HMS driver had a couple of additional cracks but failed. Chastain finished 8th while Elliott finished 21st.  
Dale Earnhardt Jr. suggests Elliott didn't follow orders
This week, Ross Chastain versus the world has been a hot topic of conversation on racing-related talk shows and podcasts. Dale Earnhardt Jr. and crew discussed the pair of incidents at Gateway and the NASCAR Hall of Famer focused in on what happened, or in this case, what didn't happen after Gustafson told Elliott to pay back the No. 1 car. 
"Chase's crew chief was on the radio telling Chase, like, 'Look, if we get an opportunity to park him, you make it count, right.' And Chase tried," Earnhardt noted. "Shoved him down into one. He saved it. Hit him again in the middle of one and two, and I think he might have hit the wall, but he saved it. And Denny tried to swipe at him as he's going by, all in the same corner.
"And then, you're like, well, you know, Chase, that was OK. Wasn't quite what I think the doctor ordered. Wasn't quite what was requested. Because Alan, his crew chief, he don't play. He's like, I want him in the fence. I don't think Chase gave him what he asked for. But Chase put an effort in there. Not good enough."
Earnhardt said a few minutes later that when Chastain passed Elliott on the inside and almost caused the No. 9 to get into a wreck with BJ McLeod, he couldn't help but think what was going through Gustafson's mind.
"I'm wondering, in that moment, when Ross is feeding it back to Chase, if Alan is sitting up on the pit box going, 'If we had finished him off the first time, we wouldn't be sitting here doing this.'"
Earnhardt offers thoughts on how driver might get it right in future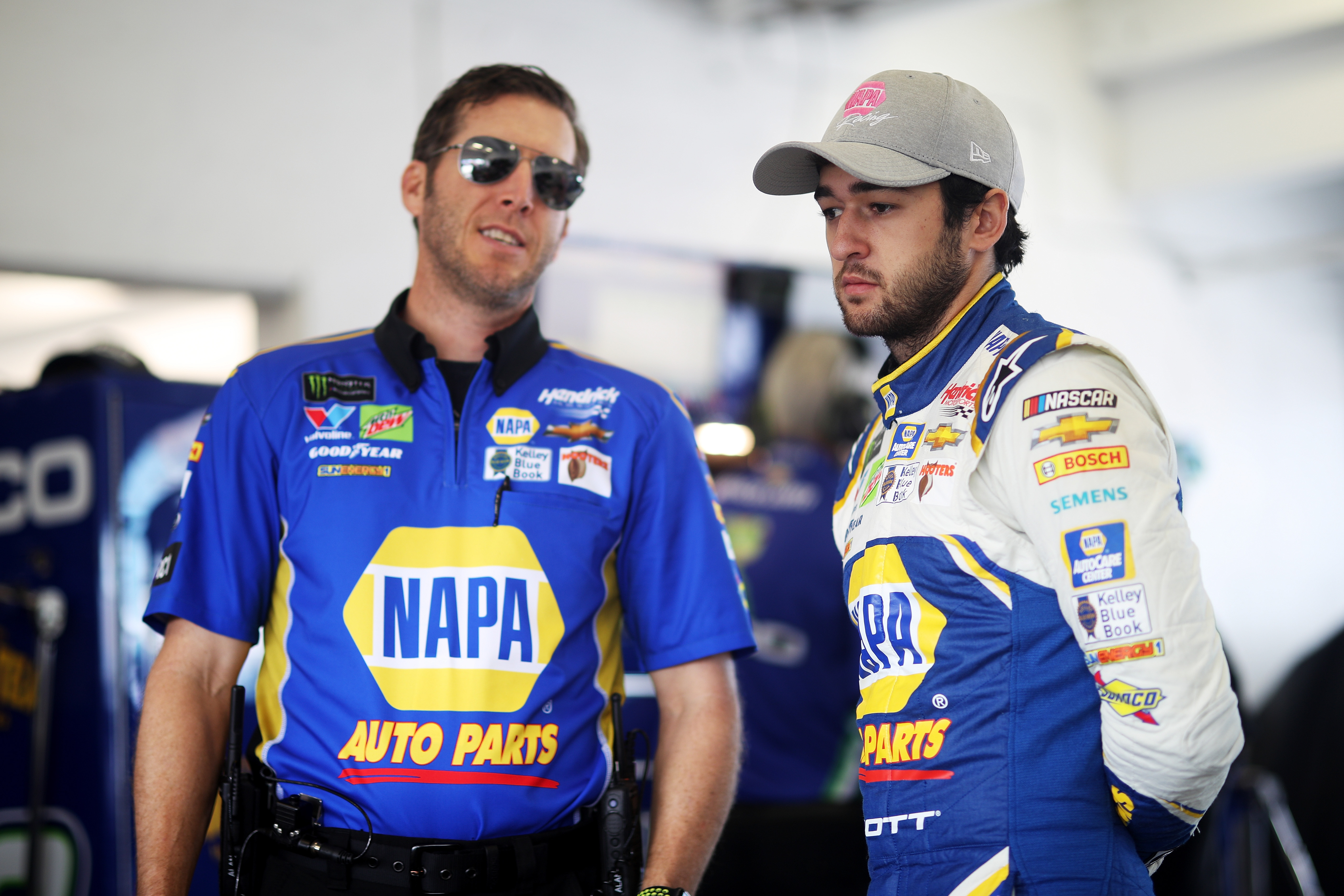 Earnhardt said Chastain knows that there will be payback coming later in the season by one, if not both of the drivers. The two-time Daytona 500 winner said he wouldn't be surprised if Gustafson and Elliott had a heart-to-heart this week talking about what happened and what needs to happen in the future.
"I feel like there was another scenario where Alan asked Chase to handle something and it didn't quite get handled the way I think Alan was insinuating," Earnhardt said. "And I have to wonder, at this point, is Alan sitting in a room somewhere with Chase this week going, 'Hey, do you need some advice on how to wreck people? Because I've asked you a couple times now.' And so, I wouldn't be surprised to see Chase do something down the road, if only to prove himself to his crew chief. He has a little bit of a bravado on the line."
If Elliott is unsure of how to do it, all he has to do is go back to the end of last season at the Charlotte Roval. Kevin Harvick showed him how.
Like Sportscasting on Facebook. Follow us on Twitter @sportscasting19 and subscribe to our YouTube channel.