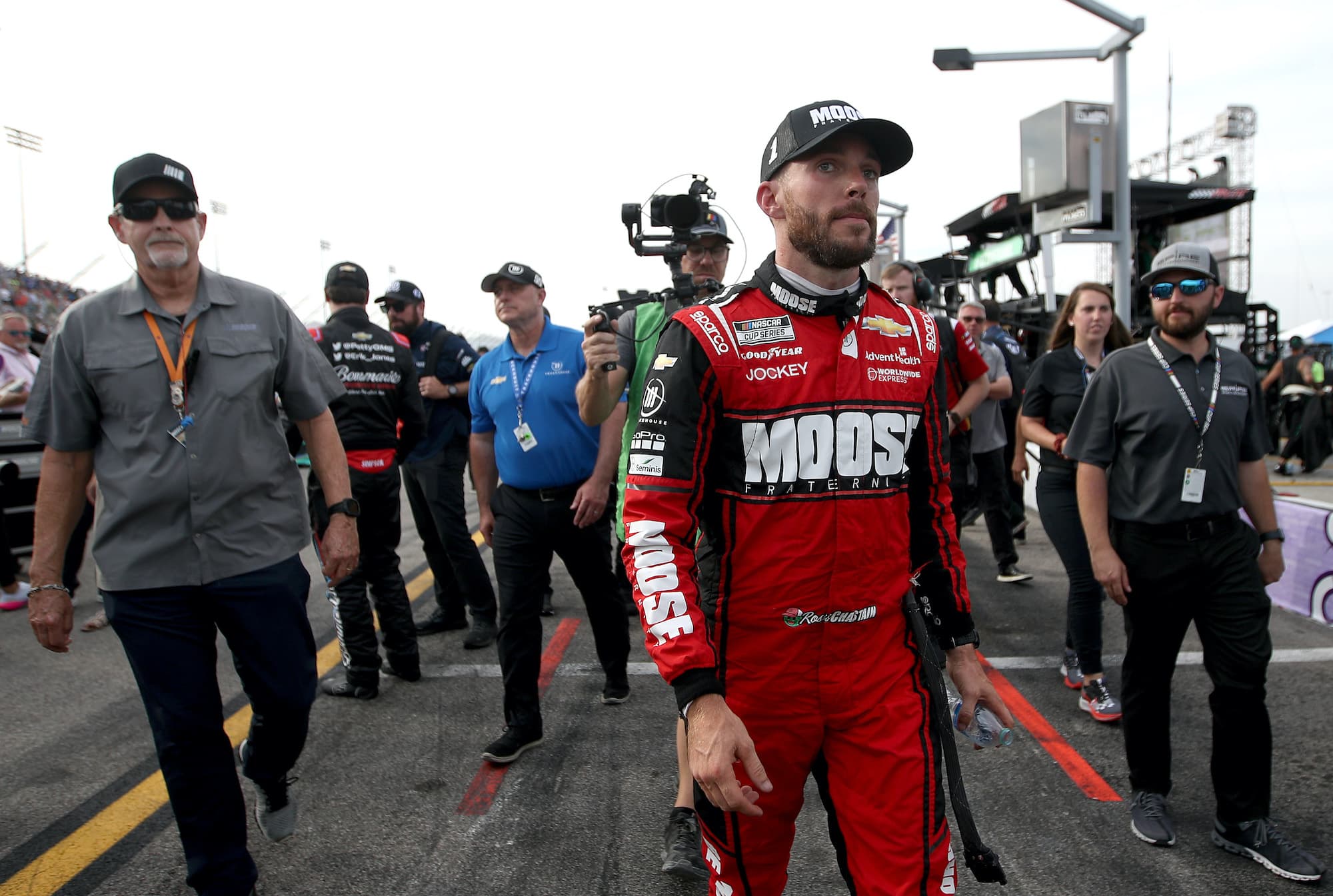 Ross Chastain Needs to Stop Apologizing and Fans Need to Stop Believing Him Because He's Not Making Mistakes
Ross Chastain accepted responsibility for making several mistakes in wrecks with Denny Hamlin and Chase Elliott on Sunday. But they weren't mistakes. This is Chastain's aggressive driving style and the apologies ring hollow.
If you asked drivers or fans to use one word to describe Ross Chastain, a high percentage would say "aggressive." That's who he is. It has been since he arrived in NASCAR and it's why he earned the first win of his Cup Series career at Circuit of the Americas earlier this year. It's worked for him, even though that style has a penchant for irritating the competition (see Joey Logano). 
On Sunday at World Wide Technology Raceway outside of St. Louis, Chastain was doing Chastain-like things, racing aggressively. And unsurprisingly, he upset Denny Hamlin and Chase Elliott in separate incidents. When the race ended, the 29-year-old accepted responsibility and apologized. But anyone who has been paying attention knows his words are just that — words. They sound good at the time but ring hollow because it's become quite clear he's just going to go out and race just as aggressively the next time and doesn't really care who he upsets. 
Ross Chastain angers Denny Hamlin and Chase Elliott
Ross Chastain followed Denny Hamlin lap after lap in Stage 1 at WWT Raceway and tried to pass on multiple occasions but was unable to pull it off. In the second stage, the Trackhouse Racing driver had seen enough of the No. 11 FedEx Toyota, drove hard into the rear of the car, sending it up the track and into the wall. 
Chastain wasn't done. 
Later in that same stage, the watermelon farmer made it three wide on a restart and got into the left rear of Chase Elliott, sending the No. 9 sideways and bringing out a caution. 
In each incident, both drivers made it clear over their radios how they were not happy with the moves. They delivered their own messages with Hamlin holding the No. 1 up and Elliott giving him a shove in the rear.
Chastain apologizes
After the race, fans and the Fox announcers wondered if there might be potential fireworks between the drivers. There wasn't. Instead, Fox's Jamie little caught up with Chastain who accepted blame in a harsh self-critique. 
"Just terrible driving, Jamie," the driver began. "It's one thing to do it once but I just kept driving into guys. At this level, I'm supposed to be better than that. Such a shame for Moose and Advent Health and Jockey and Worldwide Express. Have all these people believing in me and Justin Marks and Pitbull put me in this car. They deserve better."
"Will you go talk to them?" the reporter asked.
"I will," he said. "I owe half the field an apology. Words aren't going to fix it so I'll have to pay for it on the track. Almost did today and I deserve everything that they do. I can't believe that I continue to make the same mistakes and overdrive the corners and drive into guys. I had time under caution to get reset and we go green and I drive into somebody. Terrible." 
Apologies ring hollow
Chastain sounded sincere. But we've been here before, and recently. It was just a month ago at Dover when Chastain pulled off a move late that upset Martin Truex Jr., who then confronted him about it immediately following the race. 
The Trackhouse driver offered his same apologetic tone. "I crowded him up and I should have left him more of a lane," he told reporters. Again, he said all the right things and accepted responsibility, but here we are a month later and it's the same remorseful routine. 
Chastain is undeniably a talented driver who just happens to be aggressive. He's been lauded for that aggression by Dale Earnhardt Jr. and Kevin Harvick, who said the younger driver and his I don't give a s*** attitude may not make him popular with his fellow drivers but it will with the fans. 
It's time that he embraces his style and stops apologizing for it. Those weren't mistakes on Sunday. Just like they weren't last month at Dover, or several months earlier at COTA. Those are moves he's unafraid to make, without fear of the consequences.
Most people can see through it and understand he's taking the "it's better to ask for forgiveness than it is to get permission" approach. Speaking of sayings, there's one the drivers and fans should remember going forward with the driver of the No. 1 – "fool me once, shame on you; fool me twice shame on me."
Like Sportscasting on Facebook. Follow us on Twitter @sportscasting19 and subscribe to our YouTube channel.