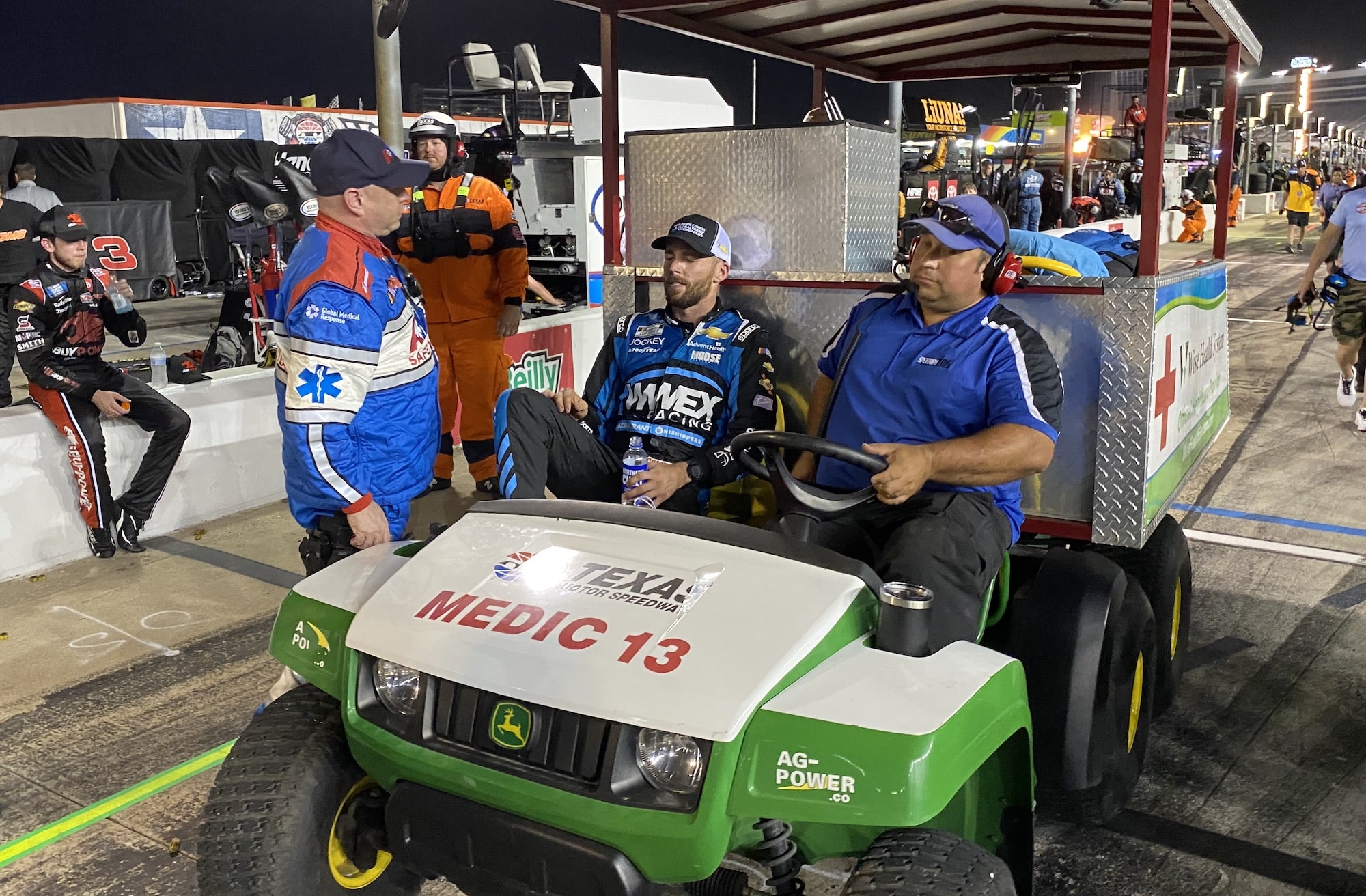 Ross Chastain's Magical 2022 Season Suffers Scary Moment After Race at Texas
Ross Chastain scared fans after the Truck Series race on Friday night at Texas when he fell ill and went down to the ground.
The last time Ross Chastain raced in the Lone Star State, he ended the day standing atop his No. 1 car and smashing a watermelon on the ground in celebration of his first Cup Series victory. On Friday night's return to Texas, the Trackhouse Racing driver competed in the Truck Series race and had a dramatically different ending with the 29-year-old lying on the ground in a scary moment and some reports suggesting that he had fainted. 
Ross Chastain having best season of career
Ross Chastain entered the 2022 season uncertain of what to expect in his first year with Trackhouse. After struggling to a pair of bad finishes at Daytona and Fontana, the watermelon farmer has proven to be one of the best Cup drivers a third of the way through the season.
Since California, he's reeled off eight top-10 finishes in 11 races. After finishing in the top 3 in three consecutive races, Chastain raced to his first-ever Cup win at COTA, where he pulled off an aggressive last-lap move on AJ Allmendinger and Alex Bowman for the win.
A few weeks later, he didn't have to make any big moves late, but just held it straight on the final lap at Talladega to earn his second win of the season.    
Suffers scary moment after Truck Series race in Texas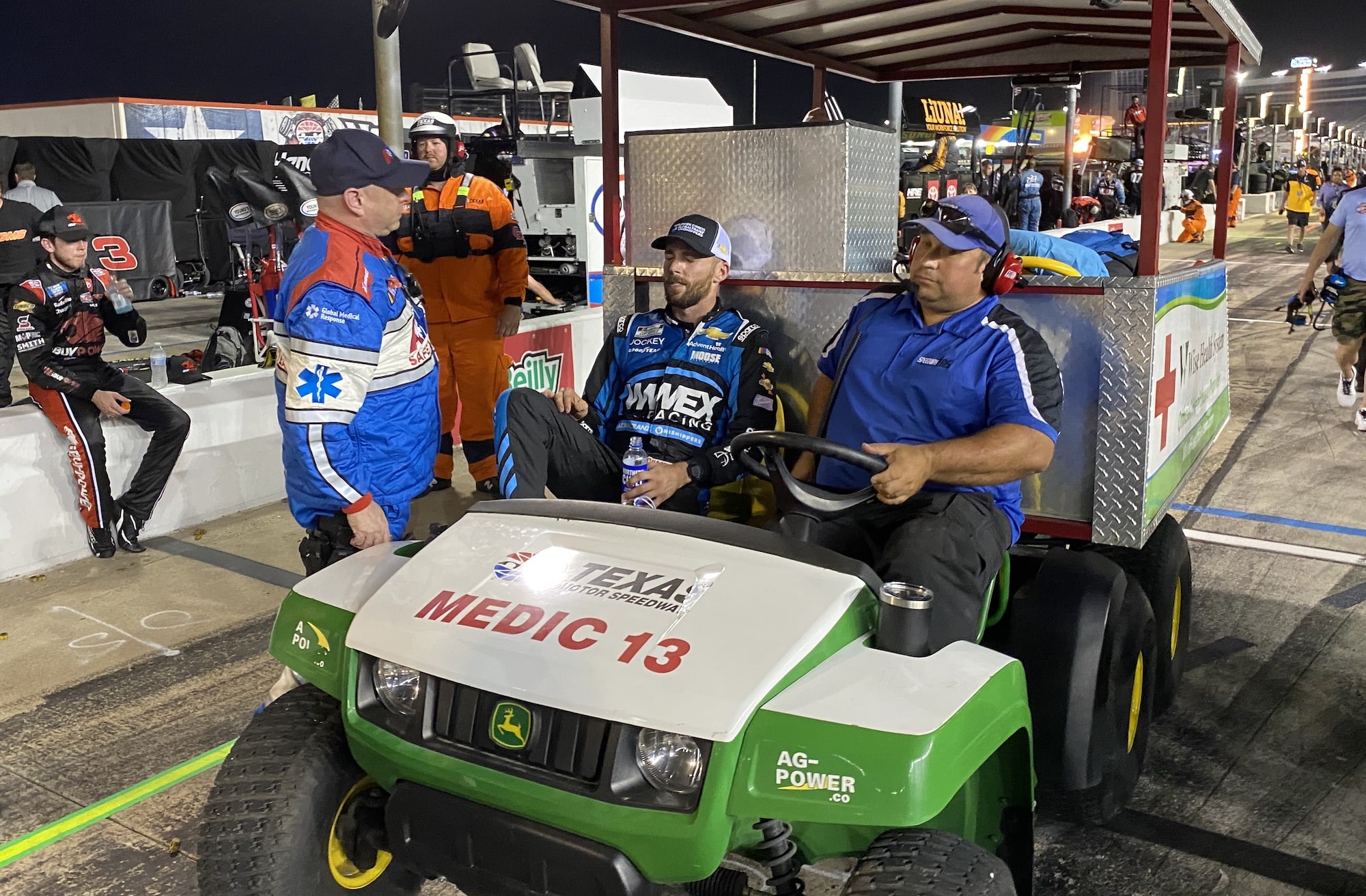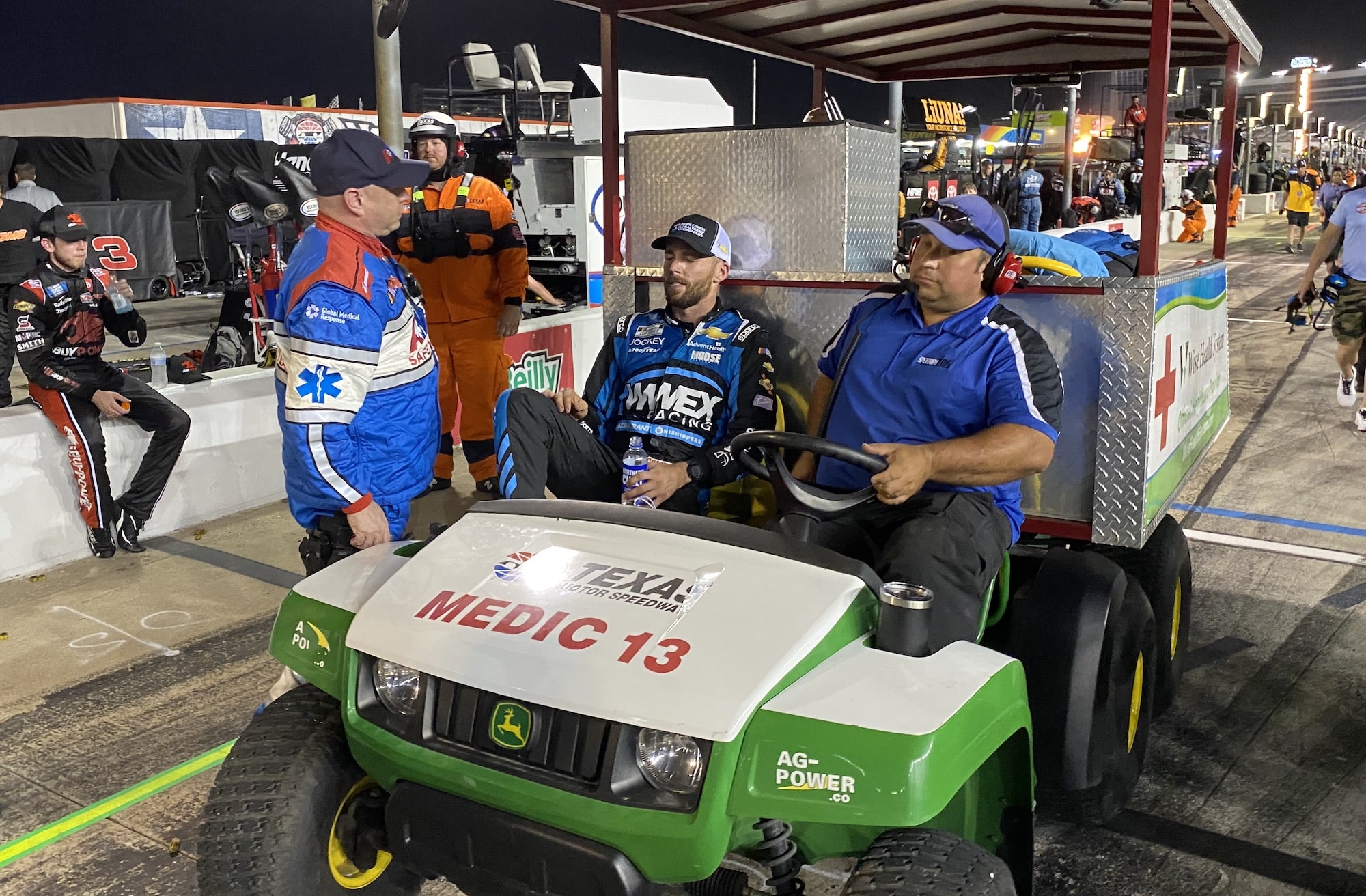 In addition to his Cup duties this year, Chastain has got extra seat time racing a couple of times in the Truck Series, where he has three career wins to his credit. 
After a couple of finishes in the mid-20s at Atlanta and Darlington, Chastain appeared to be in a fast truck on Friday night at Texas Motor Speedway and ran up near the front for a good portion of the race. When it was over, he earned his best Truck result of the season, finishing 12th. 
However, it wasn't Chastain's performance but his health that everyone was talking about after the race as he exited his truck and lay down on pit road. Some reports indicated that he had fainted. Once he sat up, he walked slowly to a medical golf cart on his own power, where he sat and closed his eyes.
He later confirmed that he had suffered from dehydration and leg cramps. An IV in the infield care center made him feel better, and he joked how he felt like a million bucks, the prize amount for the All-Star Race winner. 
Chastain wasn't alone. Several other drivers complained of heat issues after racing for a couple of hours with temperatures in the upper 80s and high humidity. 
Looking to win the million and make a push for the playoffs
On Saturday morning, Chastain tweeted a photo saying how he's recovered and looking forward to practice and qualifying for the All-Star Race. After he battles on Sunday for the million-dollar prize, he will return to points race action next week at Charlotte and, along with William Byron, who also has a pair of wins, is considered an early championship contender. 
It's an improbable story for someone who has faced long odds throughout his Cup career racing in lesser equipment. If he can win the million on Sunday, he'll have another Lone Star memory from an unforgettable year, including a steamy Friday night in the trucks that he would just as soon forget.
Like Sportscasting on Facebook. Follow us on Twitter @sportscasting19 and subscribe to our YouTube channel.