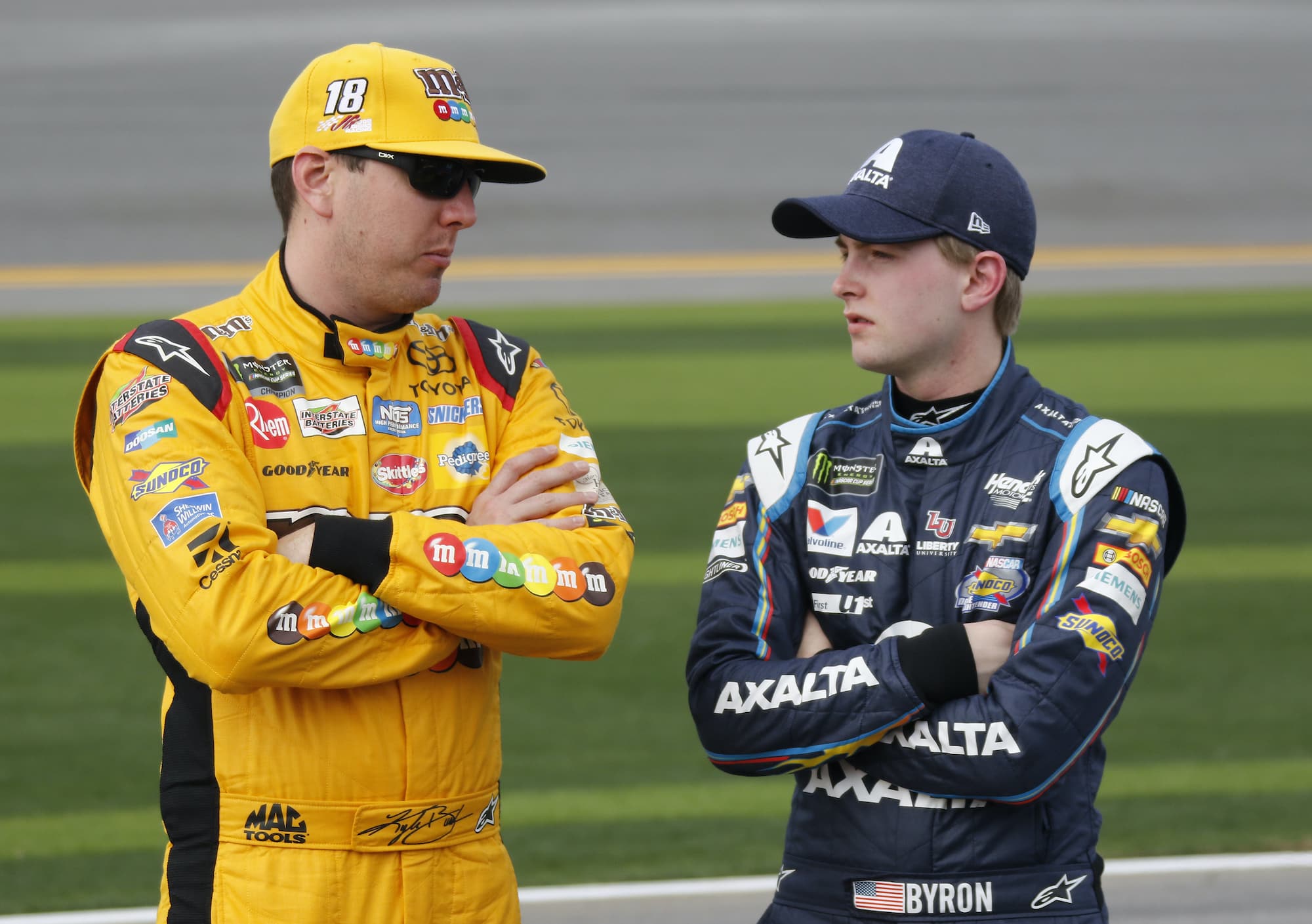 Kyle Busch Talks About William Byron and Admits He's Still 'Pissed' About a Move the HMS Driver Made Years Ago
Kyle Busch addressed William Byron's season, his fiery comments after Darlington, and candidly admitted he's still pissed about a move Byron made years ago.
Through the years, Kyle Busch has not shied away from sharing his thoughts about anyone and everyone in NASCAR. No one has been safe from his crosshairs, including NASCAR execs, his own team, and fellow drivers. 
This past weekend in Kansas, Busch met with reporters and was asked his thoughts on the postrace comments of William Byron from the week before at Darlington after he and Joey Logano (a well-known Busch nemesis) tangled late in the race. The Joe Gibbs Racing driver didn't disappoint, including a reference to something Byron did years ago that still pisses him off to this day. 
William Byron had an impressive one-year run with Kyle Busch Motorsports
William Byron first made waves on the NASCAR national scene back in 2016, his first full-time season in the Truck Series with Kyle Busch Motorsports. Just four races into the season and the young driver won for the first time. He was just getting started.
Byron went on to impressively win six more times that year, including the season finale at Phoenix. He finished with 16 top-10 finishes in the 23-race schedule and, unbelievably, ended fifth in the season standings. 
Unsurprisingly, with that level of success, it was his lone season with KBM and he moved on to the Xfinity Series in 2017 before debuting with the Cup Series in 2018. 
Kyle Busch comments on Byron and move he made that still pisses him off
This year, Byron has had a breakout season with HMS, winning multiple times for the first time in his Cup career. He appeared to be in line for a third win at Darlington but Joey Logano had other ideas, and sent him into the wall late in the race. Frustrated by the Penske driver's move, Byron revealed a side in his postrace interview no one had seen before and it was a hot topic of conversation last week on NASCAR talk shows. 
When a reporter asked Kyle Busch at Kansas what he thought about Byron's fiery display, the two-time Cup Series champion had nothing but kind words to say about the HMS driver, with one exception. 
"I don't know what you're speaking of. I haven't seen it," Busch said. "But William and I are still good. Wouldn't say friends, but we talk. Last week we were actually talking because he is working with and driving some super late model stuff that I used to do. So we chatted about that. We've chatted before.
"He's helped support the Bundle of Joy Fund over the years — him and his dad, his family, his mom as well. They've been a great ally to have and working with him over the years that I did. I still blame him for stealing Rudy Fugle from Kyle Busch Motorsports, who is now his crew chief. I'm pissed off about that but he's a good kid so he deserves a chance and he's making the most of that chance right now. He's doing a good job. Whatever fieriness he has, then, by all means, put it out there. Let's see it."
Busch and Logano have a much more tension-filled history
While Busch is still agitated by Byron poaching Fugle from KBM to serve as his crew chief in Cup, the JGR driver has had a much more adversarial relationship with the other major player from the brewing conflict at Darlington. 
Busch and Logano have a long history, including one of the most notable run-ins in 2017 at Las Vegas when the driver of the No. 18 was upset by the Penske driver's moves late in the race, walked down pit road afterward, and sucker-punched him. He talked about it on the I Am Athlete-NASCAR podcast last year. 
"I got out of my car and marched my happy ass down pit road, and I turned right in to where he was," Busch recalled. "I just pulled it back and let it rip. Hit him right across the face. Of course, I got the one hit in because the whole rest of the fight was all these dudes pulling us apart."
Busch and Byron took very different approaches to their disagreements with Logano. It'll be interesting to see if the feud continues this season and if the HMS driver decides at some point whether a more assertive message needs to be sent.  
Like Sportscasting on Facebook. Follow us on Twitter @sportscasting19 and subscribe to our YouTube channel.