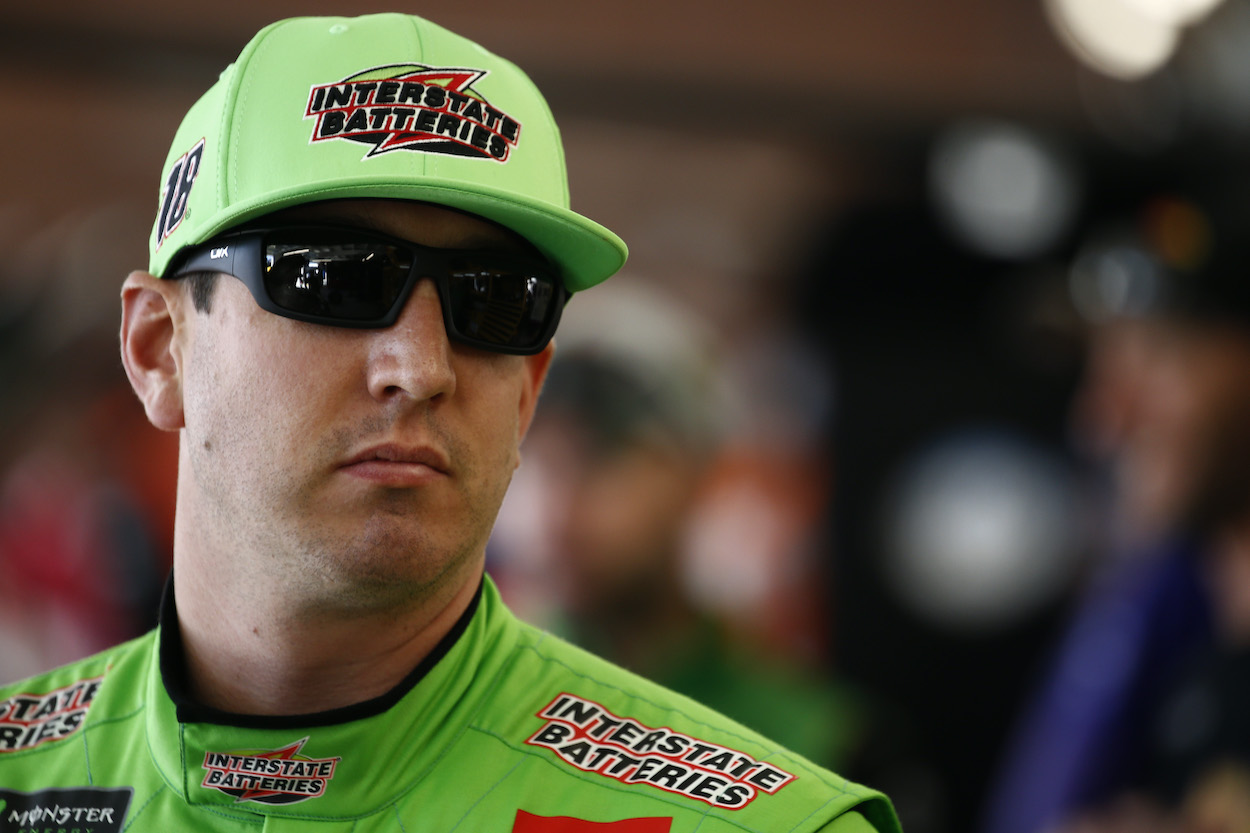 Unhappy Kyle Busch Expresses Frustration With Racing at Texas by Sharing Top NASCAR Official's Email Over Radio During Race
Kyle Busch was not happy with the racing at Texas and directed his frustration at a top NASCAR official by sharing his email over the radio during the race.
Kyle Busch has liked racing at Texas Motor Speedway in the past with four Cup Series wins to his credit, including his lone victory in 2020. On Sunday, the two-time champion was not happy with the racing because of the package and voiced his frustration over the radio, at one point giving out the email of NASCAR's chief racing development officer, Steve O'Donnell.
Kyle Busch unhappy with finish at Texas
Kyle Busch came to Texas without his first-string team after NASCAR suspended crew chief Ben Beshore following last week's race at the Charlotte Roval for two lug nuts not being safe and secure. Despite Beshore's absence, Busch still managed to finish eighth in the Lone Star State. Even with a top-10 finish, the driver was clearly unhappy with the team's performance.
"(Getting above the cutline is) about the only thing we got out of today," Busch said. "We were just off. I don't know how we missed it, why we missed it, or what, but just taking off on fire off, there's just no grip whatsoever. We would just chatter the front tires, so we missed it today. We missed it big time. I don't know what is going on, but that wasn't the way to perform on the opening day today. 
"Thanks to Interstate Batteries. I appreciate all of their people that were with us today. I just feel bad that we didn't do a better job. We have to go back to work. Next week is Kansas — same kind of thing."
Frustrated with style of racing and gives out email of NASCAR chief racing development officer 
Kyle Busch being unhappy with an eighth-place finish reveals just how high the bar is set for the No. 18 team. He didn't win a couple of championships in 2015 and 2019 by accident. 
However, during Sunday's race at Texas, the 36-year-old driver wasn't just dissatisfied with his car's performance but the overall racing because of the 550 HP package used at intermediate tracks.
"Race fans, if you enjoy this accordion-style racing, please send your email to (O'Donnell's email address)," Busch said over his radio.
After the race, Busch was asked whether his message directed at O'Donnell was about the tires.
"No, the package," he said. "Every time you run somebody down, then they accordion you backwards, and then you run them down, and then they accordion backwards. It's terrible. It's a joke. But sign me up for more, I guess."
Kyle Busch and Steve O'Donnell have a history together 
Kyle Busch's unhappiness with race packages isn't anything new. He voiced his frustration after the spring race at Dover in 2019.
"The package sucks. No f****** question about it. It's terrible," he said. "All I can do is b**** about it, will fall on deaf ears, and we'll come back with the same thing in the fall."
Steve O'Donnell responded a couple of days later on SiriusXM. 
"His teammate was able to win and pass every car in the field, but he chose to make the comments he did," O'Donnell said. "If you look at the package, no matter what we've put out there, drivers always say it's hard to pass. Our comment back to that has always been: 'These are the best drivers in the world. It's going to be hard to pass them.'"
O'Donnell has yet to respond to Busch's comments after Texas. But it's likely going to be similar to his last response. And it will likely be similar in the future because it's not a matter of if, but when it happens again.  
Like Sportscasting on Facebook. Follow us on Twitter @sportscasting19.