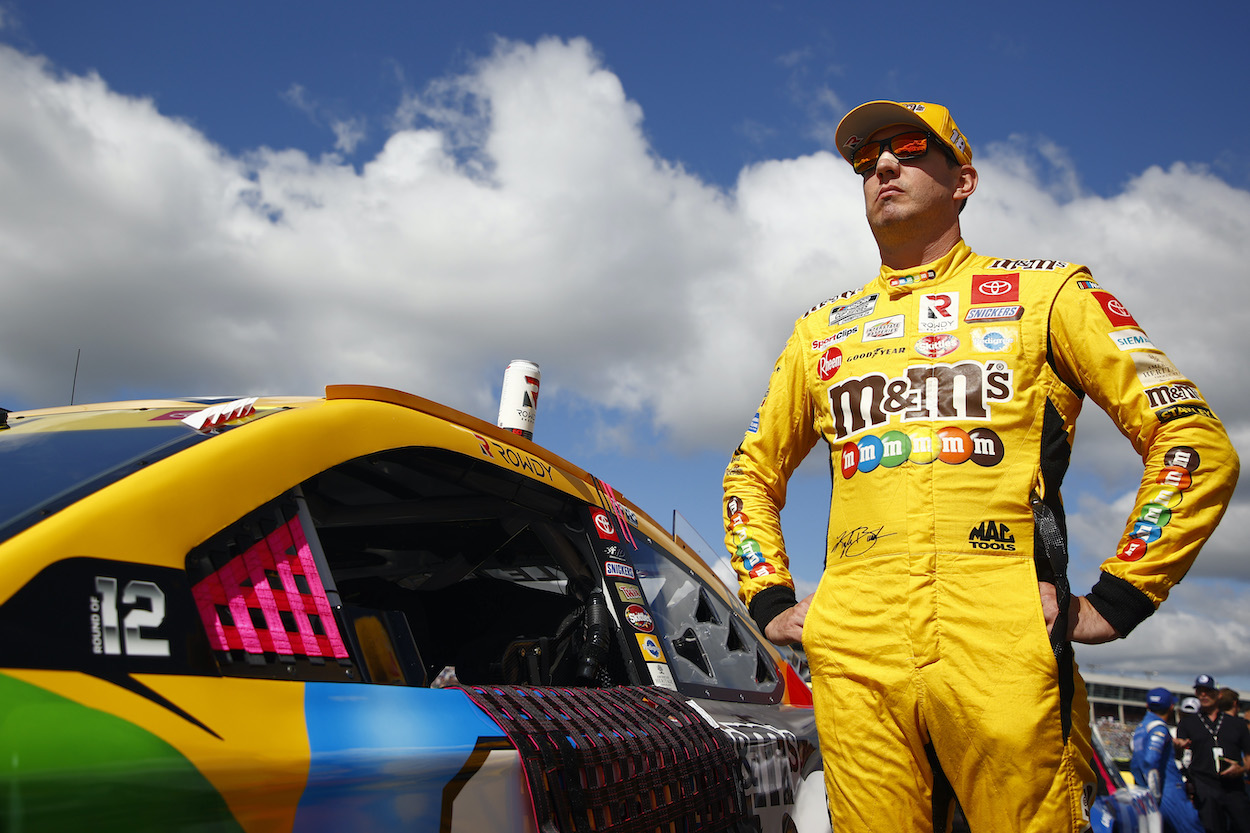 Kyle Busch Preached About Avoiding 'Dumb' Mistakes Before the Playoffs and His Team Committed a Big One at the Roval That Could Prove Costly in Next Round at Texas
Kyle Busch said before the playoffs that avoiding "dumb" mistakes is key to success and a chance at winning a title. His team committed a big one at the Roval and it could hurt his chances at Texas this weekend.
Kyle Busch is a two-time Cup Series champion. He's won in the current playoff format and knows the importance of minimizing mistakes. On Sunday at the Charlotte Roval, Busch ran his best race at the track since it debuted in 2018 and finished fourth. Unfortunately, the satisfaction of that top-5 finish took a significant hit after the race when NASCAR penalized the team for what Busch previously described as a "dumb" mistake, and it could prove costly heading to Texas for the next round of the playoffs.    
Kyle Busch provides keys to playoff success and avoiding 'dumb' mistakes is a big one
Before the 2021 Cup Series playoffs started, Kyle Busch and the other 15 playoff drivers met with reporters and talked about the upcoming postseason. During Busch's session, he talked about his recent playoff success, including a pair of titles in 2015 and 2019. When asked for his keys to success, the 36-year-old driver identified a couple of things.
"Don't beat yourself, speeding penalties, obviously, and leaving lug nuts off. Just dumb stuff," Busch said. "Those are definitely things to kind of live by."
Busch, who has been known to ruffle a few feathers in the past, said it's also important in the playoffs to keep the peace with other drivers, if at all possible. 
"Not really trying to put yourself in a bad spot. Every spot is important, especially if you're trying to point your way through the rounds if you don't have chances of winning," Busch said. "If you're coming down and you're running fifth, but fourth and third are right there in front of you, at say Bristol, wanting to pass those guys and get by those guys but not creating enemies in the way of going about that and setting yourself up for a future hard time at the next race with that guy. You're just trying to do what you can to be as clean as you can."
Kyle Busch offers thoughts on Kevin Harvick and Chase Elliott conflict  
Kyle Busch stayed out of the fray on Sunday but watched as Kevin Harvick escalated his feud with Chase Elliott and broke one of his main playoff rules. Harvick dumped Elliott and appeared to have cost the No. 9 team a shot of advancing to the next round. But in an unexpected plot twist, it was the No. 4 who crashed into the wall and out of the playoffs. 
Busch called out Harvick for his aggressive driving throughout the day and said he clearly didn't care about the consequences.
"The 4 was 'bout running over everybody. He didn't make very many friends out there today," Busch admitted. "That just kind of goes to show what you've got to do in these races and it doesn't matter whose feelings you hurt and what's going to come back on you next week. We saw it with me last year. The 4 dumped me in Martinsville. Can't say that I've been guilty of that yet. There's some dirty dudes out there."    
Busch avoids conflict but team commits one of his 'dumb' mistakes
While Busch ran a clean race as far as avoiding conflict with other drivers, after the race, the Joe Gibbs Racing team learned it had committed one of Busch's big no-nos, as postrace inspection revealed that two lug nuts were not safe and secure. As a result, NASCAR fined the team $20,000, but more importantly, crew chief Ben Beshore will be suspended for the race this weekend at Texas.
Beshore's absence is undoubtedly significant, but if anyone can find a way to overcome the adversity at this particular track, it's Busch. He likes Texas and with good reason. Of his 59 career Cup wins, four have come at Texas, including his lone victory of the season last year. 
Racing action for Busch and the Cup Series drivers begins on Sunday at Texas Motor Speedway at 1 PM.
Like Sportscasting on Facebook. Follow us on Twitter @sportscasting19.