Kyle Larson Missed Out on a Triple Crown Saturday and Will Be Looking to Avoid 'The Big 1' Monday at Talladega in the NASCAR Cup Series Playoffs
Kyle Larson had a disappointing night in pursuit of a World of Outlaws triple crown, but it was still a better outcome than NASCAR drivers caught up in 'The Big One' experienced.
Life is pretty good for Kyle Larson heading into Talladega, the midpoint of the 10-race NASCAR Cup Series playoffs. The driver of the Hendrick Motorsports No. 5 Chevy is coming off an unimpressive 10th place at Las Vegas but remains in the lead for a berth in the championship race on Nov. 7 in Phoenix.
However, Larson's situation isn't so great that he can afford a lost first weekend of October. Unfortunately for him, he's halfway there.
Kyle Larson missed out on a triple crown
Had he been coming into Talladega in a fight for survival, Kyle Larson probably would not have detoured to Mechanicsburg, Pennsylvania, for World of Outlaws racing on Friday and Saturday. Holding the points lead through four NASCAR Cup Series playoff races, however, afforded him the opportunity to return to his competitive roots.
Earlier this year, Larson scored victories in the King's Royal and the Knoxville Nationals, two of the three biggest races in the annual races on the WoO schedule. The third race, the National Open at Williams Grove Speedway, was this weekend.
Larson, who is in his ninth season of NASCAR Cup Series racing, won a preliminary race Friday ahead of Saturday's championship race with a $75,000 first prize. With a victory Saturday night, he would have become just the third driver to secure that triple crown, joining Doug Wolfgang (1985) and Donny Schatz (2007).
"I didn't think I would get the chance to come race here with the NASCAR playoffs but I've got a great team that allows me to chase an awesome goal," Larson said.
Unfortunately, it didn't pan out. Larson's qualifying heat result left him buried deep in the field for the final, and he placed eighth, cashing a check for $3,000, which is about what he'll spend on rubber at Talladega, assuming there aren't too many four-tire pit stops.
Don't feel too badly for Larson. According to Frontstretch.com, he has earned $395,000 in 15 WoO starts this season. Series point leader Brad Sweet has won $393,000 in 69 races.
Kyle Larson should be leery of Talladega after a crazy trucks race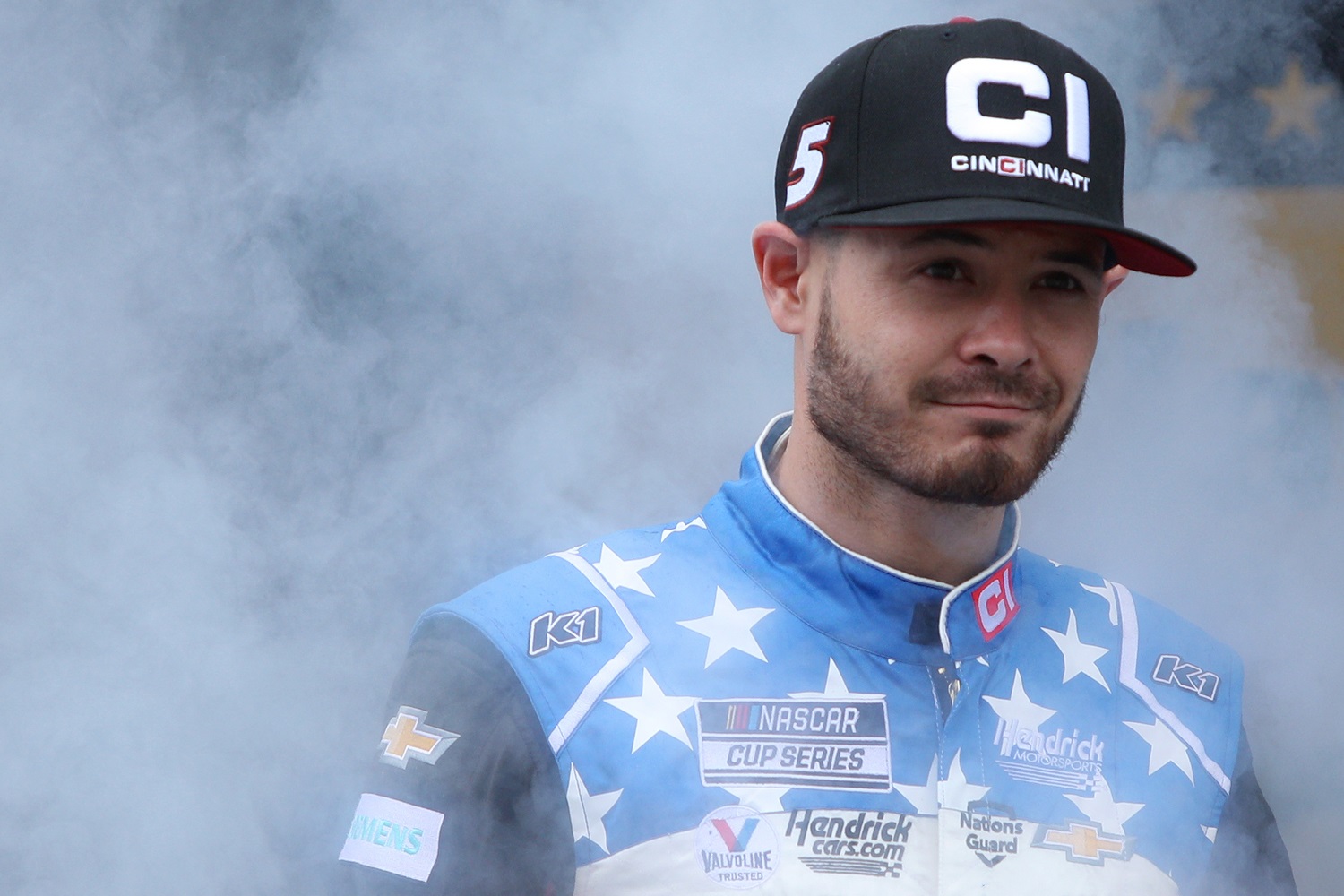 It was probably better for Kyle Larson that he was busy racing in Pennsylvania on Saturday during the NASCAR trucks and Xfinity races at Talladega. However, the rainout on Sunday for the Cup Series race gave him plenty of time to catch up on Saturday's double dose of multi-car wrecks referred to as "The Big One."
With large fields and speeds approaching 200 mph on the straightaways of superspeedways, Talladega and Daytona are particularly susceptible to triggering catastrophic wrecks.
"The Big One" likely originated with ESPN announcer Bob Jenkins describing a crash at the Winston 500 in 1998 as "the big one that we had hoped we would not have."
The biggest "The Big One" in recent memory was probably the 2002 Aaron's 499 at Talladega. Although it only ended the day for seven drivers, the incident resulted in 25 cars tapping the wall or other cars, starting with Tony Stewart brushing the wall. Amazingly, everyone escaped injury.
It wasn't their intent, but drivers in Saturday's two races took a run at generating comparable carnage.
On lap 58 of the trucks race, Chase Purdy pushed Todd Gilliland's Ford into the back of Austin Hill's Toyota. That propelled Hill up the track, knocking Zane Smith into the outside wall. By the time it was over, 21 of the 40 trucks that started the day absorbed damage.
Eighteen laps later, another wreck ended the day for playoff drivers Stewart Friesen and Carson Hocevar. It began with former Talladega winner Grant Enfinger attempting to block Sheldon Creed high on the track. Only seven trucks were involved, but the mess contributed to only 20 of the 40 competitors remaining on the track for the checkered flag.
The Xfinity race was almost as crazy
Before breaking through with four NASCAR Cup Series wins in 2017, Kyle Larson won five Xfinity races from 2014-16 and then another seven over the next two seasons. Those cars are as close as it gets to Cup Series rides, and they wreck at Talladega with the same regularity.
On Saturday, crashes contributed to the race finishing under a yellow flag as NASCAR officials decided it was too dark to finish at full speed.
Championship contender Noah Gragson was running in the lead on lap 88 when Jeb Burton's Chevrolet tangled with Brett Moffitt's Camaro. Moffitt slid down into Gragson's Camaro, which went hard into the outside wall and came back down into the path of Myatt Snider.
By the time it was over, 12 cars suffered damage.
All things considered, eighth place in Pennsylvania wasn't such a bad outcome for Larson.
Like Sportscasting on Facebook. Follow us on Twitter @sportscasting19.