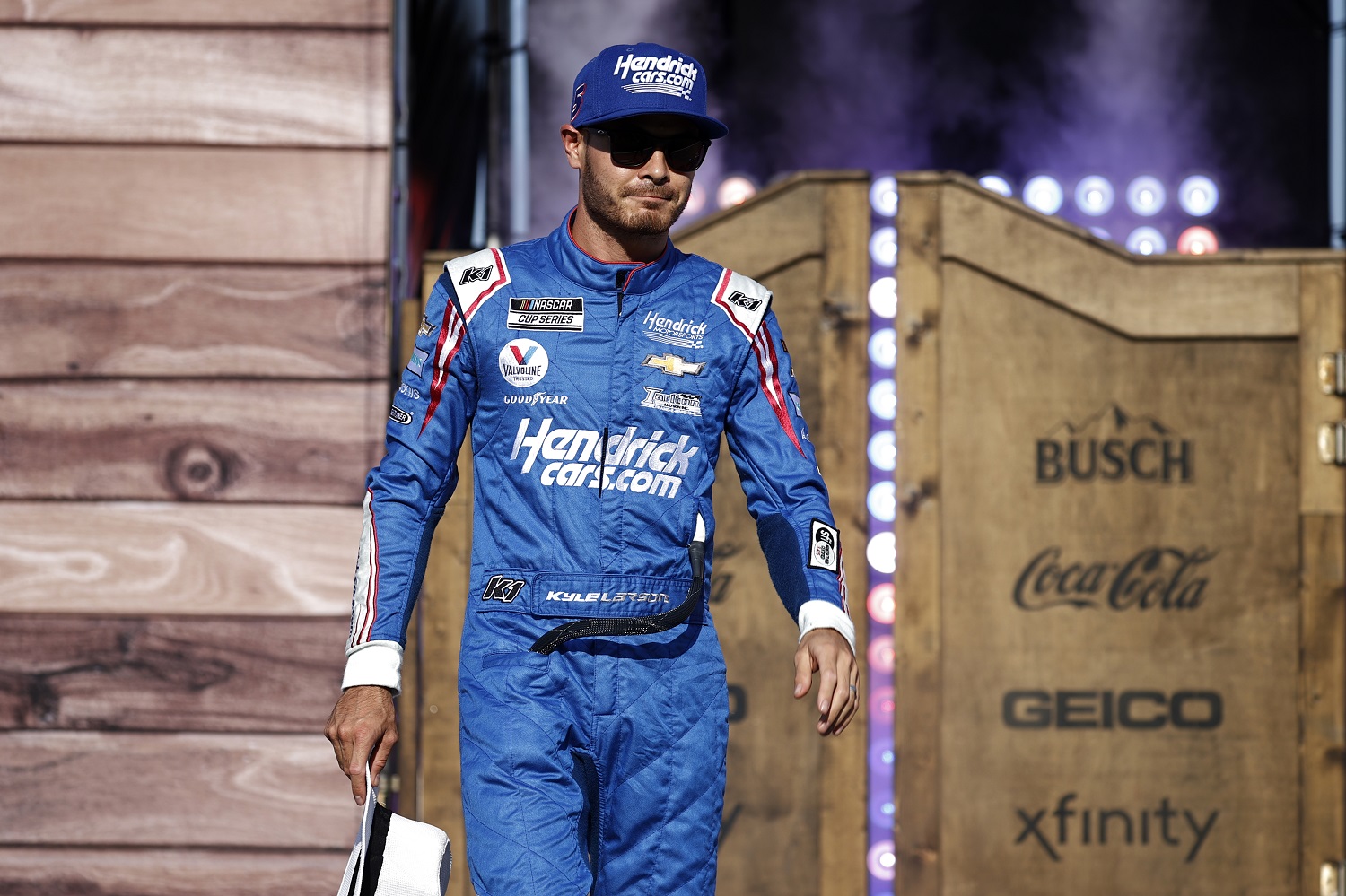 Kyle Larson Warmed Up for New Hampshire With a $175,000 Win During His Wildest Week Yet in NASCAR
Kyle Larson has endured a week of highs and lows coming into the homestretch of the 2021 NASCAR Cup Series regular season.
Kyle Larson is going to have all sorts of stories to tell about his triumphant return to the NASCAR Cup Series. But telling the tale of his past week will take him at least a month, and that's before he even jumps back into the Hendrick Motorsports No. 5 Chevy for the Foxwoods Resort Casino 301 at New Hampshire Motor Speedway on Sunday.
Kyle Larson comes to New Hampshire after a NASCAR Cup Series letdown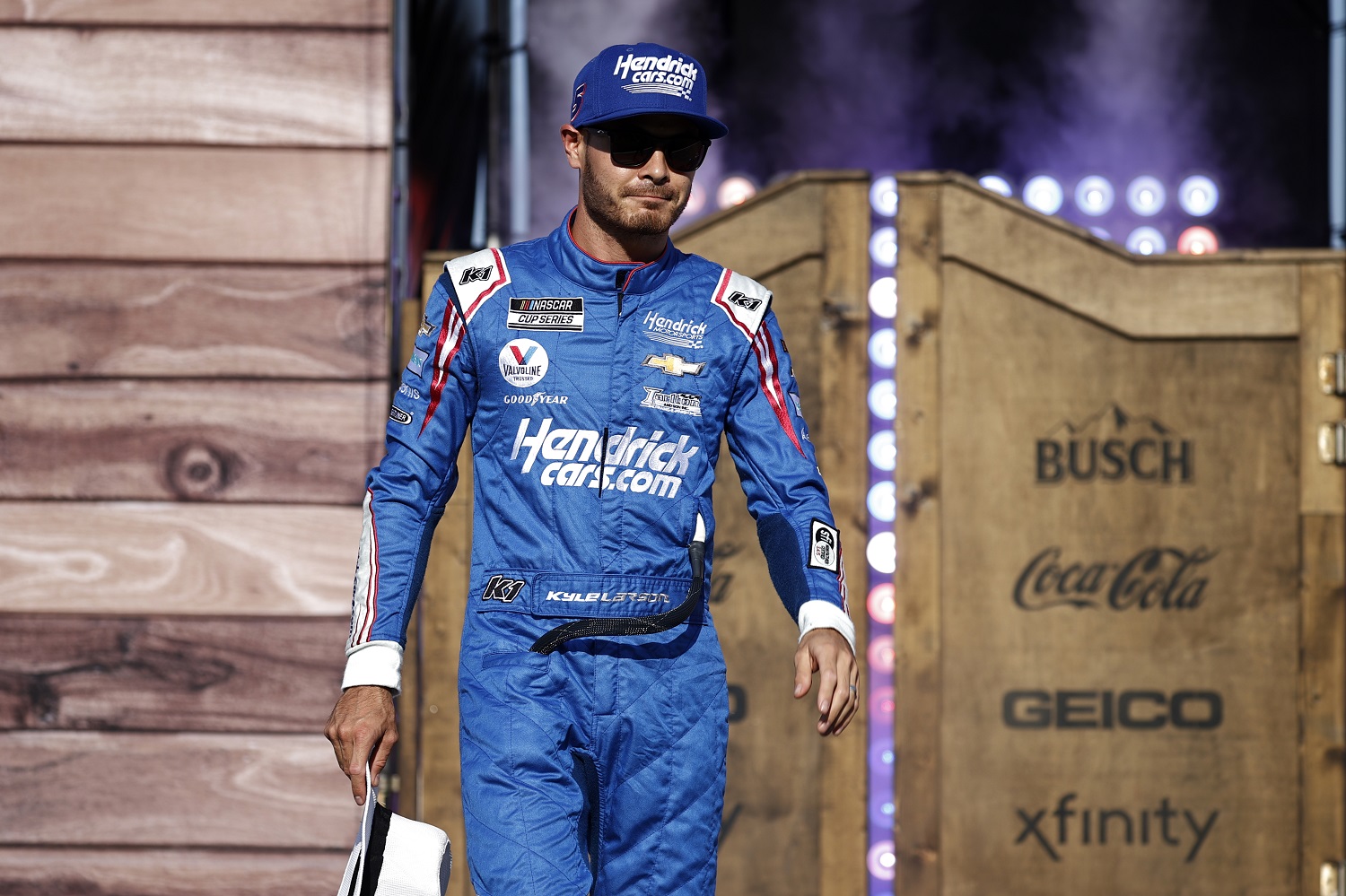 With four points-race victories already, Larson has locked himself into the NASCAR Cup Series playoff beginning Sept. 5 at Darlington. Still, his season to this point could be even better. Immediately prior to winning three straight races beginning with the Coca-Cola 600, Larson logged three straight second-place finishes.
Those don't even qualify as Larson's biggest near-misses. There was the last-lap flat tire at Pocono, of course. However, the 18th-place showing last weekend in Atlanta qualified as worse worse because that was a self-inflicted disaster, and it started his wild week.
Larson dominated the QuikTrip 500 until taking a pit-row speeding penalty on lap 224 under a caution flag that sent him to the back of the pack. He climbed as high as 12th place at one point but couldn't hold that.
He'll be coming to New Hampshire this Sunday looking to shake off the memory in the final race before NASCAR goes on hiatus for the Olympics.
More ups and downs for Larson
As if he needed any more disappointment, Larson washed out two nights later at a World of Outlaws event in Attica, Ohio. In the grand scheme of things, it was a nothing race. However, Larson enjoys his time competing away from NASCAR's big stage. Spinning out before completing a lap was not the way the night was supposed to go.
On a scale of 1 to 10, that scarcely registered at all compared to the next development of the week: Hendrick Motorsports announced that it had extended Larson's NASCAR Cup Series contract through 2023. In addition, the team disclosed that Larson will carry HendrickCars.com sponsorship when he's competing outside of NASCAR.
That carries a financial commitment with it while giving Larson approval to keep doing what he loves. If his week had ended with just that, it would have constituted a nice consolation prize after the penalty in Atlanta and the spinout in Attica.
But there was more to come.
WoO fans can call him King Kyle after a wild night
Larson flew off to New Hampshire after scoring the biggest dirt win of his career under a wild set of circumstances.
Larson was competing in the 37th annual Kings Royal at Eldora Speedway in Rossburg, Ohio, on Saturday. The race is a highlight of the NOS Energy Drink Sprint Car Series, and Larson hadn't won anything – despite 21 previous victories – that big in the World of Outlaws despite close calls over the years.
The day began with Larson flipping during the afternoon's "Last Chance Showdown," damaging his car enough to cast doubt on whether he could be competitive in the final.
After starting in the fifth row, Larson methodically clawed his way to the lead by the midway point and maintained control the rest of the way. He took the checkered flag and took home the $175,000 top prize.
"This is unbelievable," Larson said, according to the World of Outlaws website. "This year has been so up-and-down, I didn't think we'd be in victory lane after that flip. It's just awesome to win a crown jewel in general."
Though it may pale in comparison to NASCAR Cup Series paydays and prestige, winning one of the WoO jewels crosses another item off Larson's career bucket list.
Like Sportscasting on Facebook. Follow us on Twitter @sportscasting19.