Kyle Larson Pulled Off a Major Power Move In Negotiations With Hendrick Motorsports
A pariah in the NASCAR ranks a year ago, Kyle Larson has assured himself a future in American motorsports' best-known racing circuit. In the process, he has negotiated a deal that wipes a bit of black-letter law from his team's rulebook.
That's what a man can accomplish by revving the engine on his career to go from zero to 60 in nothing flat.
Kyle Larson's contract extension isn't a surprise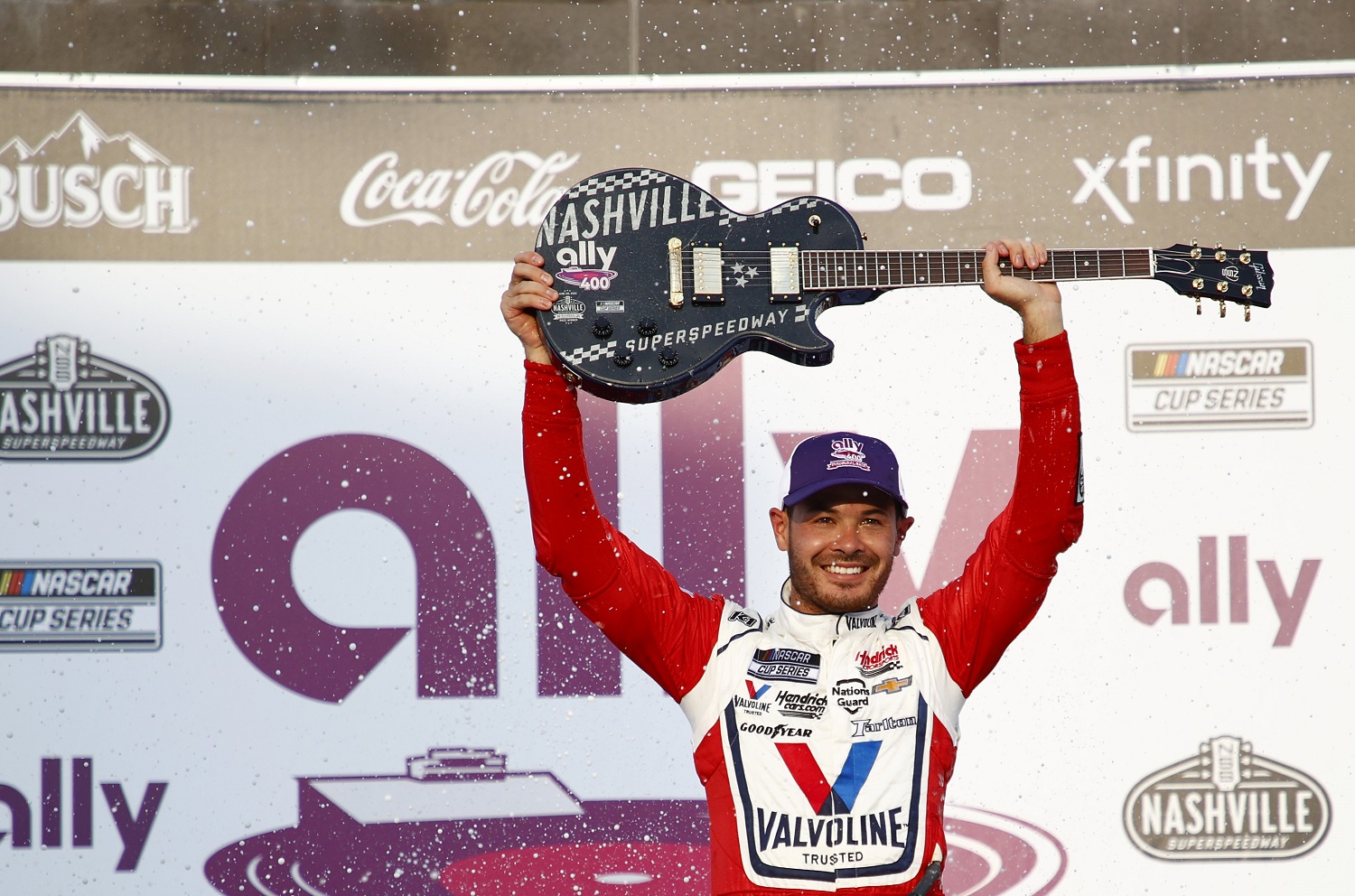 NASCAR Cup Series observers had expected the news since Memorial Day, so the announcement that Larson and team owner Rick Hendrick reached an agreement on a contract extension through 2023 was met was a collective shoulder shrug.
Larson won at Las Vegas a month into the season, then won three in a row this summer at Charlotte, Sonoma, and Nashville — with a first-place showing in the All-Star Race thrown in for good measure. He has also logged five second-place finishes in the course of becoming the sport's story of the year.
With that as the background, Hendrick Motorsports announced a one-year extension that keeps Larson in the No. 5 Chevy through 2023. Hendrick Automotive Group, already a substantial partner, will sponsor the car in 35 of 38 events, with Valvoline reserving the remaining races.
The arrangement constitutes a win for everyone involved. Larson gets financial security, Hendrick Motorsports takes a significant step toward keeping his potent team intact for the long haul, and the sponsors salivate at the possibility of their names plastered across a car that could lead 2,000 laps a season on national TV.
Larson pulled off a major power move
Easily the most interesting aspect of the deal between Larson and Hendrick is the tradeoff between driver and owner. Larson will be able to drive in non-NASCAR races, but he will carry HendrickCars.com branding on his helmet, driver's suit, and gloves, according to NASCAR.com. Being able to race away from the big stage is no small matter for Larson because he loves all forms of motorsports.
Larson started the 2020 season with Chip Ganassi Racing, which fired him in April after his use of a racial slur during an iRacing broadcast. Larson rode out a NASCAR suspension and drove for his own sprint car team on the World of Outlaws circuit while completing sensitivity training.
The driver was in no position to negotiate perks when Hendrick brought Larson aboard last October, but it's amazing the sort of leverage that compiling five victories in less than two-thirds of a season provides.
Until this month, Hendrick opposed allowing his drivers to compete outside of the NASCAR Cup Series on the grounds that it was an additional safety risk.
"I've changed my mind on the whole process," Hendrick told NASCAR.com. "I think driving big-horsepower cars out of control has helped him a tremendous amount in the Cup racing. His car control is steel. So, you've got to be willing to change. I guess these guys have worked me over enough. I've done it."
Chase Elliott is the first Hendrick Motorsports driver to benefit
While acquiescing to Larson's desire to race outside of NASCAR, Rick Hendrick will place limits on participation to avoid distractions during the 10-race playoff series at the end of the season. Other than that, Larson, Alex Bowman, Chase Elliott, and William Byron appear to be free to expand their racing horizons.
Elliott already has a high-visibility gig lined up at Nashville Fairgrounds Speedway. He will take part in Tony Stewart's Camping World SRX Series season-finale, racing against his father on Saturday and flying to Loudon, New Hampshire, in time for Sunday's Foxwoods Resort Casino 301.
That's the last NASCAR Cup Series race until Watkins Glen on Aug. 8, leaving drivers plenty of free time to indulge in other racing interests.
Like Sportscasting on Facebook. Follow us on Twitter @sportscasting19.