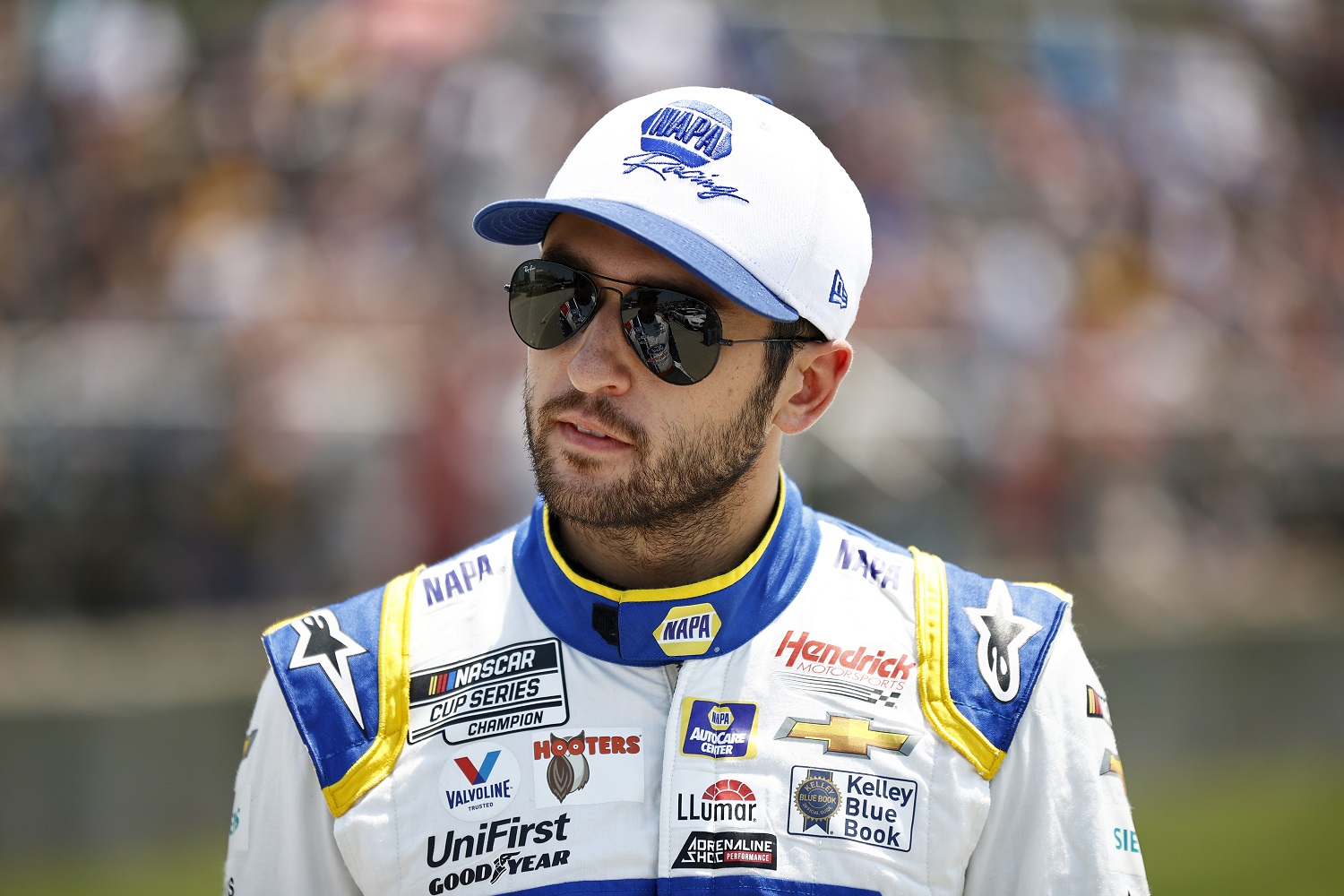 Reigning NASCAR Champion Chase Elliott Has Guaranteed a Victory for Tony Stewart
Defending NASCAR Cup Series champion Chase Elliott has agreed to race against his father on July 17 in Tony Stewart's Camping World SRX Series.
Fresh off a victory of his own, Chase Elliott has chalked up a win for the owner of a rival race team. A decision by Elliott won't hurt his chances of successfully defending his NASCAR Cup Series title, but it will give a boost to a racing innovation launched this season by Tony Stewart.
Tony Stewart's new racing series has fared well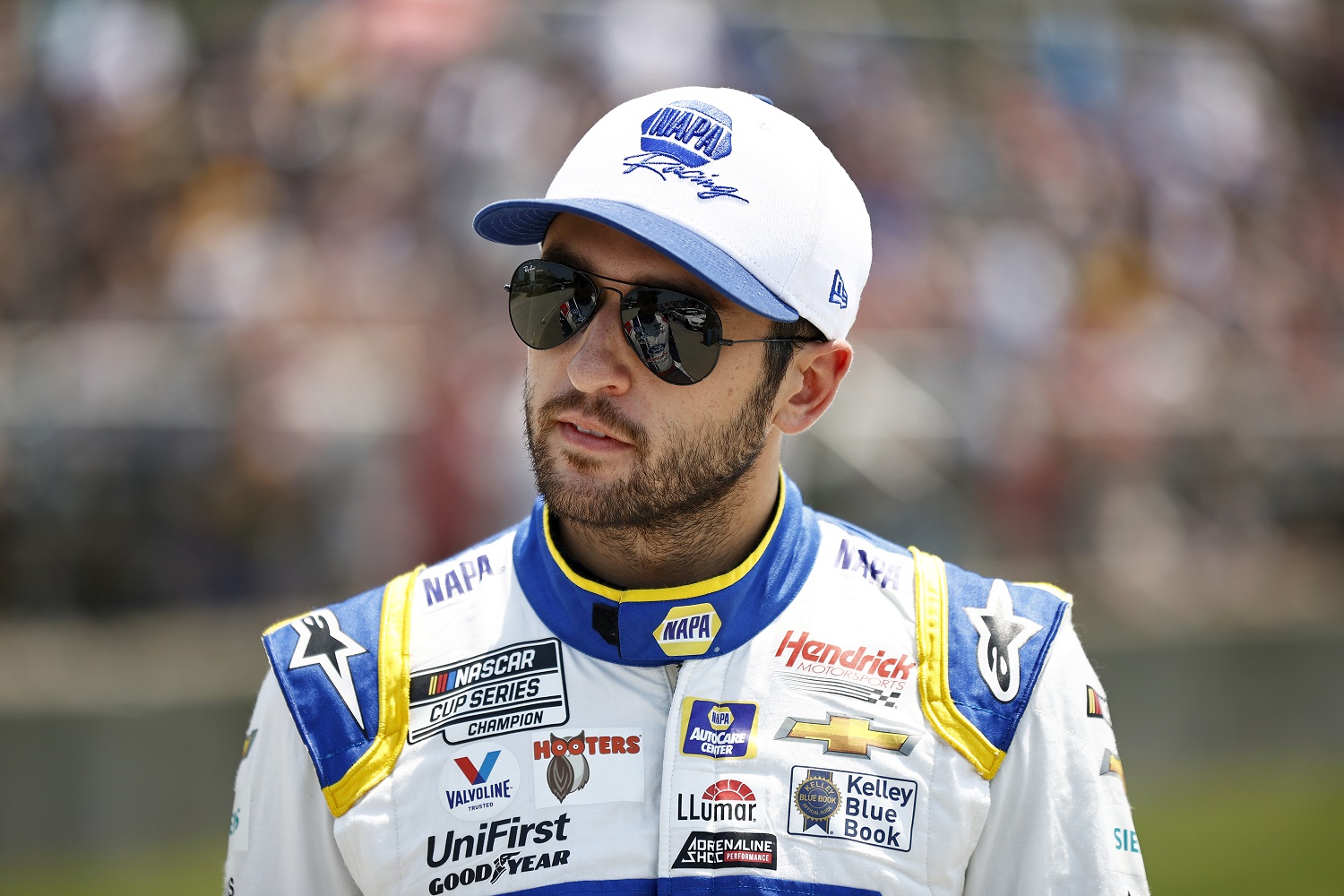 Any track was the right track for Stewart in his full-time driving days. Whether it was IndyCar in 1997, IROC in 2006, or the NASCAR Cup Series three times from 2002-11, Stewart was racking up championships.
In all that time, Stewart was equally enthusiastic about showing up at local tracks on a Friday night for fun competition on the dirt before hopping in his Xfinity Series car on Saturday and then competing in the Cup Series on Sunday.
His love of all things racing inspired Stewart, who retired from NASCAR competition in 2016 but remains an integral part of Stewart-Haas Racing, to launch the Superstar Racing Experience this spring. Besides co-founding the six-event Camping World SRX Series, Stewart is its big-name driver.
The Camping World SRX Series approach is to assemble smaller fields competing on shorter dirt and asphalt tracks in identically prepared cars, randomly pairing drivers with different crew chiefs each time out. The IROC-like approach was intriguing enough for CBS to buy the broadcast rights.
Stewart has won two of the four races, which have earned reasonable attention during a busy time of year for sports. The final two events are July 10 at Slinger Raceway in Wisconsin and July 17 at Nashville Fairgrounds Speedway.
Chase Elliott has signed on for the July 17 race
If anything has held back the Camping World SRX Series, it would be the absence of big-name drivers beyond Stewart and Helio Castroneves. Bill Elliott, Paul Tracy, and Michael Waltrip were successful in their full-time days, but those days were too long ago to appeal to younger fans.
That's why Chase Elliott's decision matters. Fresh off his victory on the road course at Road America in Wisconsin last weekend, Elliott announced that he will hop into the 12-car field in Stewart's series on July 17.
One appearance by a current NASCAR star in the season-ending race won't be a game-changer. However, Elliott will be showing fellow drivers that venturing into another series during the season is possible, much like Stewart did a decade ago. After driving in Nashville on Saturday, Elliott will fly to New Hampshire Motor Speedway for the following day's Foxwoods Resort Casino 301.
Chase Elliott will go head-to-head with his father
The cool aspect of Chase Elliot's decision to try the Camping World SRX Series is that he will compete against his father, all-time NASCAR fan favorite Bill Elliott – the man dubbed "Awesome Bill from Dawsonville."
Bill Elliott drove parts of 38 Cup Series seasons, winning 44 times from 1983-2003 and earning the 1988 season championship. Chase Elliott, 25, reached the Cup Series in 2015 and has won 13 times in the past four seasons.
"Racing is such a big part of our lives and I'm genuinely excited to compete with my dad in the SRX race at Nashville," Chase Elliott said in the announcement. "We've been together at racetracks hundreds of times and only once before have we competed on the same track together. It's an awesome opportunity and I'm really looking forward to it."
According to Motorsport.com, their lone appearance together was Oct. 20, 2013, in a Late Model race at South Alabama Speedway. Chase took the checkered flag and Bill finished fourth.
Chase frequently raced at the half-mile Nashville track in Super Late Model competition before stepping up to the top NASCAR series. Bill competed in seven Cup Series races there when the fairgrounds oval was a regular stop.
"My experience at Nashville is pretty dusty, so I might have to lean on Chase to give me some pointers from his time there in a Late Model," Bill said. "It could be a bit of a role reversal with him teaching me."
Bill Elliott's participation this year was due in part to Ray Evernham's role as a co-founder. He drove for Evernham from 2001-05, winning four times.
Stewart's role as an active co-owner of Stewart-Haas Racing obviously gave him access to Hendrick Motorsports driver Chase Elliott. If the July 17 race goes well, it's easy to imagine Stewart being able to recruit other drivers for one-off appearances next season, which would be another win for his fledgling series.
Like Sportscasting on Facebook. Follow us on Twitter @sportscasting19.