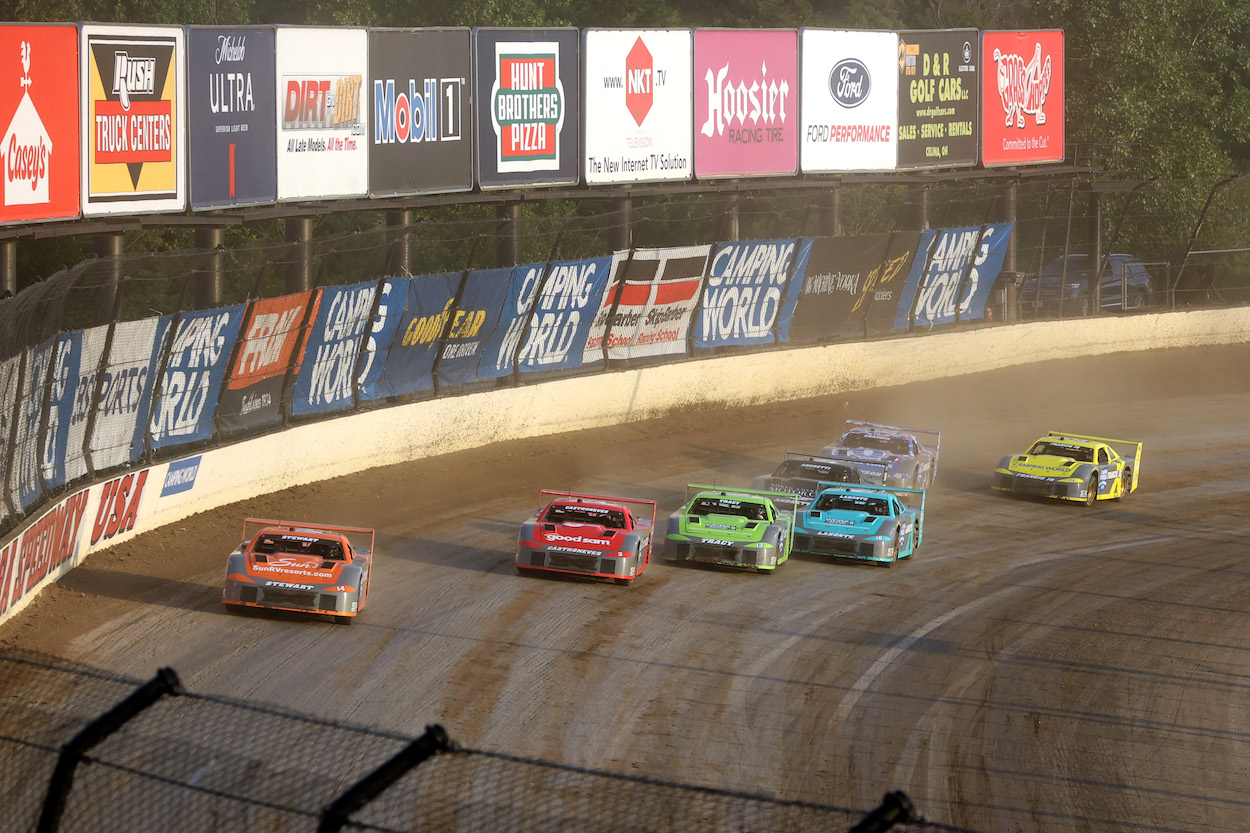 Tony Stewart Incredibly Calls His Shot and Impressively Backs It Up During Live In-Race Interview on SRX Broadcast
Tony Stewart gave an interview during the middle of the SRX race on Saturday, called his shot, and then impressively pulled off the move.
Tony Stewart won the last IROC Series title in 2006. He won his last NASCAR Cup Series race a decade later and retired. In the last five years, Stewart has had time to think about what he would do differently in a race to provide an improved experience for fans. 
On Saturday night, during the third race of Stewart's SRX Series, fans watching at home got to experience something never before shown when the broadcast went inside Stewart's car for an interview during the race. What happened next was incredibly entertaining as the three-time Cup Series champion called his shot and then backed it up moments later.
Tony Stewart launches SRX Series  
Since Tony Stewart and co-founder Ray Evernham announced the Superstar Racing Experience, fans have looked forward to the new series and the former top drivers from various disciplines competing in stock cars on short tracks around the nation in a six-race schedule. 
The first race of the season in Connecticut did not disappoint as the local driver, Doug Coby, held off Greg Biffle and Stewart for the win. In week two on the dirt in Knoxville, Iowa, Stewart proved he was top of the class and outlasted NASCAR Truck Series driver Hailie Deegan for the victory. 
In addition to the impressive field of world-class drivers, including Tony Kanaan, Helio Castroneves, Bill Elliott, Michael Waltrip, and Bobby Labonte, fans have raved about the first few weeks of action and the willingness of Stewart and Evernham to make adjustments based on feedback from the fans, like a more prominent display of the drivers' names and numbers on the sides of their vehicles after the first race.
Tony Stewart calls shot and backs it up during mid-race interview
Since it is a new series and they're trying to put the most entertaining product on the track, it allows Stewart and Evernham an opportunity to experiment and try new things maybe never tried before. On Saturday night, that's just what happened when the broadcast booth had radio communication with Stewart during the middle of the race. 
After driver analyst/announcer James Hinchcliffe got Stewart on the radio, the two had a casual conversation that got interesting in less than a lap around the short track at Eldora Speedway, which Stewart owns.
"Just watching you put on a little bit of a master class, going from the pole to the back before the start there, now all the way up to fourth, man. How's that thing handling?" the IndyCar Series driver asked Stewart.
"Pretty good. I'm about to give your little brother here an education here in one lap, please hold," Stewart said, referring to his pursuit of Marco Andretti directly in front of him, which drew laughter from Hinchcliffe's broadcast partner Allen Bestwick up in the booth.
"I don't know, man. He said he had his eye on you if you came around the outside of him he was going to try something. Just be careful with Marco," Hinchcliffe told him. "But go have fun out there."
"Yeah, we'll try. We're having a good time. These things are really fun. This is where that lap is going to come in right here," Stewart said as he drove the nose of his car inside of Andretti's car for the pass. Andretti tried to fight him off but Stewart easily made it past him. Stewart eventually went on to pass the rest of those in front of him and win his second consecutive race.   
Fans loved the interview 
The broadcast of Tony Stewart's call and subsequent move backing it up is why fans were excited about the SRX. They knew it would be a fun watch with some well-known drivers and some out-of-the-box ideas thrown into the mix. Saturday's live in-race interview proved to be a big hit with the fans.
"That was one of the coolest things I've ever seen in racing," one fan posted on Twitter.
"Watching Tony call his shot and following through was awesome!" another fan wrote.
"Absolute GOLD for tv!!!!!!" wrote another. 
If NASCAR or any of the other racing series were watching, they would be wise to consider something similar. Racing is, after all, entertainment. Sometimes it feels like the business side of it takes out all of the fun and the fans notice. They also know when something is done right. And that's what happened on Saturday night at Eldora right in the middle of the race.
Like Sportscasting on Facebook. Follow us on Twitter @sportscasting19.