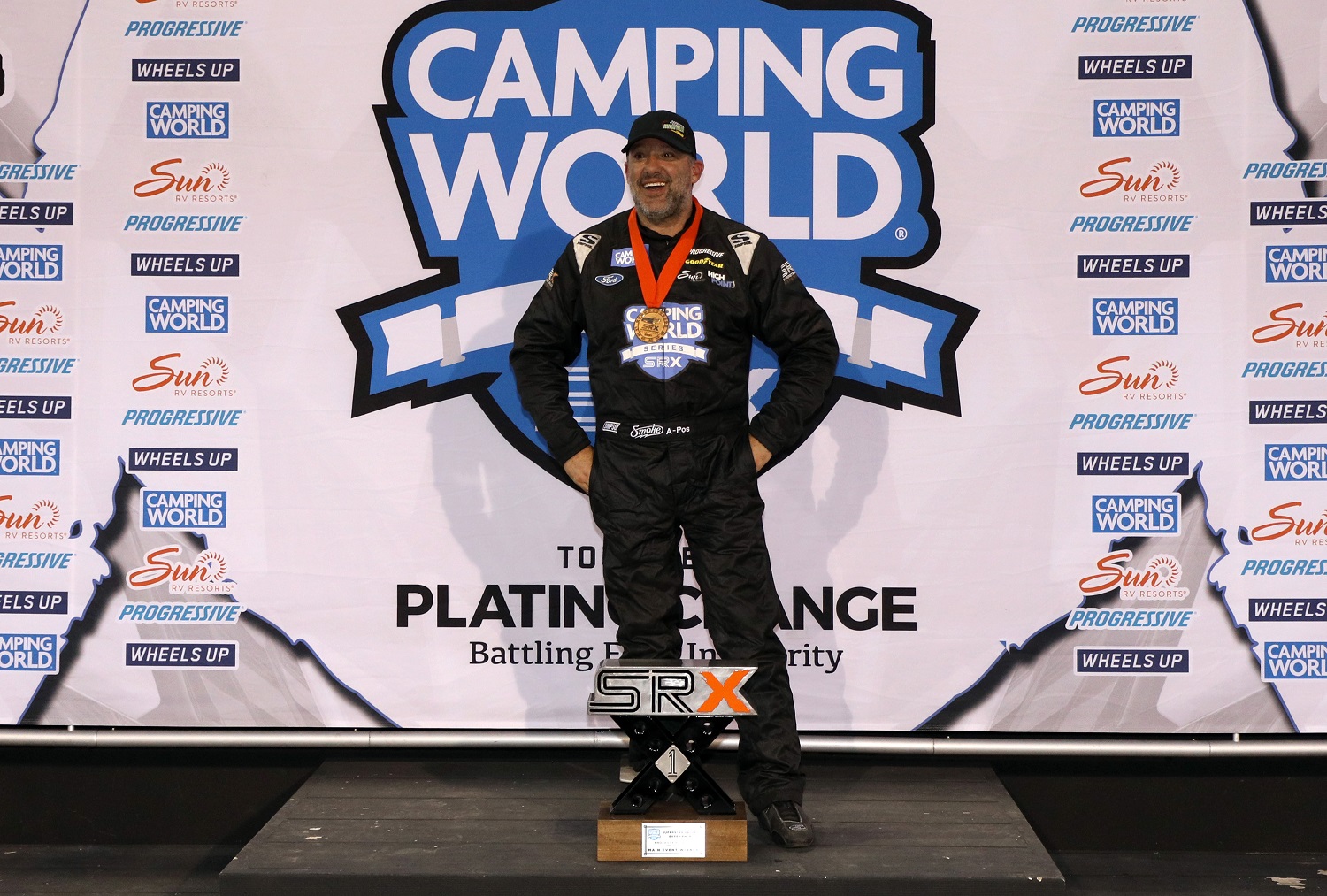 Tony Stewart Owning the SRX Race Series, Figuratively and Literally, Isn't Good For Its Future
Three-time NASCAR Cup Series champion Tony Stewart is both the founder of the SRX Series and a driver in the inaugural, six-race season.
Tony Stewart is off and running, so to speak. Stewart, whose primary business remains the Stewart-Haas Racing team in the NASCAR Cup Series, hopped back into a new car in a new series this month to win two of three races thus far.
It's a good start for Stewart, but not necessarily a good look for the Superstar Racing Experience. He's the big-name driver in the Camping World SRX Series, but he can't carry the show all by himself.
It's not an issue yet, but everyone involved will benefit if Stewart doesn't dominate the inaugural season.
The timing was right to launch Superstar Racing Experience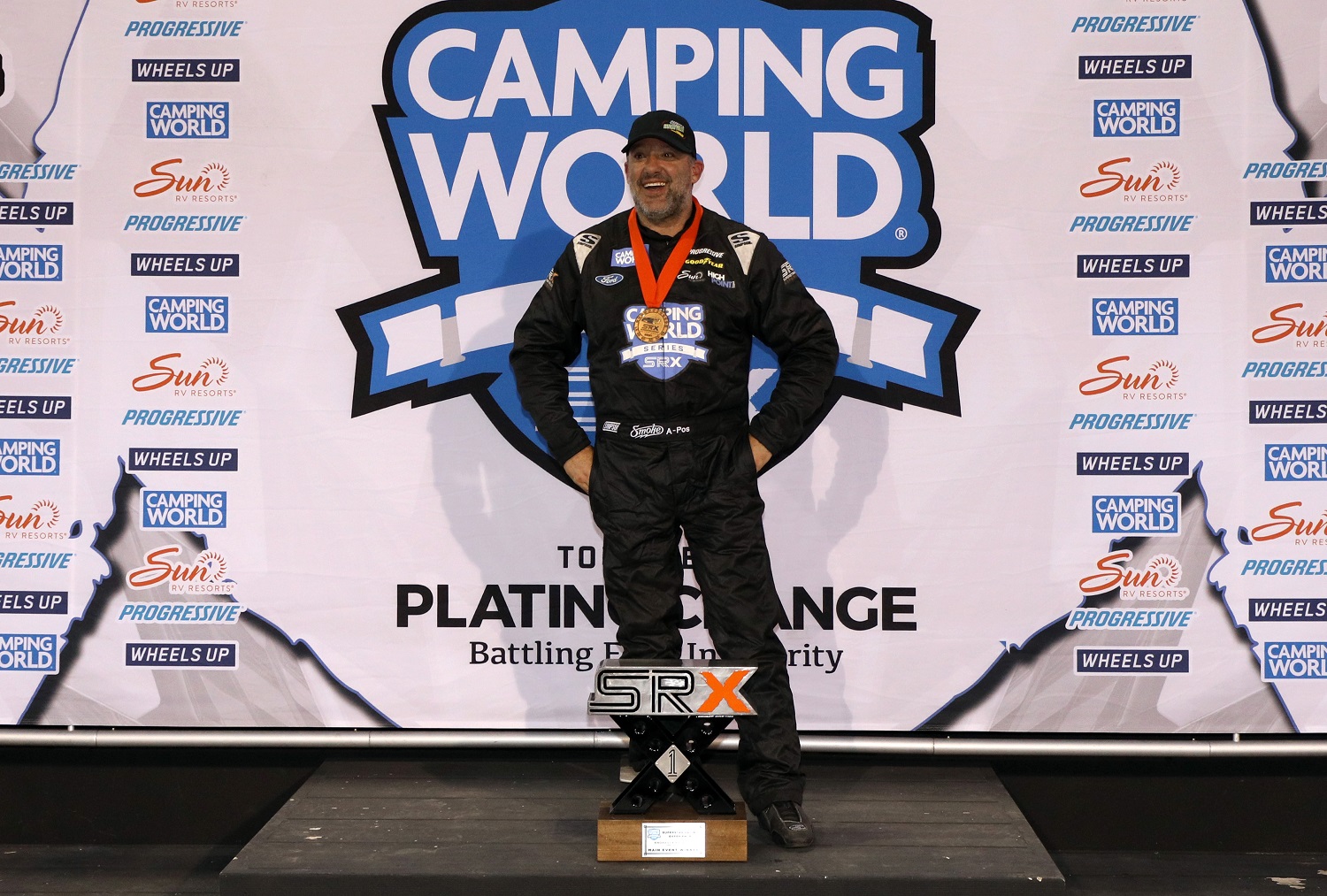 No pun intended, but it's no accident that Sports Business Journal presented NASCAR as its 2021 Sports League of the Year Award on June 24. Following the pandemic pause that brought so much of everyday life to a halt in March 2020, NASCAR was the first major U.S. sport to resume competition. Though they needed to juggle the schedule, NASCAR executives presented the full schedule of races, culminating in Chase Elliott winning the championship.
On top of that, NASCAR tackled issues of race related to the Confederate flag and the treatment of driver Bubba Wallace, and they attracted Michael Jordan and Pitbull as major investors in new teams.
In the course of all that, NASCAR helped make racing hot again. It was no small factor in Stewart and a group of other racing figures deciding the time was right for Superstar Racing Experience (SRX). They announced their intentions on July 13, 2020, and launched a six-race series less than 11 months later.
The strategy is to present smaller fields competing on shorter dirt and asphalt tracks in identically prepared cars, randomly pairing drivers with different crew chiefs each time out for races that don't consume endless hours.
Tony Stewart has won two straight races
Modified Tour star Doug Coby won the inaugural SRX race on June 12 at Stafford Motor Speedway in Connecticut. Coincidence or otherwise, GMS Racing announced the following week that it will put Coby in the driver's seat for its entry into the NASCAR truck series race Sept. 16 at Bristol.
Stewart has taken the checkered flag in the two races since, the latest being in Rossburg, Ohio, at Eldora Speedway – a dirt track that the three-time NASCAR Cup Series champion owns.
Stewart made a late pass on Kody Swanson, the five-time USAC Silver Crown Series champion, to cap off a challenging night against the rest of the 12-car field. Despite earning the pole, Stewart went to the back of the pack after accidentally hitting the kill switch on his car. He subsequently battled his way back to the front.
What's the future for Tony Stewart's pet project?
The Camping World SRX Series makes for some cheap summer programming for CBS, but it has a long way to go before it rates as a challenger to NASCAR, a staple of Fox Sports and NBC programming for 10 months of the year.
The six-race series isn't going to morph into NASCAR's 36 races overnight, but Stewart has at least put down a foundation for the future. The question is whether he can turn it into something that sports fans talk about on social media and at the water cooler on Mondays.
As of now, Stewart is the most recognizable SRX driver, but he last raced in NASCAR in 2016. Obviously, Helio Castroneves and Paul Tracy possess racing credentials, but rounding out fields with the likes of Michael Waltrip, Bill Elliott, and Bobby Labonte isn't going to move the needle.
It's going to be up to Stewart and has backers to recruit additional recognizable names – Danica Patrick? – to keep SPX relevant. Otherwise, it risks looking like a vanity project for Stewart.
All stats courtesy of Racing Reference.
Like Sportscasting on Facebook. Follow us on Twitter @sportscasting19.