Bubba Wallace Doesn't Have a NASCAR Cup Series Win Yet, But He's a Favorite for an All-Star Race Spot
Though he has yet to take his first checkered flag on the NASCAR Cup Series, Bubba Wallace remains a popular — if polarizing — figure among fans. He is among the top five contenders to gain a spot in the NASCAR All-Star Race via fan voting.
Wallace is not among the contenders in the points race in his first season No. 23 Toyota for 23XI Racing, owned by Michael Jordan. But he has flashed potential as a driver, with a second-place finish in the 2018 Daytona 500 and two other top-10 finishes that season. He finished second behind William Byron in the Rookie of the Year race in 2018.
Wallace still has two avenues to qualify for the All-Star Race at Texas Motor Speedway.
Bubba Wallace can get in via the NASCAR All-Star Open
Four spots remain for the June 13 NASCAR All-Star Race. The NASCAR All-Star Open that immediately precedes the main event will determine three of those places. The Open has three stages, with each stage winner qualifying for the big race.
Wallace traveled this route before. In 2019, Wallace won the second stage of the All-Star Open while still driving the Richard Petty Motorsports No. 43 Chevrolet. He finished 17th in the main event.
Last year, however, did not go as well. Michael McDowell put Wallace into the wall, ultimately taking himself out as well. Wallace didn't hold back his disdain for McDowell. He ended his night at Charlotte Motor Speedway by dropping the bumper from his wrecked car at the door of McDowell's car hauler.
The fan vote is still out there for Wallace
Last year, Bubba Wallace led the fan voting in the ramp-up to the race, but Clint Bowyer overtook him in the final tally. Bowyer wound up 15th in the NASCAR All-Star Race, well behind winner Chase Elliott. This year's All-Star Race has not been without controversy. Fans and at least one former driver did not react well to changes in the race format for 2021.
The All-Star Race itself dates to 1985. Fan voting didn't become part of the mix, however, until 2004. Bowyer became the 14th different racer to win the vote. Elliott won the fan voting three straight years (2016–18), the most in history. The only other driver to win more than once was Danica Patrick, who gained the most votes in 2013 and 2015.
However, only one racer has gone on to win the NASCAR All-Star Race after winning the fan voting. Kasey Kahne started 24th on the grid before taking the $1 million winner's prize.
Other winners of the fan voting include Ken Schrader, Martin Truex Jr., Kyle Petty, Kenny Wallace (no relation to Bubba), Joey Logano, Carl Edwards, Dale Earnhardt Jr., Bobby Labonte, Josh Wise, and Alex Bowman.
Bubba Wallace has been a source of controversy within NASCAR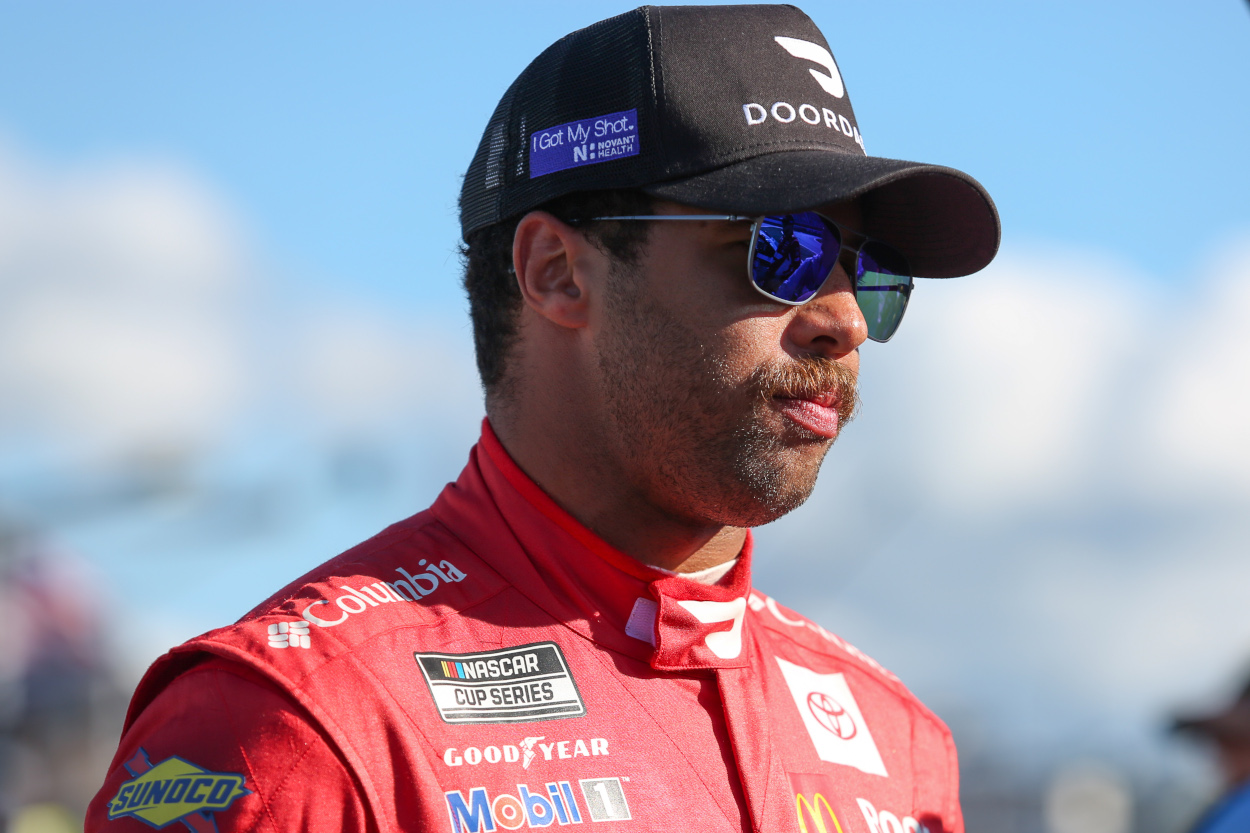 Between the pandemic and political unrest, 2020 was a turbulent year. Bubba Wallace found himself in the center of that turbulence as the NASCAR Cup Series' only Black full-time driver and the second since pioneer Wendell Scott drove on the circuit for 13 years from 1961­–73.
Wallace stirred emotions last year after he requested NASCAR ban the Confederate battle flag at its events, which the governing body did in June 2020. His "Black Lives Matter" paint scheme during a race at Martinsville Speedway was a flashpoint. Later Corey LaJoie picked up a sponsorship from a political action committee supporting former President Donald Trump.
NASCAR discussed a ban on politicized paint schemes but has yet to impose such a restriction.
Wallace has, however, had the full support of his fellow drivers after an incident at Talledega Superspeedway in June 2020. The discovery of a noose in Wallace's garage stall at the track thrust him into the spotlight again. All the drivers and crew members pushed Wallace's car to the front of the grid before a restart of the race.
He also disputed stereotypes commonly held regarding NASCAR's fan base during an appearance on Showtime's Desus & Mero in July 2020.
"We always want to pay attention to the negative, but the narrative that's been out there now is saying all NASCAR fans are racist, and whatnot, and that's totally not true.

"I've gone down in the infield at Talledega, wherever it's at, Daytona, Texas, Michigan, and I never knew if people were flying the Confederate flag. We would go there and drink beer, have a good time and hang out. It wasn't like they don't want you there."

Bubba Wallace in July 2020
It's been a frustrating season on the track for Bubba Wallace, who is still pursuing his first top-10 finish this year. While the NASCAR All-Star Race is a non-points affair, qualifying and making a strong showing could be a springboard for a better second half of the season.
RELATED: NASCAR Star Kyle Busch's Devoted Love of Peyton Manning Eventually Paid Off