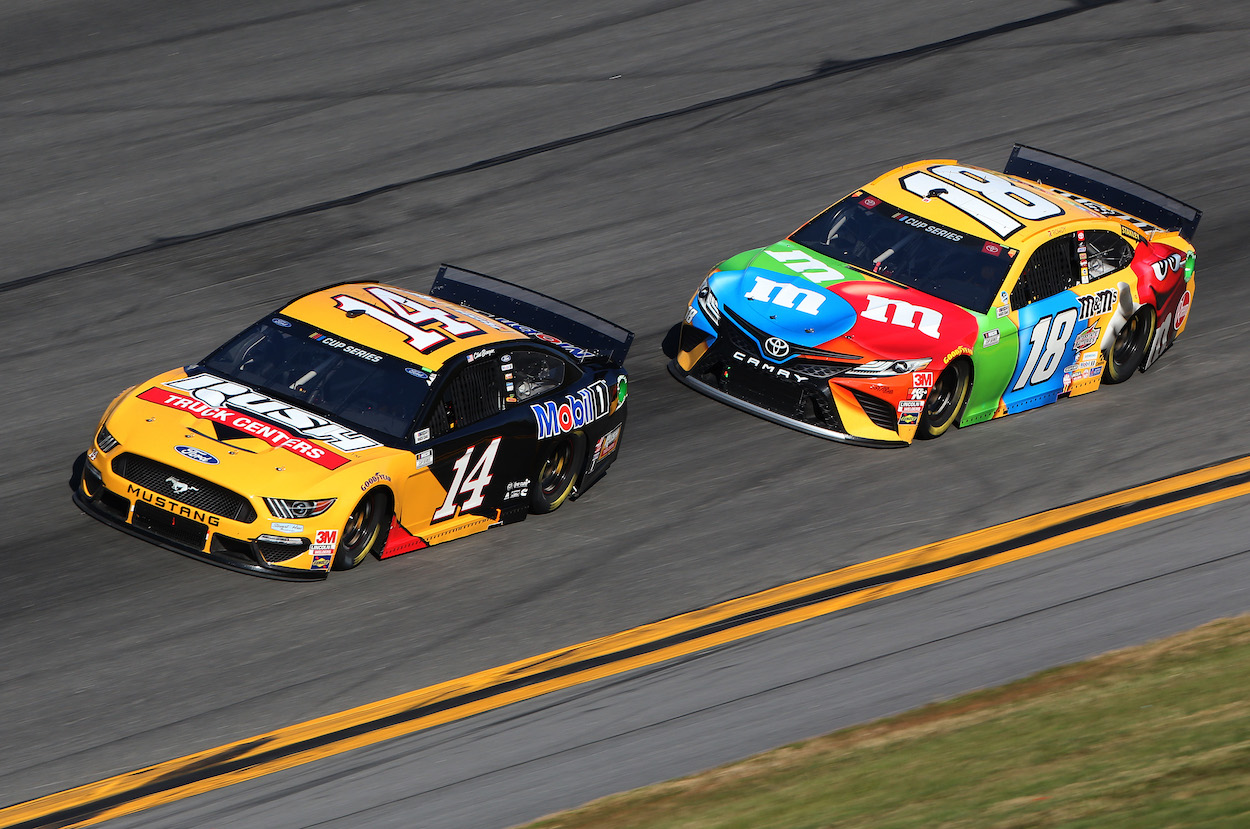 Kyle Busch and Clint Bowyer Go Toe-to-Toe and Take Multiple Shots at Each Other During FS1 Prerace Show at Sonoma
Kyle Busch and Clint Bowyer fired multiple shots at each other during the NASCAR Race Day prerace show at Sonoma.
Kyle Busch and Clint Bowyer have a history together. Earlier this year, Bowyer fired a shot at Busch and his young son during an episode of NASCAR Race Hub. On Sunday before the NASCAR Cup Series race at Sonoma, Busch appeared as a guest on the prerace show and talked about his chances of winning on the road course. At the conclusion of the interview, the driver and former driver ended it with a bang, firing multiple shots at each other before going to a commercial break. 
Clint Bowyer fires shot at Kyle Busch and his kid on NASCAR Race Hub
Back in February, NASCAR fans learned Bowyer's new duties at Fox for the 2021 season extended beyond the broadcast booth on Sundays. He started regularly appearing on NASCAR Race Hub on FS1 and the show even included a Bowyer-specific segment called "Ask Clint," where different drivers ask the former driver questions. Kyle Busch participated in the first installment. 
"Hey Clint, is your son Cash going to have more wins than you?" Busch asked, obviously referencing Bowyer's 10 wins in 16 seasons.
"I'd say probably a good chance at it," Bowyer honestly admitted with a laugh. "Being that he beat your kid already in his second race out. Bam! Shots fired, boys!" 
Both Bowyer and Busch's sons compete in the Beginner Box Stock Car Series, which features young drivers ages 5 to 8. Busch's son, Brexton, has been racing slightly longer and has a couple of wins under his belt, including one where he outlasted the younger Cash Bowyer. In November 2020, the 6-year-old Bowyer got his first win.
Bowyer and Busch take shots at each other during prerace show at Sonoma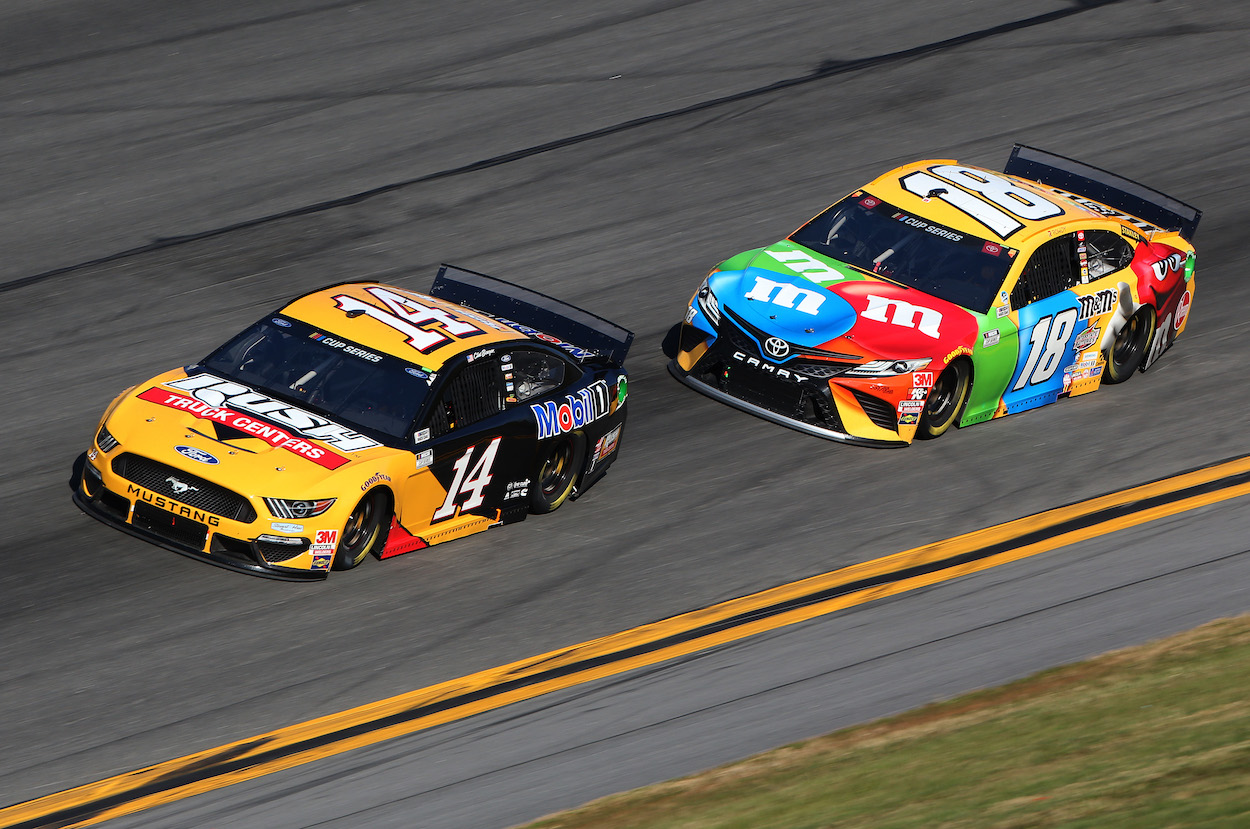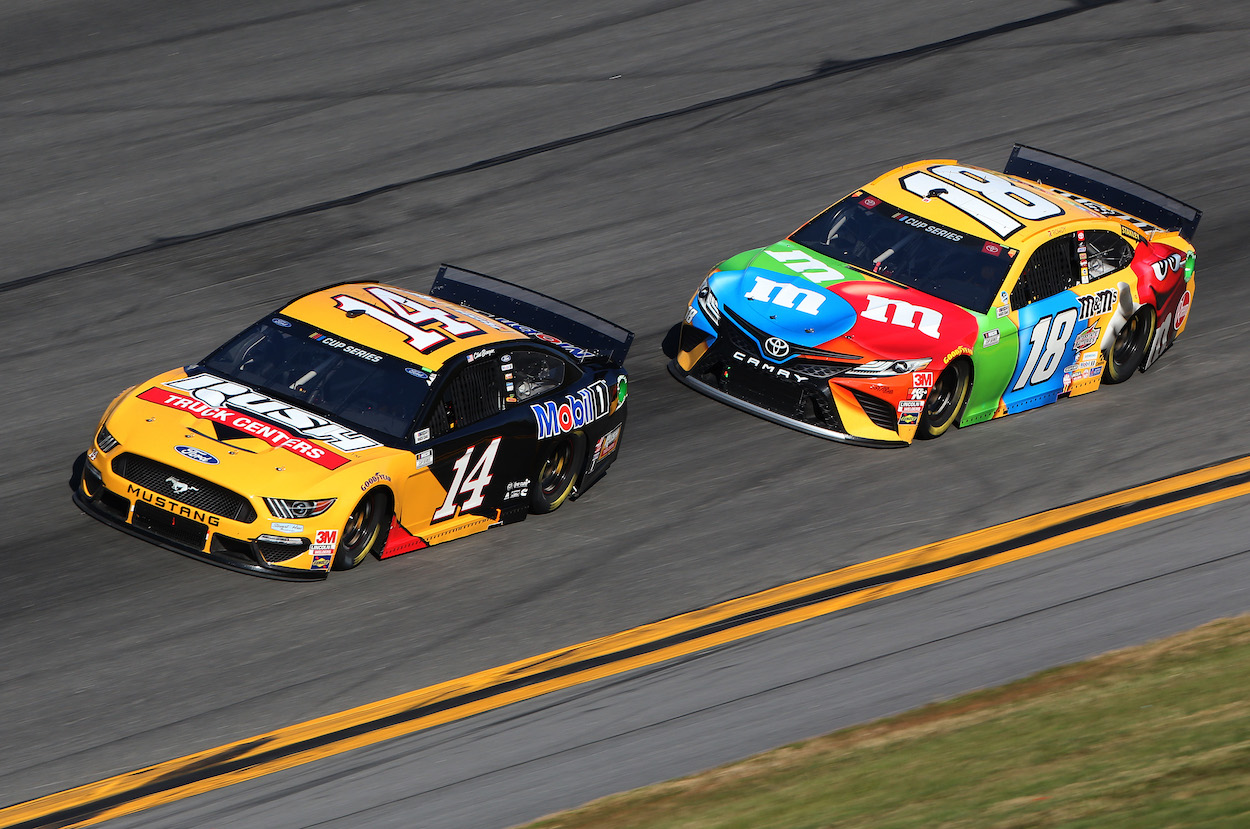 During Sunday's NASCAR Race Day prerace show at Sonoma, Busch appeared as a guest with Chris Myers, Jeff Gordon, and Bowyer. At the conclusion of the interview, Myers pointed out that it was the Fox family's last points race broadcast of the season before coverage transitions to NBC and he thanked Busch for always being cooperative and entertaining during his appearances this year.
"I'm glad to see this guy doesn't get on TV anymore," Busch fired the first shot, pointing at Bowyer, which produced big laughs from both Gordon and Myers. 
"Just try to do something on the race track where we can talk about you, alright? And no pouting on the radio this week," Bowyer replied, referencing Busch's penchant to complain on his team radio throughout most races. 
"Maybe he can actually get his kid to the race track now," Busch said, delivering a parting shot. 
Pair have developed friendship off track
While Busch's final remark likely stung, taking a dig at Bowyer for not taking his kid to the race track, the pair have a unique relationship, and not surprisingly, their sons are a major reason why.  
Back in 2018, Bowyer revealed the closeness of the families during an interview when he admitted his son Cash showed more interest in Busch's well-being after an accident than he did for his own father's performance.
"I've been in the truck driving with him and he went, 'Not dad, how'd your day go? Not, you did a good job. Dad, Kyle got in a wreck. Is he OK?' So we called him going down the road. I said, 'Kyle, Cash needs to know if you're OK.' Said nothing about my race or my day, but he wanted to know that you were OK." 
With NASCAR coverage moving to NBC for the rest of the season, fans won't see the entertaining exchanges between Bowyer and Busch, or any other drivers for that matter. But you can bet there will be more than a few fun jabs exchanged on the race track in the budding rivalry between their sons. 
Like Sportscasting on Facebook. Follow us on Twitter @sportscasting19.