Clint Bowyer Drops Truth Bomb on Former Stewart-Haas Teammate Kevin Harvick and Stuns Brad Keselowski in the Process
For NASCAR fans who like variety, the 2021 Cup Series season has lived up to the billing of "best season ever." Through the first 12 races, 10 drivers have earned trips to victory lane. However, all the talk of 16 different drivers winning races and earning the available playoff spots has lost steam in recent weeks, with Martin Truex Jr. becoming the first driver to win multiple times, including a pair of victories in the last five races. 
Clint Bowyer has heard enough of that talk. On the latest NASCAR Race Hub, the driver-turned-Fox broadcaster said fans should expect to see more repeat winners in the upcoming races. He could have stopped there. He didn't. Instead, he went after Kevin Harvick, his former teammate at Stewart-Haas Racing, suggesting he is "out of the picture," which stunned Brad Keselowski.
Numerous different winners start 2021 season
Most fans view parity in sports as a good thing because it means more competitors have a chance at winning. This philosophy remains true for NASCAR. And 2021 has been a season with a lot of parity. 
The opening race of the season at the Daytona 500 provided the first indication of what was to come this year when Michael McDowell pulled off the victory, his first-ever win in 13 years of racing on the Cup Series.
The following week further validated the trend of unexpected winners to start the 2021 season when Christopher Bell captured his first-ever Cup win on the Daytona road course. While the trend of first-time career winners stopped, the trend of different drivers winning this season has continued. 
Martin Truex Jr. became the first two-time winner in 2021 when he won the eighth race of the season at Martinsville, less than a month after his first victory at Phoenix. Truex added to his win total at Darlington and remains the lone driver with multiple wins this season. 
Clint Bowyer drops truth bomb on Kevin Harvick's 2021 season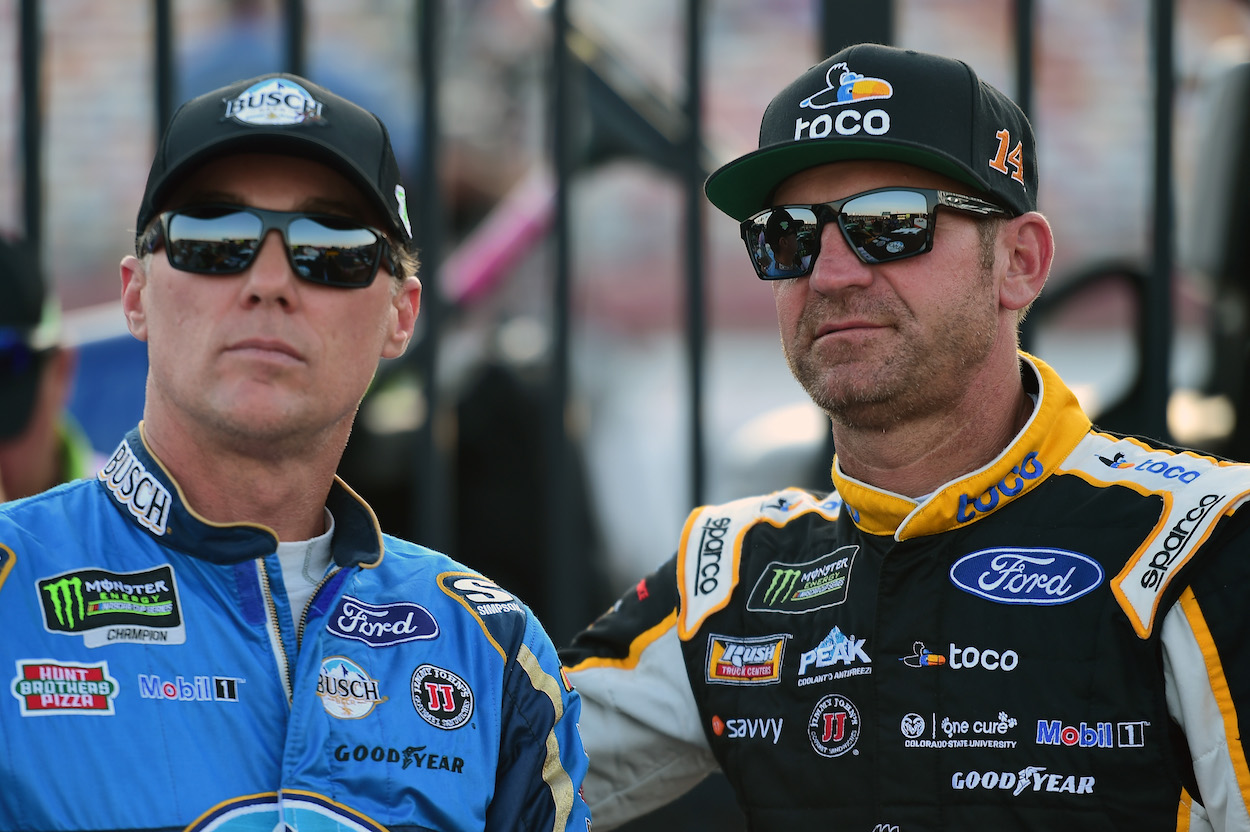 With Truex's recent wins, the conversation of 16 different winners has shifted, and many pundits expect more of the same, with other veteran drivers like Brad Keselowski or Joey Logano, who've already won this year winning additional races this season.  
On NASCAR Race Hub, Clint Bowyer said that's what he expects to happen in the upcoming races, and then he dropped a bomb on one of his former teammates at Stewart-Haas Racing.   
"I think we're seeing there's going to be repeat winners. I'm tired of saying every week, 'Alright, Kevin Harvick won eight times last year.' I'm sorry, Kevin, but you're out of the picture right now. I think you're going to see some repeat winners, and it's coming quick."
"Woo. Man, that's harsh. Kevin Harvick out of the picture?" Keselowski questioned Bowyer. "I mean, the guy won, what eight times last year?" Wow!" 
Bowyer's comments on Harvick are accurate
While Bowyer's comments might seem harsh on the surface, they are based in facts with one exception — Harvick won nine times in 2020. He also extended his streak of winning one race a season to 11 seasons and finished fifth in the points standings. 
Through a dozen races last season, Harvick had won twice with nine top 10s. This season, Harvick has the same number of top-10 finishes but no wins. His best finish thus far in 2021 is a second at Kansas. 
Bowyer might have intended for his comments to serve as some sort of reverse psychology and inspire Harvick. Or, maybe it was just Bowyer being honest and calling it like he sees it. Either way, it's hard to imagine his former teammate can be happy. 
Like Sportscasting on Facebook. Follow us on Twitter @sportscasting19.