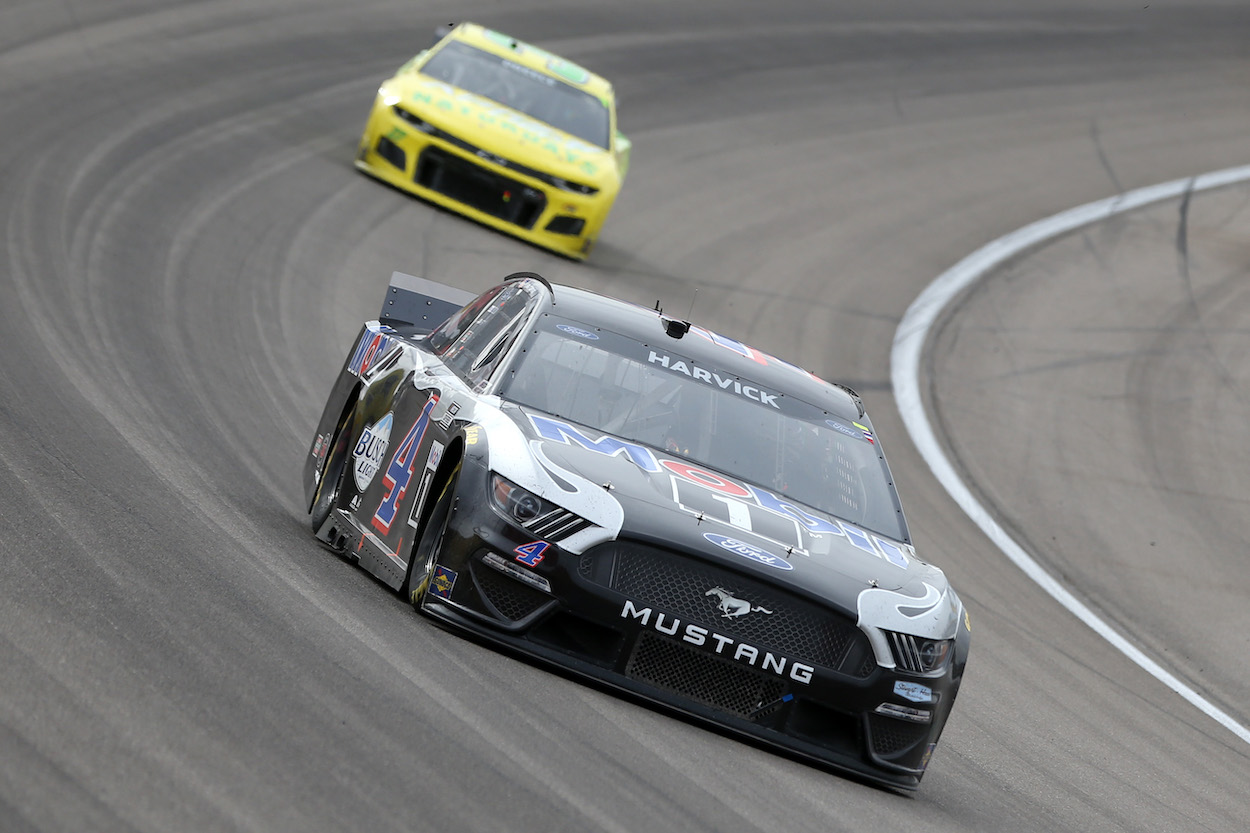 Dale Earnhardt Jr. Shocked by Kevin Harvick and Candidly Admits His Xfinity Team Is Struggling as Much as Stewart-Haas Racing
Dale Earnhardt Jr. admitted he was shocked by Kevin Harvick's recent performance but can relate as JR Motorsports is struggling as much as Stewart-Haas Racing to start the 2021 season.
In the last six NASCAR Cup Series seasons, Kevin Harvick has amassed an impressive 30 victories, including a pair of wins at Las Vegas. This past weekend Harvick appeared primed for another win, starting on the pole, but dropped like he had a parachute attached early in the race and ultimately finished a lap down in 20th place. Dale Earnhardt Jr. talked about Harvick's performance on the latest episode of the Dale Jr. Download and admitted he was shocked by the Las Vegas result but can personally relate as JR Motorsports has struggled this year just as much as the Stewart-Haas Racing team.
Kevin Harvick earned career-best victories in single season in 2020
While Kevin Harvick has recorded some impressive numbers throughout his 21 years racing the NASCAR Cup Series, including the 2014 championship, none of those previous seasons equaled his win total in 2020.
The No. 4 car started the season with four top-10 finishes, including a fifth at Daytona before the pandemic hit and shut everything down. When NASCAR returned, Harvick won the first race back at Darlington and set the tone for the rest of the year.
Outside of a 26th-place finish at Homestead, Kevin Harvick remained consistent throughout the year, including one stretch late in the summer where he won five out of nine races. After running near the front most of the season, Harvick did see a noticeable dropoff at the end of the year, where he earned just two top-10s in the final six races. That lackluster finish cost him in the points standings, where he finished fifth.  
Dale Earnhardt Jr. shocked by Kevin Harvick's performance
Kevin Harvick started the 2021 NASCAR season on a promising note with three top-10 finishes, including a fourth-place run at the Daytona 500 and a fifth at Homestead. Many considered Harvick the favorite to win at Las Vegas after winning there twice since 2015 and starting this year on the pole.
Harvick never even led a lap and struggled throughout the day. He finished 20th and one lap down. In an episode of "Ask Jr." on the Dale Jr. Download, Dale Earnhardt Jr. said he was stunned by the performance of the No. 4 car in Sin City.
"I was shocked at how Harvick ran this past weekend. I had him in my fantasy lineup," Earnhardt said. "I had to pull him before the end of stage 2, which you never did last year, or the year before. Harvick was automatic. If you put him in there, you were sticking with that."
Dale Earnhardt said he can relate to struggles of Stewart-Haas Racing
While Kevin Harvick didn't perform well at Las Vegas, it turns out his 20th place was the best of the entire Stewart-Haas Racing team, which has struggled throughout the early 2021 NASCAR season schedule. In Vegas, Harvick was followed by Chase Briscoe (21st), Cole Custer (25th), and Aric Almirola (38th). 
Outside of Harvick, the other three drivers with Stewart-Haas have yet to record a top-10 finish this season. Dale Earnhardt Jr. said he can sympathize and understands it's just part of the sport.
"It's just like Junior Motorsports this year. We are struggling," Earnhardt admitted. "But we've had these years. We just come out of the gate and can't get anything going. Can't find any speed. And then it just happens. You start running well for whatever reason. You make some changes in the organization and things can better." 
Dale Earnhardt Jr. said when you've been around the sport long enough, you see teams rise and fall. He said he expects his team and Stewart-Haas will bounce back. It's not a matter of if, but when. 
Like Sportscasting on Facebook. Follow us on Twitter @sportscasting19.