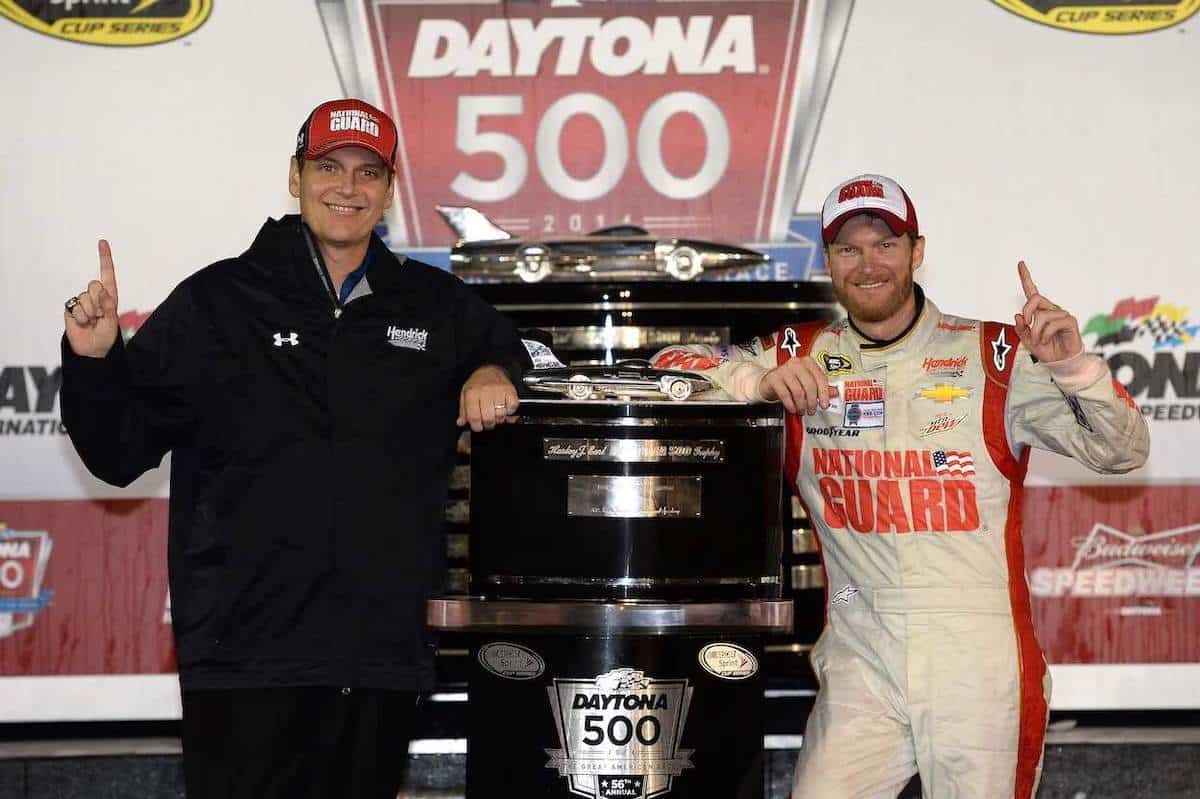 Heartbroken Dale Earnhardt Jr. Admits on Podcast to a Flashback About Time He Cried When He Felt Betrayed by Former Crew Chief Steve Letarte and NBC
Dale Earnhardt Jr. admits on podcast to having a recent flashback about the time he cried alone on his bus after he felt his crew chief Steve Letarte and NBC had betrayed him.
Dale Earnhardt Jr. endured a painful flashback about a moment in his racing career. It wasn't related to his dad or any particular NASCAR race. Instead, it was specific to a moment during his career when he felt betrayed and abandoned. On an episode of the Dale Jr. Download podcast, Earnhardt addressed the specifics of his flashback, including how it broke his heart and left him in tears all alone on his bus. 
Dale Earnhardt finds success with crew chief Steve Letarte
After going winless for two straight seasons and finishing 25th and 21st, respectively, Dale Earnhardt Jr. was looking for a spark. Team owner Rick Hendrick was as well. In a bold move, Hendrick kept it within the family and switched around three of his crew chiefs before the 2011 season. Steve Letarte would partner with Earnhardt. 
The move worked. That first season Earnhardt didn't earn any victories but did collect a dozen top-10 finishes and, more importantly, saw a huge jump in the season standings, finishing seventh. The following season, Earnhardt found the victory lane for the first time in four years at Michigan, the same place as his last victory. He finished 12th in the points.
While victory lane remained elusive in 2013, Dale Earnhardt Jr. still had one of the best years of his career, finishing in the top 10 an impressive 22 times. As a result, he finished fifth in the points, which was second-best in his career. 
On an episode of the Dale Jr. Download podcast, Earnhardt said working with Letarte was exactly what both NASCAR veterans needed. "We'd only been together for a couple of years, and we're this great new thing," Earnhardt said. "We got together, and this was both of our last chances. We're rejuvenating our careers." 
Dale Earnhardt Jr. feels betrayed by Steve Letarte and NBC
However, late in 2013, all of that excitement about a rejuvenated career and a promising future came shockingly crashing down for Dale Earnhardt Jr. when he learned Steve Letarte was leaving him to take a job with NBC starting in 2015. Earnhardt openly admitted on his podcast that he was heartbroken when he heard about the move from someone other than Letarte himself.
"They hired Steve right out from under me. So basically, I felt like NBC, Steve, everybody went and did all of this and didn't even decide to tell me or didn't even decide to share," Earnhardt confessed, the pain in his voice evident. "That was one thing in my professional career; it hurt me because it was something that was great that was ending. I was floored because I never expected it.
"It broke my heart. I mean, I cried. I stood in my bus on that day at that race track, and I cried by myself. When I pulled my s*** together, I called Steve, and he goes, 'Hey, I'm sorry. I wanted to tell you. Lot of things going on but couldn't really get to tell you just yet. Let's sit down and talk about it.' He came to the bus, and we talked about it. Man, it just hurt my heart."
After Dale Earnhardt Jr. finally accepted the decision, he said the pair focused on the 2014 season. It turned out to be another outstanding year and included a season-opening win at the Daytona 500, followed by a pair of runner-ups at Phoenix and Las Vegas. He won three more times that year and finished eighth in the points.  
"That last year when he was crew chiefing for me the way he called races for me, it was awesome because he didn't care. It was his last year."    
Dale Earnhardt Jr. works with Steve Letarte at NBC
Steve Letarte moved to the broadcast booth in 2015. Dale Earnhardt Jr. continued racing but never managed to achieve the level of success he had with Letarte. In 2018, when Earnhardt retired from racing, he reunited with Letarte and joined NBC. 
During the podcast, show co-host Mike Davis said the contract Earnhardt signed with NBC had specific language written in it that he would only work with the network as long as Letarte was there.
Last week, when it was announced Letarte would crew chief one weekend with the No. 7 car of Corey LaJoie at the Dixie Vodka 400 in Homestead while his current crew chief sat out due to COVID-19 protocols, Earnhardt had flashbacks.
"It just took me back to that day, and it made my heart hurt. Immediately, I realized he's not leaving. But I don't know. An hour later, I was totally fine with it." 
Dale Earnhardt Jr. said he and Letarte talked not long after he heard the news, and by the end of the conversation, he was encouraging his former crew chief to go out there and get a top 10 by way of some incredible strategy. It didn't happen. LaJoie had engine trouble and did not finish the race. He finished 36th.