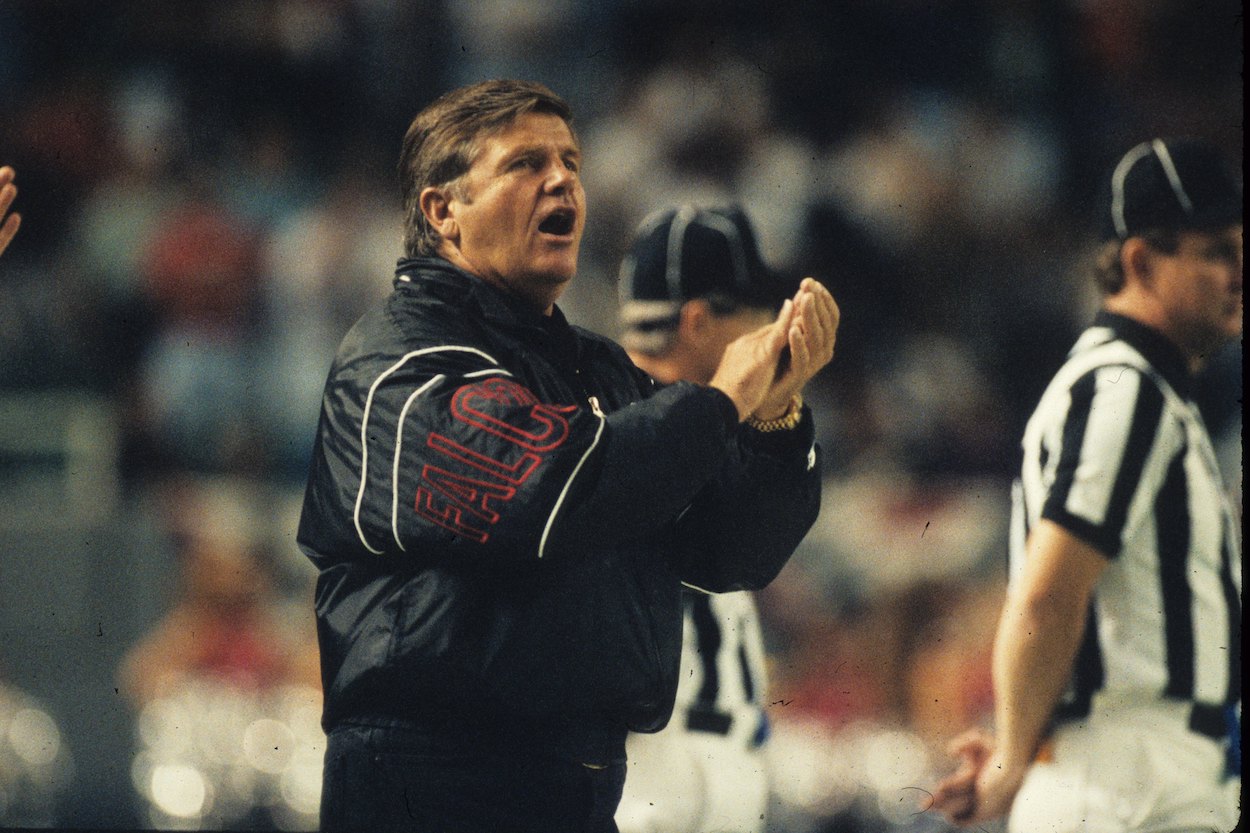 Dale Earnhardt Jr. in Complete Disbelief After Jerry Glanville Surprisingly Admits He Still Has a Beef With Joe Gibbs Years Later
Dale Earnhardt Jr. interviewed Jerry Glanville and the former NFL coach-NASCAR driver revealed he still has a beef with former Washington coach and NASCAR team owner Joe Gibbs from an incident that happened years ago.
Dale Earnhardt Jr. is a skilled interviewer on his Dale Jr. Download podcast and gets some entertaining guests with some interesting stories, typically from the world of motorsports and NASCAR specifically. In his most recent episode, Earnhardt got a two-for-one special when he visited with former NFL coach and former NASCAR driver Jerry Glanville. 
During the hour-long conversation, the 79-year-old Glanville recounted countless stories from his past on the football field and the race track. One story, in particular, caught the attention of Earnhardt and show co-host Mike Davis when Glanville revealed what happened to his relationship with former Washington head coach and current NASCAR team owner Joe Gibbs, after an incident in the 1991 NFL playoffs.  
Jerry Glanville had success coaching football
Jerry Glanville made his coaching debut in 1967 as the defensive coordinator at Western Kentucky. After steadily moving his way up the ranks, Glanville made his NFL coaching debut as a special teams coordinator/defensive assistant for the Detroit Lions in 1984. 
A little over a decade later, Glanville landed his first head coaching gig with the Houston Oilers. In his four full seasons in Texas, the Oilers made the playoffs three times, advancing two seasons and losing in the divisional round. 
In 1990, Jerry Glanville took over the Atlanta Falcons and rebuilt the team just as he had done in Houston several years earlier. During his second season in Atlanta, the Falcons finished the regular season with a 10-6 record.
The Falcons earned a hard-fought 27-20 victory over the New Orleans Saints in the wild card round and advanced to face the Washington Redskins in the divisional round on the road. 
Atlanta Falcons lose playoff game to Washington in quagmire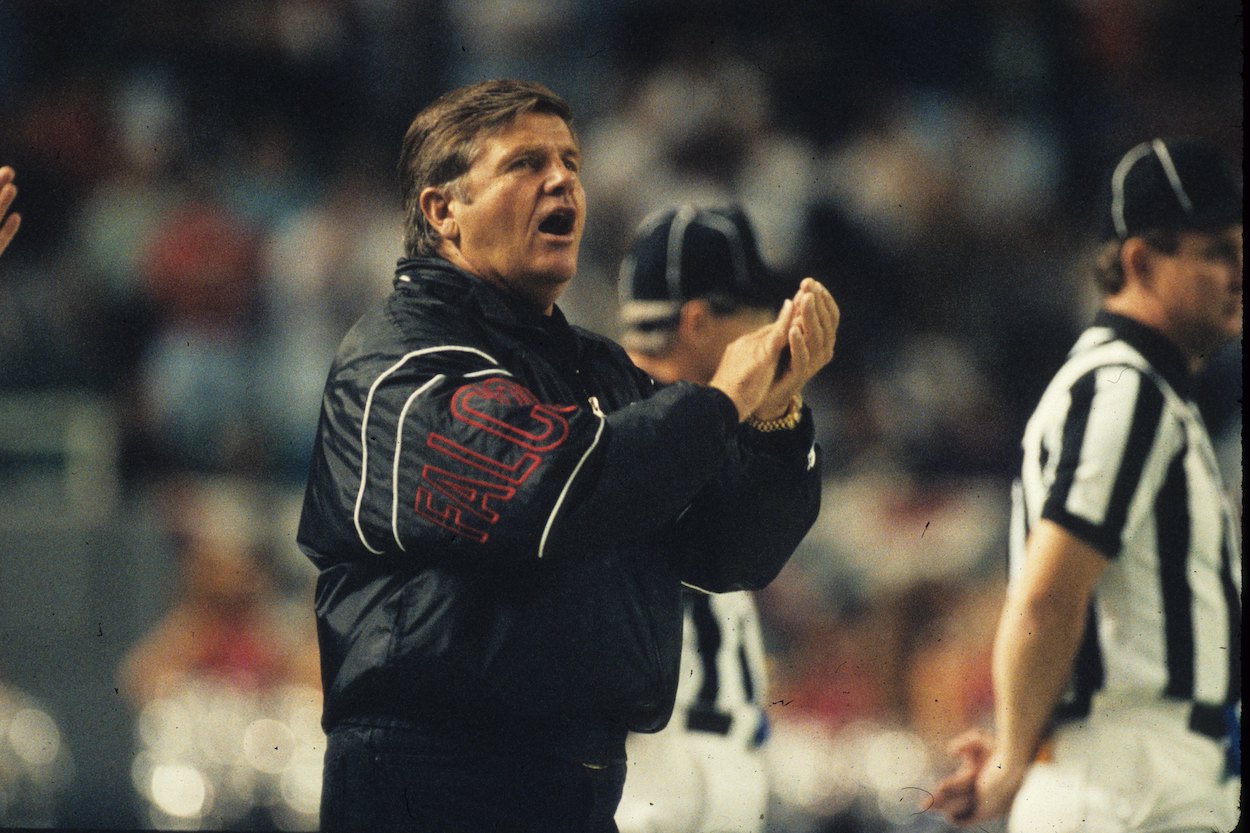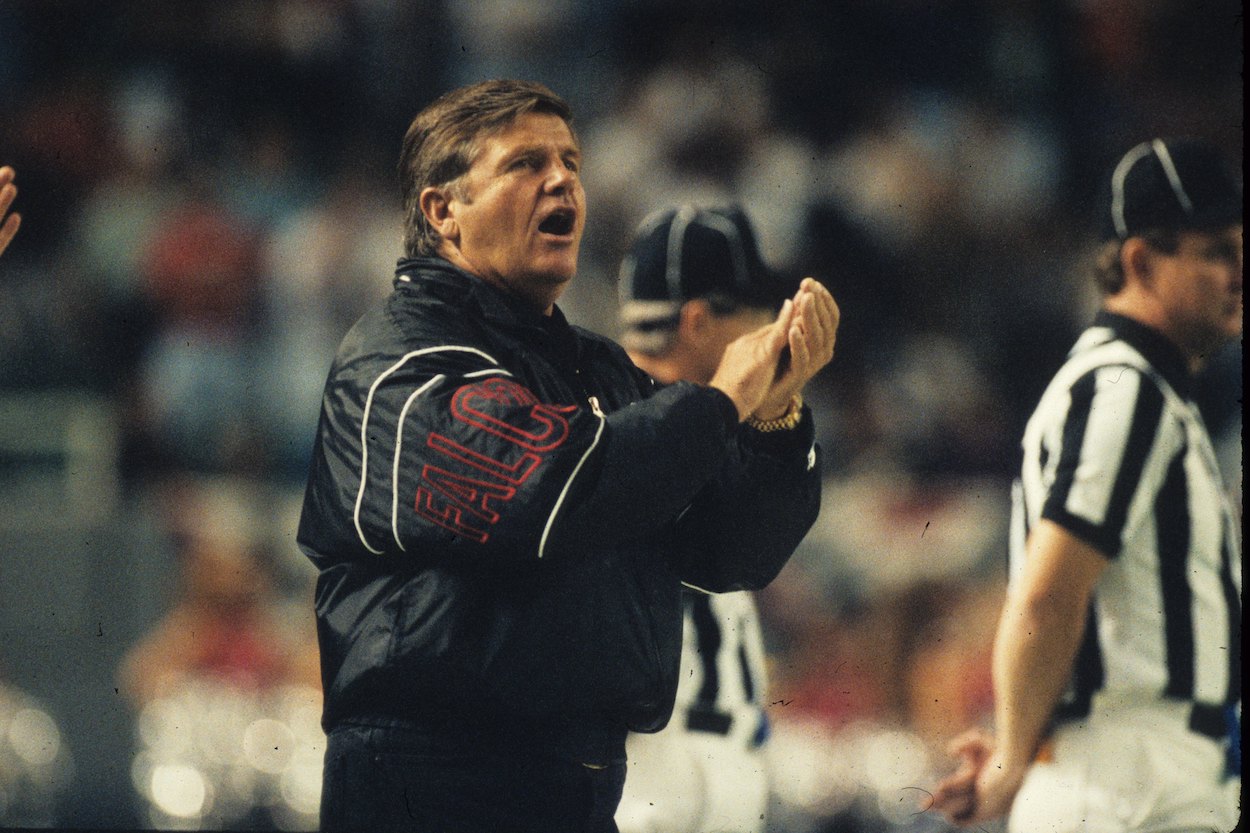 Jerry Glanville and the No. 6-seeded Atlanta Falcons traveled to RFK Stadium to battle the top-seeded Redskins in less than ideal weather conditions, with rain and gusty winds up to 40 miles per hour. The field was a quagmire and challenging for both teams. 
After a scoreless first quarter, Washington scored a pair of touchdowns in the second to take a 14-0 lead. Atlanta quarterback Chris Miller struggled to get his footing and threw three first-half interceptions before the team responded and scored to cut the lead to 14-7 at the half. 
The second half was much the same, as Atlanta struggled on offense, getting shutout while Washington added a field goal and a touchdown. Jerry Glanville's Falcons went down in defeat 24-7. 
Jerry Glanville surprises Dale Earnhardt Jr. with story on beef with Joe Gibbs 
Jerry Glanville appeared on the latest episode of the Dale Jr. Download with Dale Earnhardt Jr., and talked about his career in racing and as a coach in the NFL. The conversation took a surprising turn, and Glanville stunned Earnhardt and show co-host Mike Davis when he talked about the grudge he still holds against the former Washington coach and current NASCAR team owner Joe Gibbs.
"I'm not a friend of Joe Gibbs. We don't talk. We ended up hating each other coaching. We don't even speak," Glanville admitted. 
Both Earnhardt and Davis were puzzled by the out-of-the-blue remarks. After wrapping up a discussion on Gibbs' grandson Ty, and his recent performance on the Daytona road course, the conversation returned to Joe. Glanville said they hadn't talked since the 1991 divisional round game.
"We had about three inches of mud. It hadn't rained there in two months. They had Purdue prescription turf. I went to the groundskeeper, I said, 'Turn on the pumps.' That means it drains it. He said, 'We will.' I go, 'When?' He said, 'Two hours after the game.' That's what you call home-field advantage," Glanville laughed. 
Jerry Glanville said he had the fastest team in football, and Gibbs had the biggest. The muddy conditions offset Atlanta's speed and adversely affected his quarterback Chris Miller who had previously had knee surgery.
"The quarterback wouldn't change his cleats. If you've got a bad knee, you're not going to put on long cleats," Glanville told Earnhardt. "The whole thing mushrooms to the point where we're not playing like we normally play. It would have been a helluva game on good turf."
Dale Earnhardt, in disbelief, asked him if that really was the reason why they hadn't talked. 
"We haven't spoke since," Glanville confirmed. 
Jerry Glanville has had a very unique career participating at a high level in two very different sports. And he's got some stories to tell.
Like Sportscasting on Facebook. Follow us on Twitter @sportscasting19.