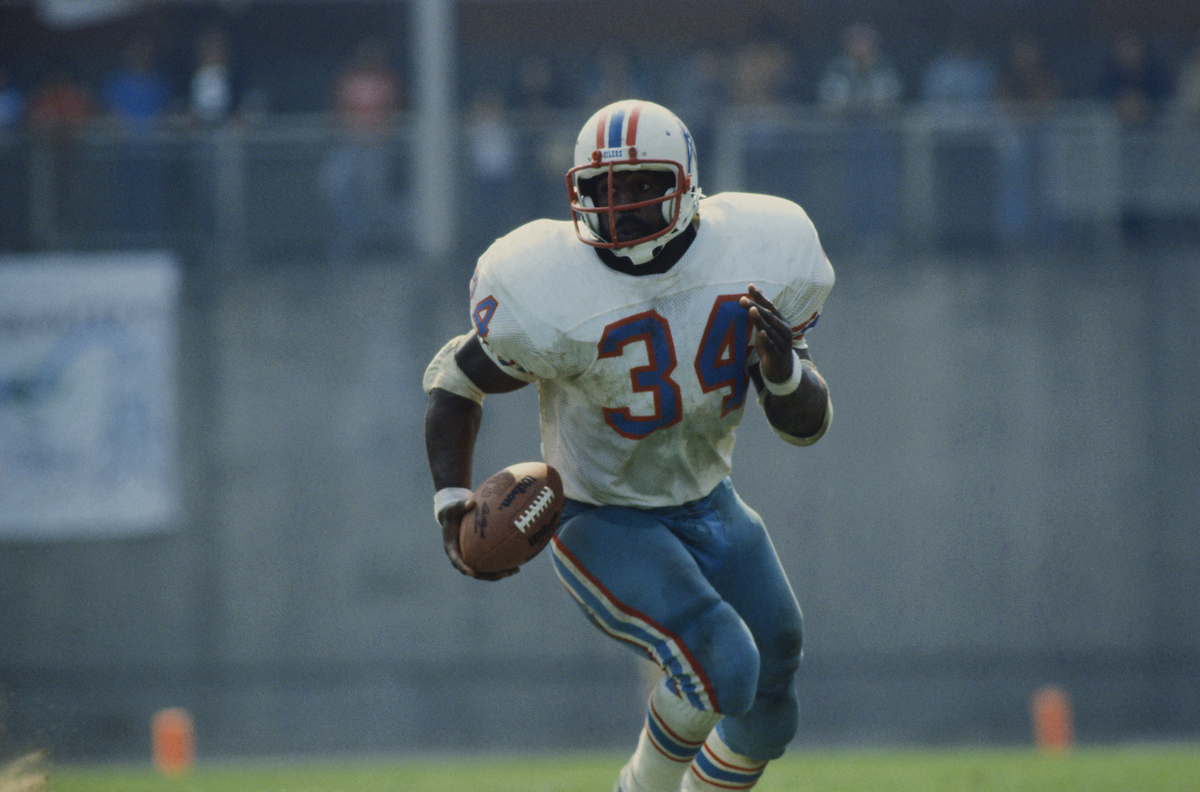 What Happened to Hall of Fame Running Back Earl Campbell and What Is His Net Worth?
Earl Campbell was one of the greatest college and NFL running backs in history. He retired in 1985. What happened to Earl Campbell and what is his net worth?
Earl Campbell was known throughout his career in college and the NFL as one of the toughest running backs to ever strap on a helmet. Campbell was a rarity at running back as he never shied away from contact, and in fact, he preferred to be the one delivering the punishment at impact. That style took its toll on Campbell, and after just eight seasons, he retired in 1985.
What happened to Earl Campbell since he retired, and what is his net worth?
Earl Campbell's run to the Heisman
When Earl Campbell arrived at the University of Texas, he was good enough to play in the NFL. At least that's what then-Oklahoma University head coach Barry Switzer, who lost out in the recruiting battle for Campbell, said in his 1989 book.
In Austin, "The Tyler Rose" lived up to the expectations he had coming out of high school as Mr. Football USA, which at the time was recognized as the best high school player in the nation. During Campbell's freshman season with the Longhorns, he scored six touchdowns and rushed for 928 yards on 162 carries, a whopping 5.7 yards per carry.
Campbell averaged 5.8 yards per carry during his career at Texas, with his best year coming in 1977, his senior season, when he averaged 6.5 yards per carry en route to gaining 1,744 yards. Those impressive numbers resulted in Campbell winning the first Heisman Trophy in Texas football history. 
Earl Campbell stars in the NFL
Not surprisingly, the Houston Oilers selected the home-grown Texas talent as the first pick of the 1978 NFL draft. Like he had done in Austin four years earlier, Earl Campbell didn't wait long to impress. Campbell started 14 games in his rookie season and rushed for a league-leading 1,450 yards. He scored 13 touchdowns. Campbell was named the AP Rookie of the Year and AP Offensive Player of the Year. He also joined the All-Pro and Pro Bowl teams.
While some thought there might be a drop-off in his production after such a stellar first year, it didn't happen. In fact, Campbell did considerably better in his second season with the Oilers as he scored a league-leading 19 touchdowns and rushed for a league-best 1,697 yards. He also was tops in the NFL at 106.1 yards per game. That season he won the MVP and, for a second consecutive season, was named AP Offensive Player of the Year and earned All-Pro and Pro Bowl honors.
Amazingly, Campbell's production continued to improve in his third season, the best of his eight-year NFL career. In the 1980 campaign, Earl Campbell led the league in carries with 373, scored 13 touchdowns, and rushed for 1,934 yards. He had four games of 200 yards or better. For the third consecutive year, he was named the AP Offensive Player of the Year and a member of the All-Pro and Pro Bowl teams.
Campbell's first three seasons in the NFL were one of the most successful sustained periods of excellence by a running back in NFL history. He ran for over 1,300 yards two additional times in his career. He played a season in New Orleans before he retired in 1985. He was inducted into the Pro Football Hall of Fame in 1991.
What is Earl Campbell's net worth?
When Earl Campbell retired, he returned to Austin. In 1990, Campbell, who has a reported net worth of $25 million, according to Celebrity Net Worth, started Earl Campbell Meat Products, Inc., which manufactures and sells Earl Campbell's Smoked Sausage, other food products, and barbecue sauce, which are sold in grocery stores across the nation.
He has two sons, Tyler and Christian. Christian played high school football with Drew Brees. Unfortunately, as Campbell has aged, his punishing style of play from years ago is felt almost every day. In 2009, he was diagnosed with spinal stenosis, or narrowing of the spinal canal, which can cause pain, numbness, and weakness in the arms and legs. As a result of his pain, he often uses a cane or walker to get around. 
That year of his diagnosis, he became addicted to Oxycontin. He would often take 10 pills a day and down it with Budweiser. He went through rehab and ended his addiction within a year. He has since spoken out on the dangers of substance abuse. 
Campbell, now 67, still lives in Austin, where he enjoys spending time with his grandkids whenever he can. He also is still involved with the University of Texas athletics program. He can periodically be seen at games during the season at the stadium, where he started his journey and began building his legacy more than 45 years ago.