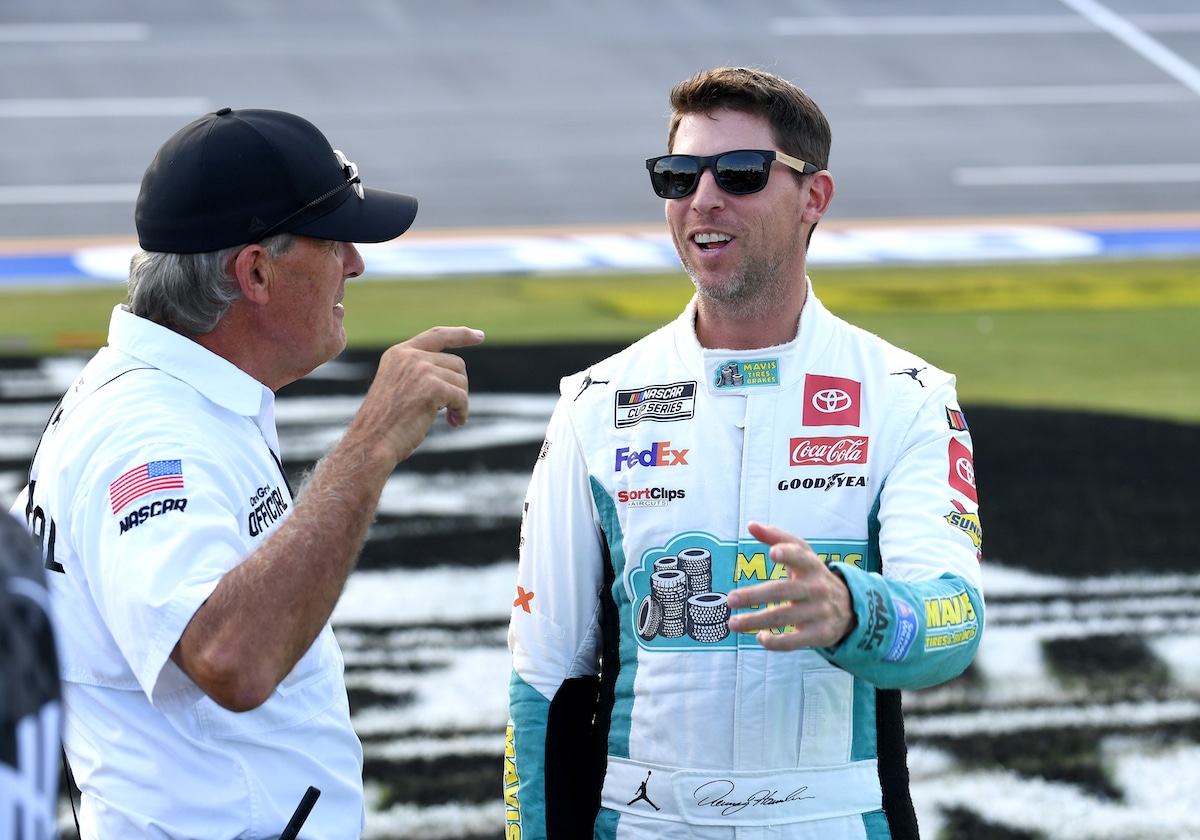 Denny Hamlin Fires Back at Fans Criticizing Him on Social Media After Talladega
Denny Hamlin gets personal and fires back at multiple fans criticizing him on social media after his third-place finish at Talladega.
Denny Hamlin has been on a roll in the 2023 NASCAR Cup Series playoffs, scoring four top-five finishes in the first five races, including a win at Bristol Motor Speedway. Immediately following that win at The World's Fastest Half-Mile, fans showered the Joe Gibbs Racing driver with boos during his post-race interview, and he responded, embracing his role as the villain.
On Sunday after Talladega, Hamlin didn't hear it from the fans in the stands as much as he heard it from them on social media. And unsurprisingly, the three-time Daytona 500 winner fired back.
Denny Hamlin embracing role as villain
Denny Hamlin has heard boos plenty of times throughout his career. Last month at Bristol, after winning the race and securing a spot in the Round of 12, he heard it while talking with NBC's Marty Snider near the start-finish line.
"Are these fans motivation for you? A lot of boos out there," Snider pointed out.
"Hey, I beat your favorite driver," Hamlin addressed the crowd while looking toward the stands. 
"Who would that be?" the reporter questioned. 
"All of them," the JGR driver said and walked away.
A couple of days later, the driver talked about the exchange on his Actions Detrimental podcast.
"I love banter. I love talking s***. I do," Hamlin acknowledged. "And now I'm just running well enough where I can back it up. I'm feeding off of it because I'm proving so many people wrong. All I want to do at this point, is if you root against me, I just want to make this next seven weeks a living hell for you. I do. I want to live in the misery of you watching us run well."
Hamlin fires back at fans after Talladega
On Sunday at the 2.66-mile superspeedway, the 42-year-old continued that "misery" for his critics, impressively scoring a third-place finish in a race where he was a lap down for a large part of it and running in 28th place with 25 laps to go. Naturally, he heard about it on social media, including one fan criticizing him for mispronouncing his primary sponsor during his post-race interview.  
"So Denny not knowing how to pronounce his sponsor's name on live tv," the fan wrote on X. 
"This is nothing. I once thanked the guys in the ugly brown truck…" Hamlin admitted. 
Most fans challenged the driver for what happened during the race.  
"Karma, pos @dennyhamlin caused chaos for everyone & still didn't get the lucky dog. Now if only his car would break & he'd get a dnf today & next week," a fan named Connie wrote.
"Oh Connie… maybe next week," the driver replied after his good finish.
"Don't trust @dennyhamlin not to play games to manipulate this race," another fan commented. "We know he would be the first one complaining if others were doing the same @NASCARonNBC."
"You have trust issues," the driver fired back.
Another blamed him for starting the last-lap crash that began at the finish line and damaged multiple cars. However, replays clearly showed it was initiated by contact between Corey LaJoie and Riley Herbst. 
"Sir im calling to confirm your appointment with our optometrist tomorrow at 11am," Hamlin wrote. "Type yes to confirm."
Hamlin may not be liked by a lot of fans, but there's no denying he makes things interesting on and off the track. And this year, with his success, he's taken it to another level. Now, just imagine if he wins the championship.
To stay up to date on the latest happenings in NASCAR, including breaking stories you can't find anywhere else, follow Kyle on YouTube and Twitter.