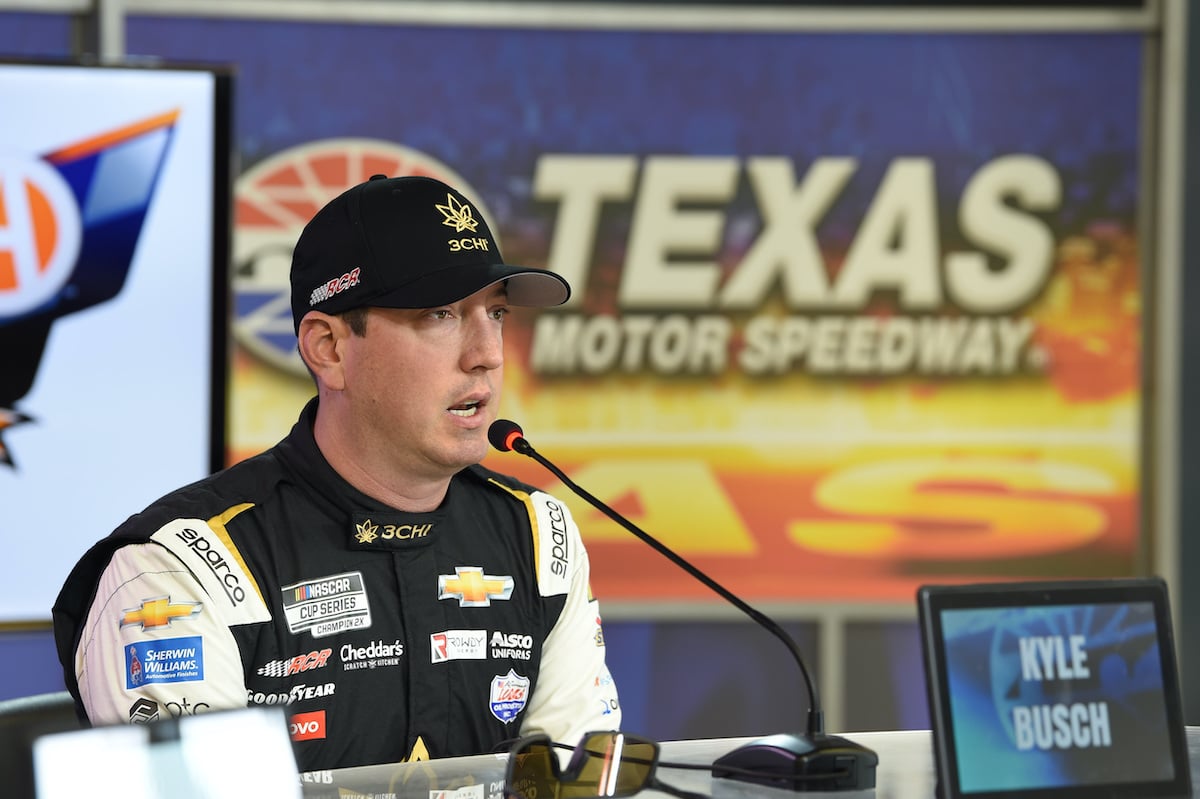 Kyle Busch Talks About Life After Being a Villain and Grades How Denny Hamlin Is Doing in His New Role
Kyle Busch talks about not being the villain anymore and gives his thoughts on how his former teammate Denny Hamlin is handling the new role.
Kyle Busch never shied away from playing the villain while at Joe Gibbs Racing. Before this season, his first with Richard Childress Racing, the two-time Cup Series champion admitted a willingness to continue playing that role with his new team. 
It hasn't happened. Just the opposite. Fans no longer shower the 38-year-old driver with boos on driver introductions or in Victory Lane, where he's made three trips this season. Interestingly, his former JGR teammate, Denny Hamlin, has taken the mantle of the sport's most villainous character. Before the playoff race at Texas, Busch addressed what it's like not being booed anymore and how he thinks the three-time Daytona 500 winner is handling his new role. 
Kyle Busch willing to play the villain role with RCR in 2023
When Kyle Busch announced his move to RCR for 2023, many pundits suggested it would be a fresh start for the veteran driver with his new team that could lead to improved on-track performance. As for his off-track Rowdy persona, the future Hall of Famer was asked about it and what fans might expect before the season at a tire test at Circuit of the Americas.
"It depends. It's a matter of who makes you mad," Busch joked. "It's just a product of circumstances and what all goes down. Our sport needs some entertainment. It needs some excitement whether it's on the track or a little bit off the track. If I'm that guy — I've been that guy for a little bit. This hat's black for a reason. We'll keep rolling.
Busch talks about life after playing villain and Denny Hamlin assuming new role
The talk of being a villain has been a hot topic recently, with Denny Hamlin embracing the role last weekend after his win at Bristol. Before the first race in the Cup Series playoffs Round of 12 race at Texas Motor Speedway, Busch was asked if being vilified was behind him, and what he thought about his former JGR teammate becoming the sport's most villainous character. 
"I'm sure I could put myself right back into that category real easy," Busch said with a smile. "It only takes something spectacular to do. I mean, it's different, right? I don't know that I've ever been in this spot because when I first came into this sport and was here, getting in, my brother had made a lot of enemies both on and off the race track, and so I was kind of thrown into that right off the bat. It's been good to be in a different light.
"It's been fun over at RCR. A lot of people have kind of told me how much excitement there is around that and me being a part of the 8 car with RCR and everybody over there. Yeah. Just keep rolling with it. 
"When you're in that spot like I was, and I guess Denny is, you got to do what Denny's doing. It's perfect. You've got to play with it, and just go with it and roll with it and egg them on. I mean, I did it. There were so many quotes in the years past when I was talking about Junior Nation and other stuff. Trust me, you're never going to win those battles. They're hard to win. I guess it makes you feel better inside. Makes you feel bigger to say stuff like that. It's fun to watch."
Fun to watch when someone else is on the receiving end.
To stay up to date on the latest happenings in NASCAR, including breaking stories you can't find anywhere else, follow Kyle on YouTube and Twitter.