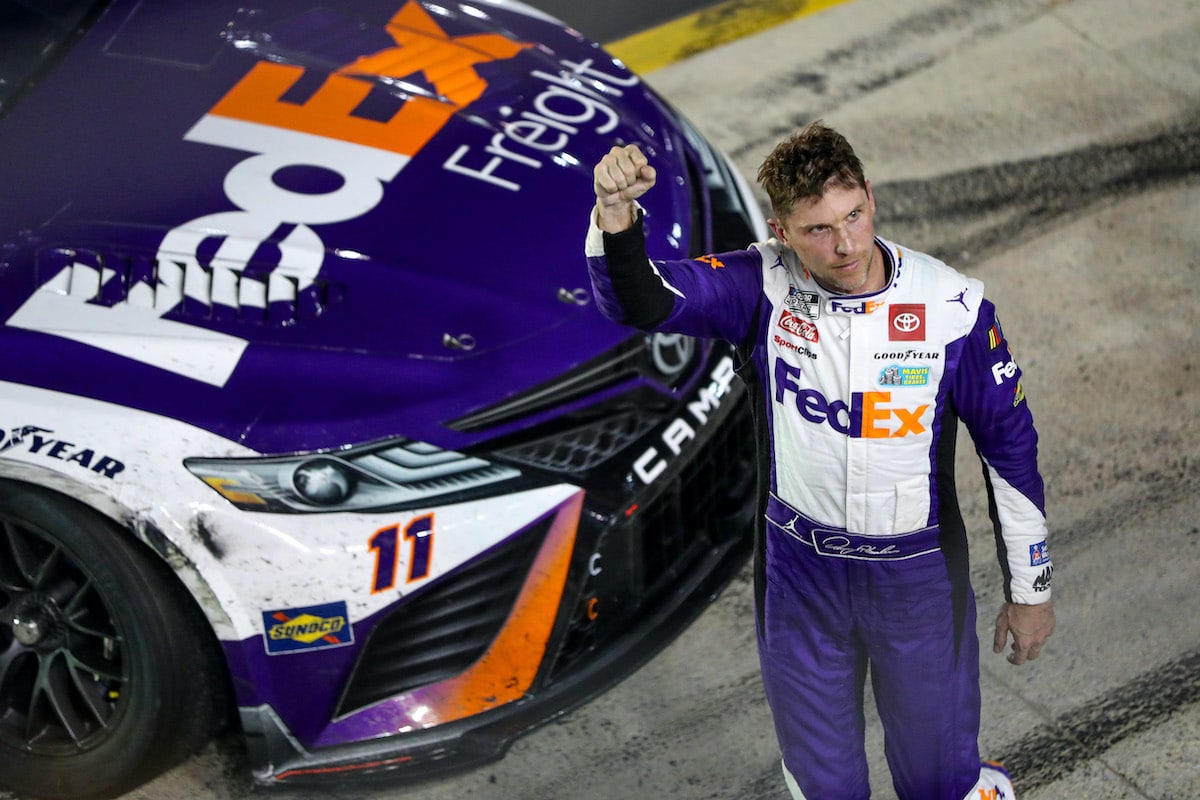 Denny Hamlin Sends Message to Haters as He Embraces Villainous Role
Denny Hamlin is embracing the hate and leaning into his role as a villain. He showed that in his response after winning Saturday at Bristol.
Since late July, Denny Hamlin has been one of the hottest drivers in the NASCAR Cup Series. He won at Bristol on Saturday, his third win of the season. Moments after claiming the checkered flag, the Joe Gibbs Racing driver was interviewed while a cascade of boos rained down from the stands. When questioned about the outspoken haters, the three-time Daytona 500 winner provided the perfect response.
Denny Hamlin responds to boos at Bristol
In the last 10 races of the 2023 Cup season, Denny Hamlin has been on fire with seven top-10 results, including six inside the top five and two of those wins. 
This past weekend at Bristol, the No. 11 team came prepared, unloading a fast car that narrowly missed the pole, and started on the front row alongside pole winner and JGR teammate Christopher Bell.
The younger driver had a solid race and was one of the dominant cars, leading a race-high 187 laps. The other top car belonged to Hamlin, who led 142 laps, including the most important one. 
NBC's Marty Snider interviewed the 42-year-old driver near the start-finish line after the race, and many fans made it clear where they stood on the driver, vigorously booing him.  
"You've made many Championship 4 runs. Is something different with the 11 team this year?" the reporter asked.
"It's our year. I just feel like we've got it all put together," the driver responded. "We've got the speed every single type of racetrack. Nothing to stop us at this point."
"Are these fans motivation for you? A lot of boos out there," Snider said.
"Hey, I beat your favorite driver," the driver said, looking toward the crowd. 
"Who would that be?" the reporter pressed for an answer. 
"All of them," Hamlin said and walked away.
Hamlin addresses the haters on his podcast
This week on his Actions Detrimental podcast, Hamlin addressed the post-race comments and exchange with the fans. 
"I love banter. I love talking s***. I do," Hamlin admitted. "And now I'm just running well enough where I can back it up. I'm feeding off of it because I'm proving so many people wrong. All I want to do at this point, is if you root against me, I just want to make this next seven weeks a living hell for you. I do. I want to live in the misery of you watching us run well. 
"Right now, am I feeding into it, the villain stuff? Absolutely. 100% because I've got some confidence. Our team is running well and it just seems like now, Jared has done some work on social media that has fed these people. The boos, they're getting louder and they're getting more but we're also getting more cheers than ever."
Who would have guessed just a year ago that Denny Hamlin would get more boos than Kyle Busch? But here we are.
To stay up to date on the latest happenings in NASCAR, including breaking stories you can't find anywhere else, follow Kyle on YouTube and Twitter.