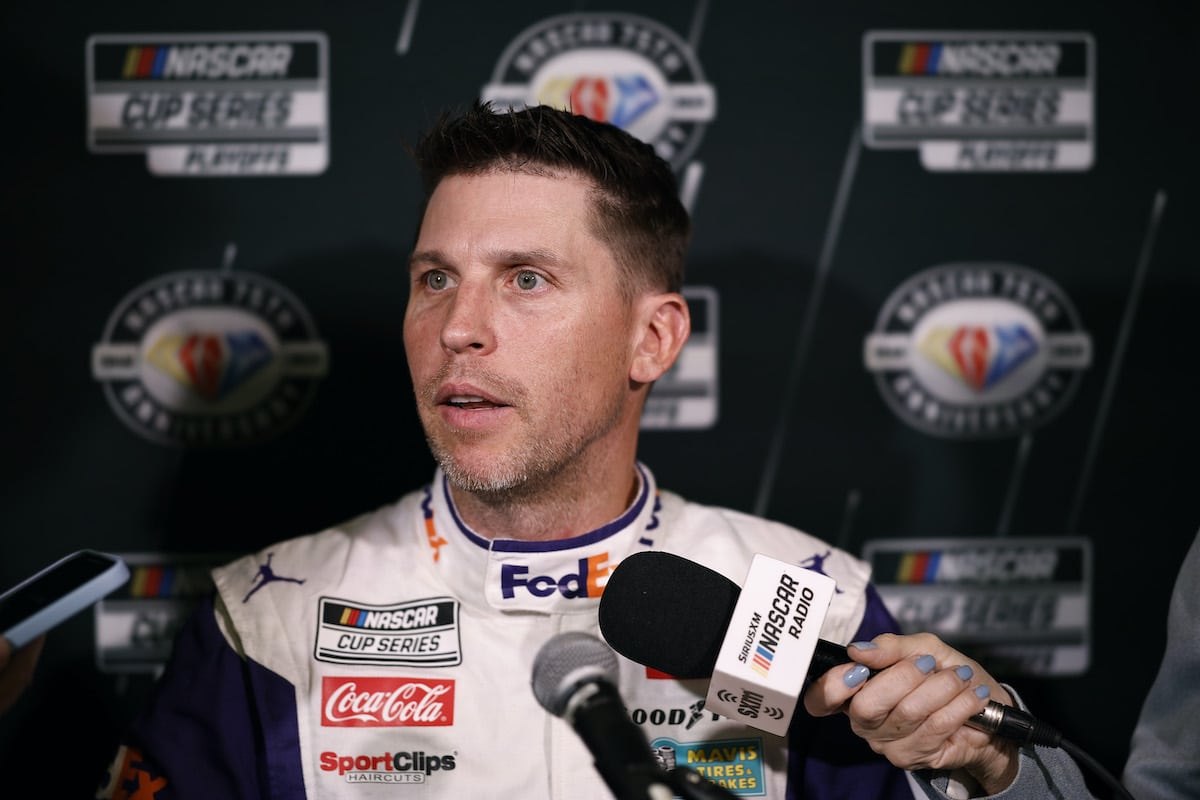 Clint Bowyer Brutally Honest About Denny Hamlin Winning a Title in 2023 and Fans of No. 11 Won't Like It
Clint Bowyer didn't sugarcoat what he thinks about Denny Hamlin finally breaking through and winning the championship in 2023.
Denny Hamlin is destined for the NASCAR Hall of Fame in the future for his many on-track achievements, including three Daytona 500 victories. However, despite all those impressive wins, the 42-year-old lacks one career-defining accomplishment — winning a championship.
Heading into the 2023 playoffs, the Joe Gibbs Racing driver will again try to claim that elusive title. According to former driver-turned-broadcaster Clint Bowyer, it's not going to happen and the drought will continue. 
Denny Hamlin unable to win championship
Denny Hamlin is in his 18th full-time Cup Series season. In that time, he's taken 50 trips to Victory Lane, including big races like multiple Daytona 500s and the Coca-Cola 600. However, the knock on the driver has always been that he hasn't won a title.
He's come close on multiple occasions, including his first full-time season in 2006, when he finished third. Four years later, the No. 11 team won eight times in the regular season but fell just short, finishing second behind Jimmie Johnson in the final standings.
Since 2019, Hamlin has finished in the top five each season, but last year was the first time he failed to advance to the Championship 4.
Clint Bowyer gets honest about Hamlin winning title in 2023
Before the start of the 2023 season at Daytona, Hamlin was asked if he would trade one of his Daytona 500 wins for a championship. He didn't hesitate in shooting down the idea. 
He started the campaign slowly, with just a pair of top-10 finishes in the first eight races. However, since the ninth race at Martinsville, where he finished fourth, the JGR car has consistently run near the front, including eight top-five finishes, two of them wins at Kansas and Pocono. 
Hamlin has looked strong over the last month heading into the playoffs with three top-fives in the last five races. 
Despite those strong performances, Fox announcer Clint Bowyer said during an appearance on NASCAR Race Hub this week that it wouldn't matter.
"This guy always goes to the Championship 4," Bowyer said. "Of course he's going to move on. It's Denny Hamlin. We all know this. He's going to be there. Is he going to win the championship? Mmm, probably not if we listen to history, but without a doubt, he will be there."
This could be the year Hamlin does it. But he says that every year. Will it happen? Time will tell.
To stay up to date on the latest happenings in NASCAR, including breaking stories you can't find anywhere else, follow Kyle on YouTube and Twitter.