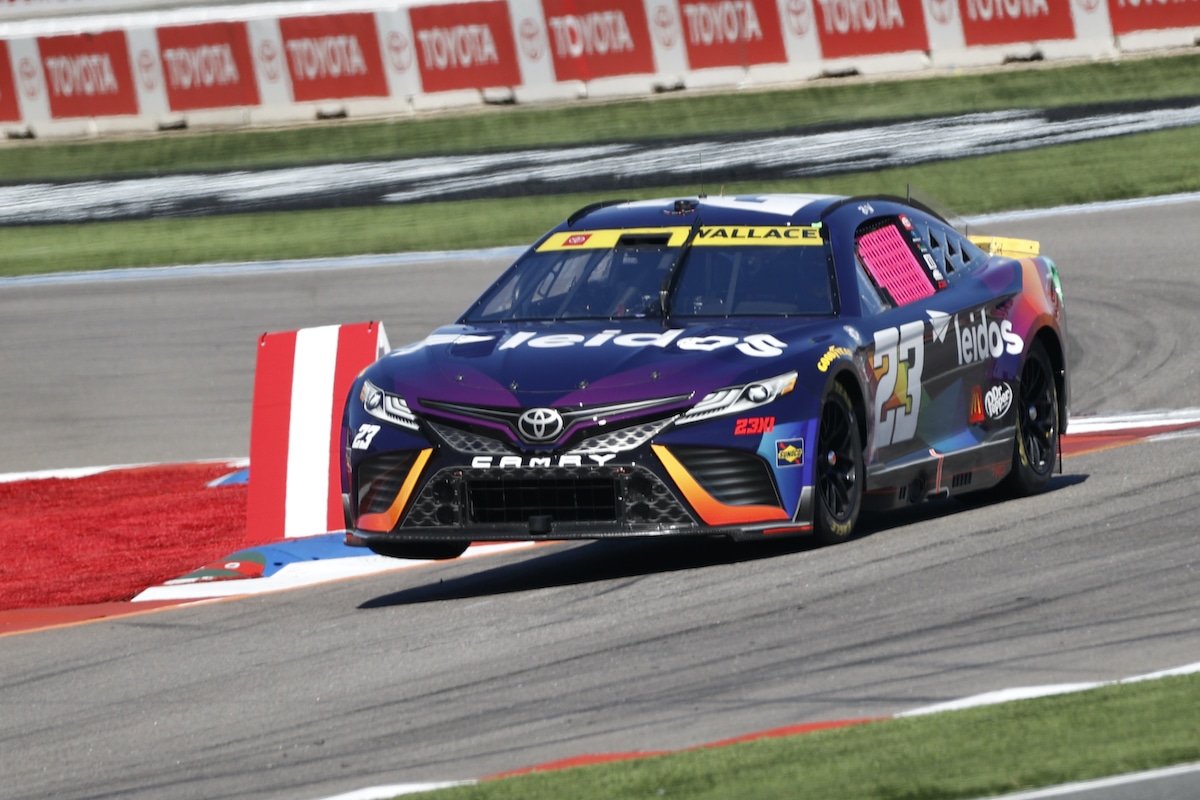 NASCAR Responds to Bubba Wallace Harsh Criticism for Penalty at Charlotte Roval and It's Not a Good Look
NASCAR responds to harsh criticism from Bubba Wallace after being penalized on the Charlotte Roval and it's not a good look for the sanctioning body.
Bubba Wallace has never been one to shy away from criticizing NASCAR. On Sunday, the 23XI Racing driver didn't mince words after the race at the Charlotte Roval for a penalty he received during the competition from the sanctioning body that he felt was unwarranted. 
On Tuesday, NASCAR responded. 
Bubba Wallace penalized after spin caused by Daniel Suarez
Bubba Wallace started fourth on the Charlotte Roval after his career-best qualifying effort on a road course. On his birthday, the 30-year-old driver stayed up front through the race's first two stages, finishing second and seventh, but more importantly, collecting valuable stage points that helped his cause in advancing to the Round of 8.  
However, in that final stage, those hopes of moving on to the next round all but vanished in an incident with 22 laps remaining. It started when Daniel Suarez misjudged the back chicane, drove in too hot, and got into the rear of Austin Cindric. The Team Penske car then drove into the rear of the 23XI Racing car, which went for a spin in the chicane. The No. 23 made a complete 360 without stopping and blended back into the field after losing seven spots. 
Under NASCAR's rules, a car that misses the chicane must make a complete stop before returning to the track. Wallace was informed of the situation by his spotter, made a complete stop on the front stretch to serve the penalty, and dropped to 31st in the process.   
Wallace criticizes NASCAR for penalty
After the race, where Wallace somewhat recovered and finished a respectable 16th, the 23XI Racing driver was asked about the scenario. Unsurprisingly, he didn't hold back. 
"Honestly, it's such a BS rule," he said. "I lost so much track position, and I didn't completely come to a stop, but I got blown through the chicane. And so I thought I'd just keep my momentum up and get back going, fall back in line, and go race it out from there. But we had to stop on the front stretch. We're the only series I think that does that ass backwards. So, not surprised." 
NASCAR responds
On Tuesday, NASCAR Senior Vice President of Competition Elton Sawyer made his weekly appearance on SiriusXM NASCAR Radio and was asked about what happened with Wallace. After initially talking about implementation of the chicanes from a competitive and safety standpoint, he attempted to address the subject. 
"Just taking it from a perspective that if you just blow off the rear chicane. So you just went down there, I couldn't turn. I just go straight," Sawyer said. "There's a competitive advantage by doing that."
"So then you start working your way down to I was involved, I spun. OK. Then I was involved and I had nothing to do. I got caught up with someone else's accident. 
"The easiest way to reset is to either stop in that area on the back straightaway in that chicane. Just come to a complete stop and then roll off. Or, there's another option. You can driver around 3 and 4 on the oval and the area that was the previously the restart zone for the oval, you can stop there. So we give them two opportunities to reset. And you have to do that on the lap of the violation. If you don't, then basically it's a drive-through penalty. 
"So we'll take a deeper dive as we always do looking at facilities, looking at changes, looking at track limits. How do we make that better? How does that become less of a narrative on Monday morning or Tuesday morning after the event. 
"But I think that the thing that I take out of that, not so much on the officiating side was just the season that Bubba has had. He's had a great year. Moved on to the second round of the playoffs. I get it that when the race is over and now you've been eliminated that's probably going to be something that's on your mind and felt like it needed to be addressed. Again, we'll look at it and see what changes we need to make going forward to make it as equitable for all the competitors and safe as possible." 
Translation: NASCAR didn't have a rule in place for what happened with Wallace. They got caught flat-footed and instead of acknowledging the driver was already penalized enough for an incident that wasn't of his own doing, decided to penalize him again. It wasn't a good look in the race and the response doesn't make it any better.
Hopefully, as Sawyer suggested, NASCAR will see what changes need to be made in 2024 on the Roval and this rule will be one of them.
To stay up to date on the latest happenings in NASCAR, including breaking stories you can't find anywhere else, follow Kyle on YouTube and Twitter.