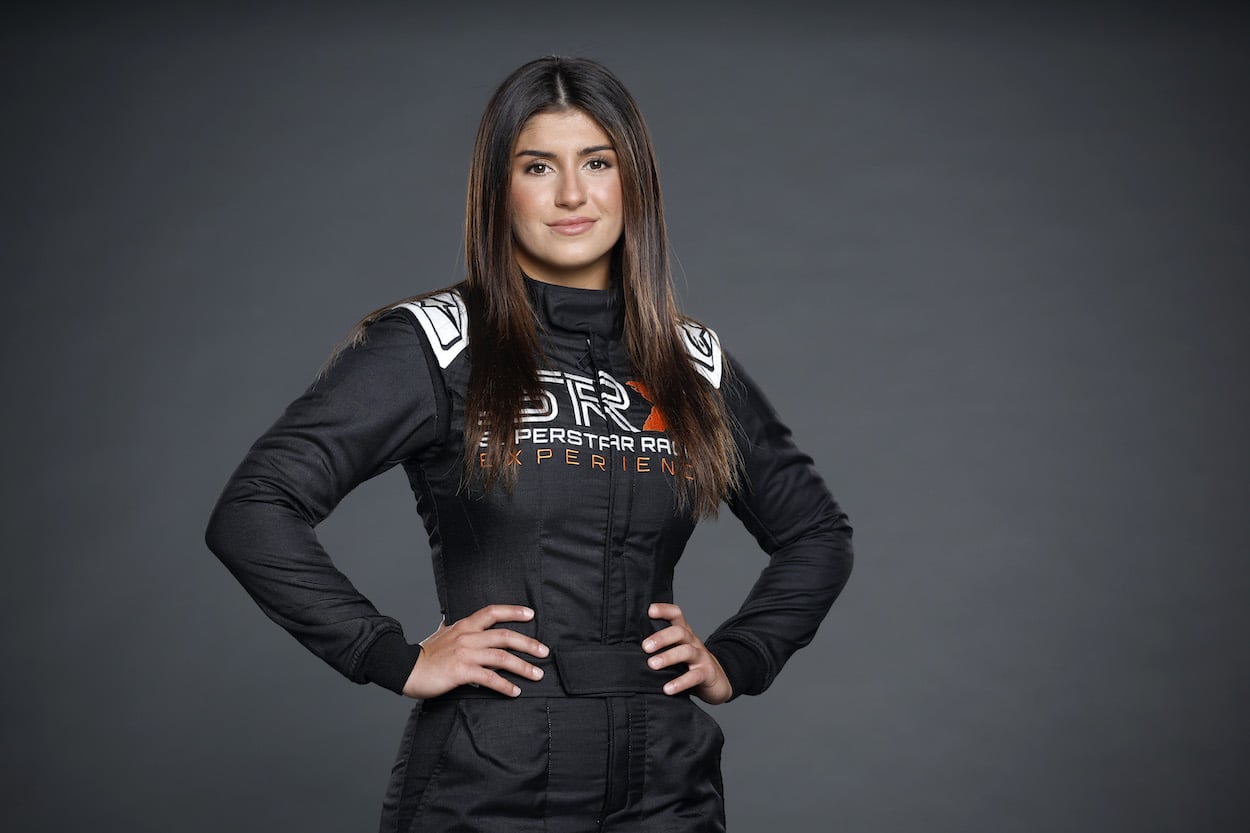 Hailie Deegan Surprisingly Confesses She Apologized to Daniel Suarez During SRX Race to Avoid Being Known as 'Dirty' Driver
Hailie Deegan admitted during the SRX race that she apologized to Daniel Suarez for an incident because she didn't want to be viewed as a "dirty" driver.
Hailie Deegan opened the 2023 SRX Series season with a solid fifth-place finish at Stafford Speedway. On Thursday, the NASCAR Truck Series regular finished eighth in the second edition on the same track. While her performance wasn't necessarily noteworthy, something she said during an interview in the early intermission was when she talked about a run-in with Daniel Suarez on the track and why she felt the need to apologize.  
Hailie Deegan roughed up in NASCAR Truck Series
Fans attending or watching a NASCAR Truck Series race understand there will be some serious beating and banging. That's the nature of the series, which features younger drivers working on their racecraft. Translation: aggressive driving and mistakes will be made.   
Hailie Deegan knows this as well as anyone. She's been on the receiving end of that aggressive driving multiple times in her three years in the trucks. And she's made it clear what she thinks about it. 
"I feel like we do get taken advantage of a lot, but also I get fired up when someone does something to me, like really fired up. I think it's my dad kind of speaking through me," Deegan said last May on the Door Bumper Clear podcast. "We've had so many situations where we've got wrecked out or put in bad situations. It could just be not our fault and get in someone else's situation. 
"I feel like I have kept my cool because I know how crucial it is that I need good finishes. Start popping off good finishes. Get the momentum going. And that's why I don't retaliate to take that chance of something happening to me. Oh my gosh, you get a tire rub, and it's just downhill quick, and that's something I don't want to put myself in that position." 
Deegan apologizes for incident with Daniel Suarez at SRX 
Deegan is one of eight regulars competing weekly in SRX's six-race season. Daniel Suarez joined the series in Connecticut to race on Thursday night. 
In Heat 1, the Trackhouse Racing regular finished third. Deegan finished one spot behind him. In Heat 2, both drivers found themselves racing next to each other in the back. At one point, the ThorSport Racing driver got into the No. 99 car. It wasn't shown on the broadcast. However, she confessed to the incident during an interview.
"I ended up in the second one after we came off the frontstretch, I had some issue going on with the brakes, and shaking the wheel in my hands," Deegan said. "There was something going on in the right front. It progressively started getting worse and I felt so bad because Suarez was on my outside and I don't race like that, but it looked like I raced him really dirty into Turn 3. And I don't do that so I went up to him and apologized, explained myself because I don't want to be one of those people, especially if it's not deserving."
Deegan doesn't want to be one of those people, or more specifically, one of the multiple Truck Series drivers who've done her dirty the last couple of seasons.
To stay up to date on the latest happenings in NASCAR, including breaking stories you can't find anywhere else, follow Kyle on YouTube and Twitter.