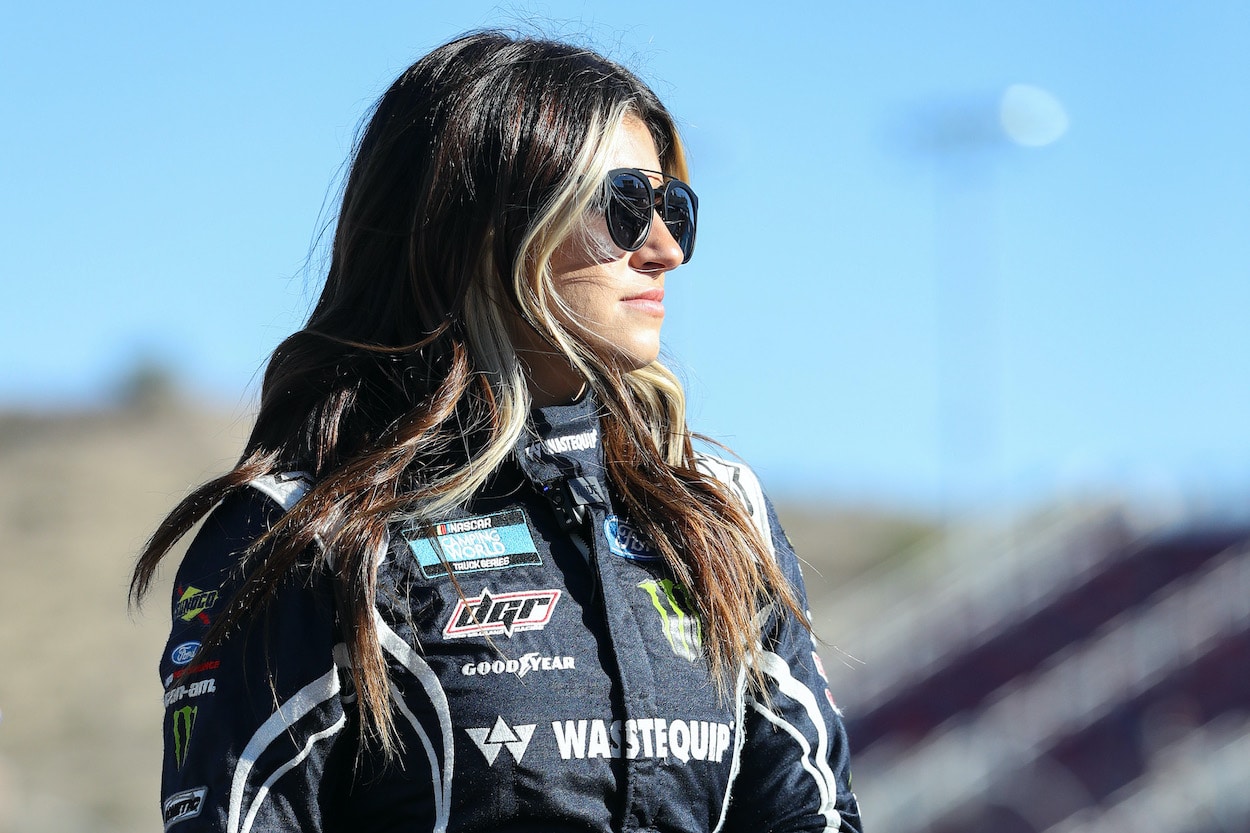 Hailie Deegan Hits New Career Low in 2023 at Mid-Ohio and Questions Grow Louder About Her Future in Truck Series   
Hailie Deegan hit a new low at Mid-Ohio over the weekend, extending the worst stretch of racing in her Truck Series career, and is now below five of six rookie drivers in the points standings.
Hailie Deegan and her fans were optimistic about the 2023 NASCAR Truck Series season and with good reason. The 21-year-old driver was headed into her third full-time year in the trucks but first with ThorSport Racing, a team known for winning races and championships.
The thinking was 2023 would be her breakout year. It's been anything but that. Deegan has struggled and recorded a single top-10 finish all season. And on Saturday at Mid-Ohio, she finished 26th and continued the worst stretch of racing in her Truck Series career. 
Hailie Deegan joins ThorSport and gets championship-winning crew chief
When it was announced Hailie Deegan was joining ThorSport Racing in 2023, many assumed that move would translate into the most success in her young career following a couple of mediocre seasons with David Gilliland Racing, where she managed to earn just three top-10 finishes. Those expectations dramatically increased when it was announced that the organization was pairing her up with crew chief Rich Lushes, who had worked with Ben Rhodes in winning the Truck title in 2021. 
Lushes appeared on SiriusXM NASCAR Radio just days before the season-opening race at Daytona and shared his thoughts on his new driver and what he expected from her in 2023, including her being more aggressive than she had been in the past.
"I expect her to be aggressive," Lushes said. "I expect her to not take anything from anyone, and I think that's how she's going to be. I think that's the mindset she's in right now. 
"I think she's in a really good place right now mentally, as far as she knows she's going to have a really good shot next year to be competitive. We're going to have a really good team and hopefully, like I said, we're going to get some top 10s and I don't think it's out of the reach at all for us to make the playoffs next year." 
Deegan ties career-best finish at Texas early in season
Deegan didn't get off to a great start, scoring a pair of DNFs to open the season at Daytona and Las Vegas. The No. 13 rebounded and recorded a 12th-place finish at Atlanta, followed by a 16th at Circuit of the Americas. 
The following week and a couple hundred miles to the north at Texas, she had a solid day and capitalized on a chaotic overtime ending, finishing sixth, which tied her career-best finish. A week later, on the Bristol dirt, she finished 13th, and concluded the best four-race stretch in her career.
Steady decline in last half of season
Unfortunately, since Bristol, it's been a steady decline for the ThorSport driver. In the next four races, she scored a 12th at Kansas, sandwiched between three finishes of 20th at Martinsville, Darlington, and North Wilkesboro. 
And it's been downhill from there.
Deegan hasn't finished higher than 26th in the last four races. Dating back to Darlington, that's six straight races of 20th or worse, which is the worst stretch of her career. 
The numbers don't lie
The reason for Deegan's subpar performance in 2023 is the same thing that's dogged her in the past — aggression. She doesn't have it. 
Multiple times this season, other drivers have roughed her up, which her many fans like to point out. But what those same supporters fail to acknowledge is the reason she gets roughed up is because she regularly finds herself in the field where that type of driving is common. 
| | | |
| --- | --- | --- |
| Drivers | Top 10s | Standings |
| Ben Rhodes | 9 | 4th |
| Matt Crafton | 5 | 10th |
| Ty Majeski | 9 | 3rd |
| Hailie Deegan | 1 | 19th |
Her ThorSport teammates don't have those same issues, and their results prove it. Ben Rhodes has the organization's lone win and, along with Ty Majeski, has nine top-10 finishes. Matt Crafton has five. Deegan has the one.
Regarding season points standings, with two races to go before the postseason, all three of Deegan's teammates are in the top 10 and, more importantly, above the playoff cutoff line. Deegan is currently in 19th and behind five of the six Truck Series rookies, including Taylor Gray, who has run three fewer races than her due to not meeting the age requirement.
This season, as Lushes said before it started, Deegan had the opportunity to be competitive and battle for top 10s. That hasn't happened. Will she be given another chance in 2024? It's unclear at this point, but based on her performance this season in top equipment, it's hard to see how her results will get any better in the future.
To stay up to date on the latest happenings in NASCAR, including breaking stories you can't find anywhere else, follow Kyle on YouTube and Twitter.