Ben Rhodes Could Resent New ThorSport Teammate Hailie Deegan and No One Would Blame Him, But He Doesn't and Explains Why
Ben Rhodes will look back on the last two seasons of the NASCAR Truck Series with fondness. He won the championship in 2021 and followed it up with a runner-up finish in 2022. 
In addition to being linked to success in those two years, the 25-year-old was also tied to Hailie Deegan and her team in several ways that most fans don't even know about. Here's a look at why Rhodes could have resentment toward his new ThorSport Racing teammate, and the uplifting comments from the driver himself on why he doesn't.
Ben Rhodes loses crew chief to Hailie Deegan
Ben Rhodes finished second behind Zane Smith for the 2022 Truck Series title. For those who followed the No. 99 truck closely, the team followed a similar pattern as the championship-winning season the year before, battling through a lackluster mid-season performance and getting hot at the right time — the playoffs.
Rhodes rode that wave of momentum all the way to the championship two seasons ago and came close again in 2022 under the guidance of crew chief Rich Lushes. The pair joined before the 2021 season and it turned into a magical run. They almost replicated those efforts this year but fell just short.
Interestingly, Rhodes will be working with someone altogether different next season, as Lushes was named Hailie Deegan's crew chief following the announcement that she was joining ThorSport Racing.  
Rhodes lost spotter to Deegan in 2021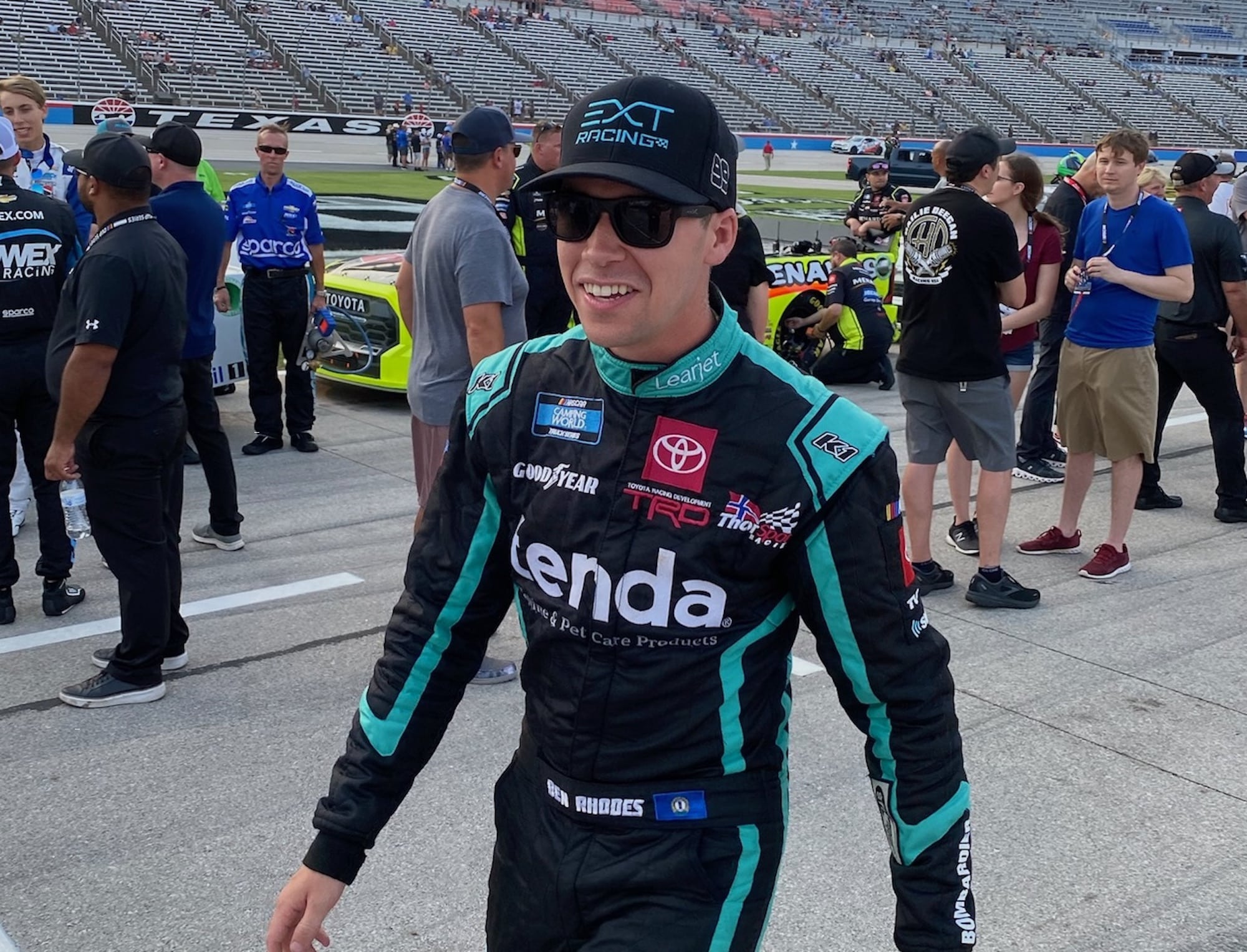 It's human nature to react negatively when something or someone breaks up a successful relationship. In that case, Rhodes would be justifiably upset that Deegan is getting the services of Lushes, who has helped him when he's achieved the most success in the last two years of his career. Bizarrely, this isn't the only time this type of scenario has happened between the two drivers.
Following the 2020 season, TJ Majors, who had spotted for Rhodes in Trucks and Joey Logano in the Cup Series, was recruited by Deegan. He left the No. 99 truck for the rookie driver. In the 2021 season, with TJ Bell as his spotter, Rhodes won the Truck title. Deegan and Majors finished 17th. 
Rhodes holds no resentment and views new crew chief as an opportunity
Losing Majors was a challenge but losing his crew chief, who has taken him to new heights, was, by Rhodes's own admission, a "gut punch." Despite that, the 25-year-old said he trusts that Duke and Rhonda Thorson know what's best for the race team and he is genuinely excited about the opportunity in 2023 with his new team, which is essentially the No. 98 truck and crew of Christian Eckes that finished eighth overall.
"I feel like the 98 has a really strong stable. So I'm definitely not mad about the trucks. I'm really not mad about any of it," Rhodes said. "I've worked with nearly everybody in the shop at ThorSport and I've found that I've come out stronger because of it. And I've found that I've got a lot of friends in the shop because I've worked with so many of them." 
Rhodes joked that the latest personnel move actually fits with how his career has gone thus far because he's changed crew chiefs almost every two years. The positive, mature-beyond-his-years driver has the entire situation in proper perspective.
"From every crew chief I've learned something important and completely different than every other crew chief I've worked with. They all have different perspectives. They all have different experience," he said. "And each one I've pulled some sort of information that I've held with me. All the best stuff I get from them I've held with me. 
"So I see this again as a huge learning experience because there are some people that can find success early on with one crew chief and then that's what they know and that's great. But there's also some strengths that you can pull from working with a lot of different people. I've certainly done that."
Ben Rhodes has impressed on the race track. He's delivered one of the most epic press conferences in sports history. And now with this latest move, he's revealed one of the greatest characteristics of any athlete — he's a true team player. Hailie Deegan may not realize it now, but he's the perfect teammate for her at this critical point in her career.