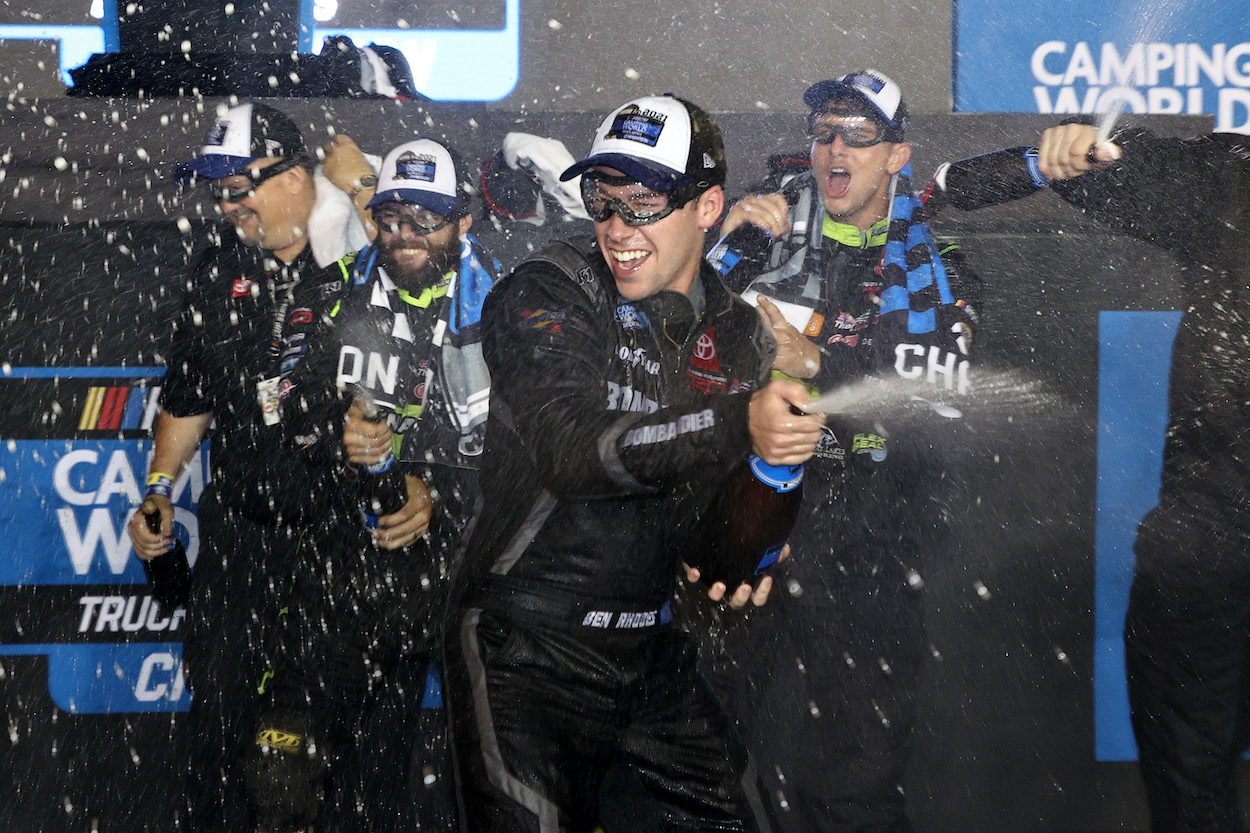 Intoxicated Ben Rhodes Hilariously Entertains Media During Epic Press Conference After Winning NASCAR Truck Series Championship in Phoenix
An inebriated Ben Rhodes visited with the media after winning the NASCAR Truck Series championship and it was an epic press conference that anyone who witnessed it won't ever forget.
In 2012, Brad Keselowski won the NASCAR Cup Series championship, drank heavily in celebration, then provided an intoxicated and quite memorable ESPN interview. On Friday night, after winning the Truck Series title, Ben Rhodes told Keselowski hold my beer. Literally. The 24-year-old celebrated his first championship with champagne and beer and then delivered one of the most memorable press conferences in sports history. 
Ben Rhodes wins 2021 NASCAR Truck Series championship
After opening the 2021 NASCAR Truck Series season with a pair of wins, Ben Rhodes never made another trip to victory lane the rest of the season. However, he did come close with a pair of runner-ups on the Bristol dirt and at Richmond.  
Despite not winning, Rhodes remained consistent throughout the regular season, earning 11 top-10 finishes in 15 races. In the playoffs, the ThorSport Racing driver started strong with a third-place finish at Gateway but then struggled at Darlington to the worst finish of his career, finishing 34th. 
Following that hiccup at the Lady in Black, Rhodes rebounded and returned to form, finishing in the top 10 in three of the next four races, advancing through the playoffs. 
On Friday, Rhodes was the best of the Championship 4 trucks in both practice and qualifying. He then backed it up during the main event, leading the four drivers for most of the race before falling behind Zane Smith in the final stage, only to recover and make a move with nine laps to go to move ahead of Smith and drive away to the championship. 
Starts drinking during post-race celebration 
Following the race, a jubilant Rhodes performed an extended burnout, then made his way to the stage where NASCAR President Steve Phelps presented him with the championship trophy. Shortly after, the champagne started freely flowing, and that's when things got interesting. 
First, Rhodes filled up one of his shoes with bubbly and persuaded his crew chief Rich Lushes to perform an F1 ritual that started in Australia called a shoey, where he drank from the shoe. The driver didn't drink from his shoe but did from the bottle, and had plenty of it. 
After more drinking and celebrating with his teammates, Rhodes reported to the media center. And that's when hilarity ensued. 
Intoxicated Ben Rhodes delivers one of the most memorable press conferences in sports history 
While Ben Rhodes etched his name in history on Friday night as the 2021 NASCAR Truck Series champion, it's what happened in the post-race press conference that many fans will remember for years to come. After drinking untold amounts of champagne and beer during the celebration, the driver produced one hilarious moment after another in his more than 20-minute session with the media.
Among the many highlights:
Rhodes called on a reporter in the back, while the moderator wanted to go with a question from Jeff Gluck, sitting in the front.
An official replaced Rhodes' Bud Light can with a water and the driver's train of thought bounced around from the water to his question with Jeff Gluck – "There's a lot of bubbles in this," he said, looking at his water. "Um, so, Dasani Water, Jeff Gluck, has bubbles in it. But here's what I'll say, Jeffrey."  
When asked how many drinks he had, Rhodes said he was a "lightweight" and drank a lot of champagne because "that's the taste of victory." 
When asked about his plans later in the evening, Rhodes invited the media to party at his hotel. "I'm staying at the Hampton Inn downtown," he said. "It's a free party. Everybody come show up." He then mentioned karaoke and singing Vanilla Ice's "Ice Ice Baby" because that's his go-to song, which he sang at his wedding but didn't remember. 
He mentioned a song list that he listens to when he's inebriated that includes "Welcome to the Jungle" by Guns N' Roses and provided a brief impression of Axl Rose singing the chorus. 
When talking about flying under the radar, Rhodes referenced Fox reporter Bob Pockrass but couldn't remember his name and had to ask him.
When crew chief Rich Lushes arrived, Rhodes informed him that he had consumed a lot of Bud Lights without him and he should have been there. 
At the close of the session, Rhodes summed up what many in the room and those watching online were thinking, "This is the best conference ever."
Yes, champ, it was indeed.
Like Sportscasting on Facebook. Follow us on Twitter @sportscasting19.