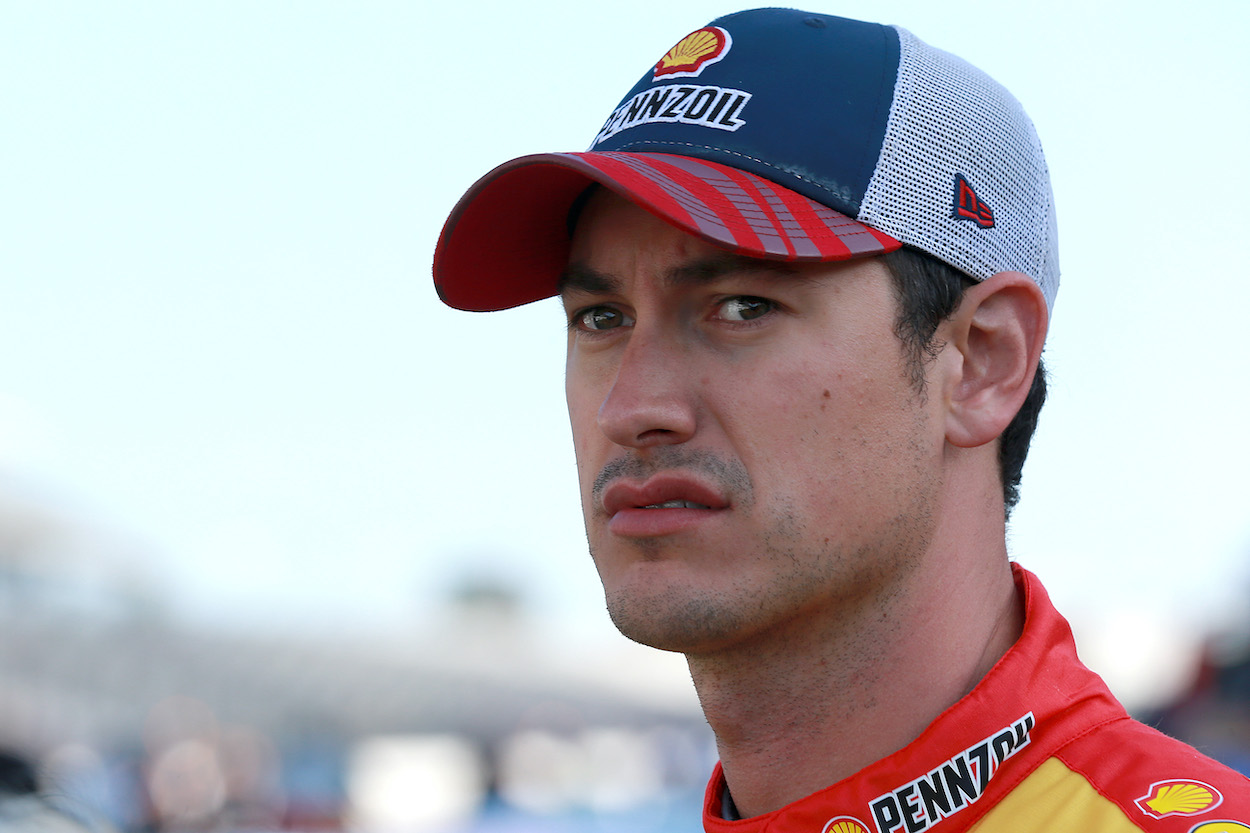 Joey Logano Rubs Some Drivers Like Kyle Busch the Wrong Way and NASCAR President Steve Phelps Bluntly Explains Why: 'When He's in the Car, He Doesn't Give a S***'
Joey Logano can rub drivers like Kyle Busch the wrong way for how nice he acts off the track versus how ruthless he drives on it. NASCAR President Steve Phelps details why the Team Penske driver does it.
It's undeniable Joey Logano has had a successful career in the NASCAR Cup Series with 29 wins, including the 2015 Daytona 500, and the 2018 championship. However, he's ruffled a few feathers along the way. Just ask Kyle Busch.
In an October 2021 episode of the I Am Athlete-NASCAR podcast, NASCAR President Steve Phelps offered high praise for the 32-year-old driver from Connecticut. He also candidly addressed why some drivers aren't fans of Logano and his behavior on the track. 
NASCAR President Steve Phelps on Joey Logano: 'He doesn't give a s***'
Before becoming NASCAR President, Steve Phelps worked 14 years with the NFL in its marketing department. He recently appeared on the I Am Athlete-NASCAR podcast and discussed his time in the NFL and his experiences in NASCAR, including a tumultuous 2020, dealing with a worldwide pandemic and navigating through a variety of social justice issues. 
During one portion of the podcast — co-hosted by three former NFL players, Brandon Marshall, Fred Taylor, and Channing Crowder — Marshall asked Phelps for the top five NFL players he worked with from a marketing-athletic ability standpoint. A few minutes later, the six-time Pro Bowler asked him to provide a NASCAR driver equivalent. For Emmitt Smith, Phelps said the driver of the No. 22 car for Team Penske.
"I'm going to go Joey Logano," Phelps said. "I'll give you just a quick why. Because I don't know Emmitt Smith well, but I've met him a couple of times. He's sharp. He's obviously an incredible talent, Hall of Famer and all that. Think he does a really good with his own brand and I think he cares about that sport. 
"Joey Logano cares about this sport. I'd say Joey's a little more — when he's out of the car, phenomenal guy. Smart. Cares about the sport. When he's in the car, he doesn't give a s***," Phelps bluntly admitted.
"He has that switch," Marshall said. 
"Rowdy said the same thing," Crowder replied, referencing Kyle Busch's earlier appearance on the podcast where he didn't speak highly of Logano. 
"He doesn't care," Phelps repeated. 
"He'll come up to you," Crowder said. "He'll buy you a drink. He's the nicest guy in the world."
"Couldn't be nicer," Phelps said. "When you get in the arena, he's going to, I don't care who you are. I'll take you out."
Kyle Busch sucker-punches Joey Logano at Las Vegas in 2017
As Crowder mentioned, Kyle Busch appeared on the podcast back in May. During that appearance, he detailed his career, including his reputation for sometimes making headlines for things off the racetrack like conflicts with other drivers. 
The two-time Cup Series champion talked about his rivalry with Joey Logano. Busch detailed the 2017 incident at Las Vegas Motor Speedway when Logano made a late-race move that spun him out, and how immediately after the race, he found Logano and sucker-punched him — a move inspired by a previous conversation with his father-in-law.
"He's seen the NASCAR fights are wimp fights," Busch said. "It's a little bit of (motions with soft punches). And then somebody gets in and pulls them apart. He's like, 'I'm tired of seeing that s***. I want to see someone just go up and clock a dude.' So I always remembered that."
Busch told the IAA crew he never mentioned anything to his team over the radio but instead made a beeline straight for Logano's pit stall.
"I get out of my car and marched my happy ass down pit road, and I turned right in to where he was," he said. "I just pulled it back and let it rip. Hit him right across the face. Of course, I got the one hit in because the whole rest of the fight was all these dudes pulling us apart." 
Busch calls Logano 'two-faced'
Later in that same interview, Busch surprised the podcast crew when he said Logano is still his main rival.
"What? Bro, y'all need to get on the podcast," Marshall said, genuinely surprised the two drivers hadn't resolved their issues.  
"The problem with Joey is he's two-faced," the Joe Gibbs Racing driver said. "So people know I'm an ass****. So I might be an ass**** on the race track, which I'm really not, but Logano, he'll come in here and he's laughy and go lucky, go with the flow, like super-nice guy, all this stuff. Does great for charity, everything like that. When you put him on the racetrack, he flips the ass**** switch on the back of his head. To me, I hate two-faced guys. That drives me absolutely nuts. Like if you're going to be a nice guy, be a nice guy on the race track as well. That fries me."
Busch and some other drivers might not like Logano's actions on the track, but clearly the NASCAR president isn't bothered by it. In other words, expect more of the same in the future. 
Like Sportscasting on Facebook. Follow us on Twitter @sportscasting19.