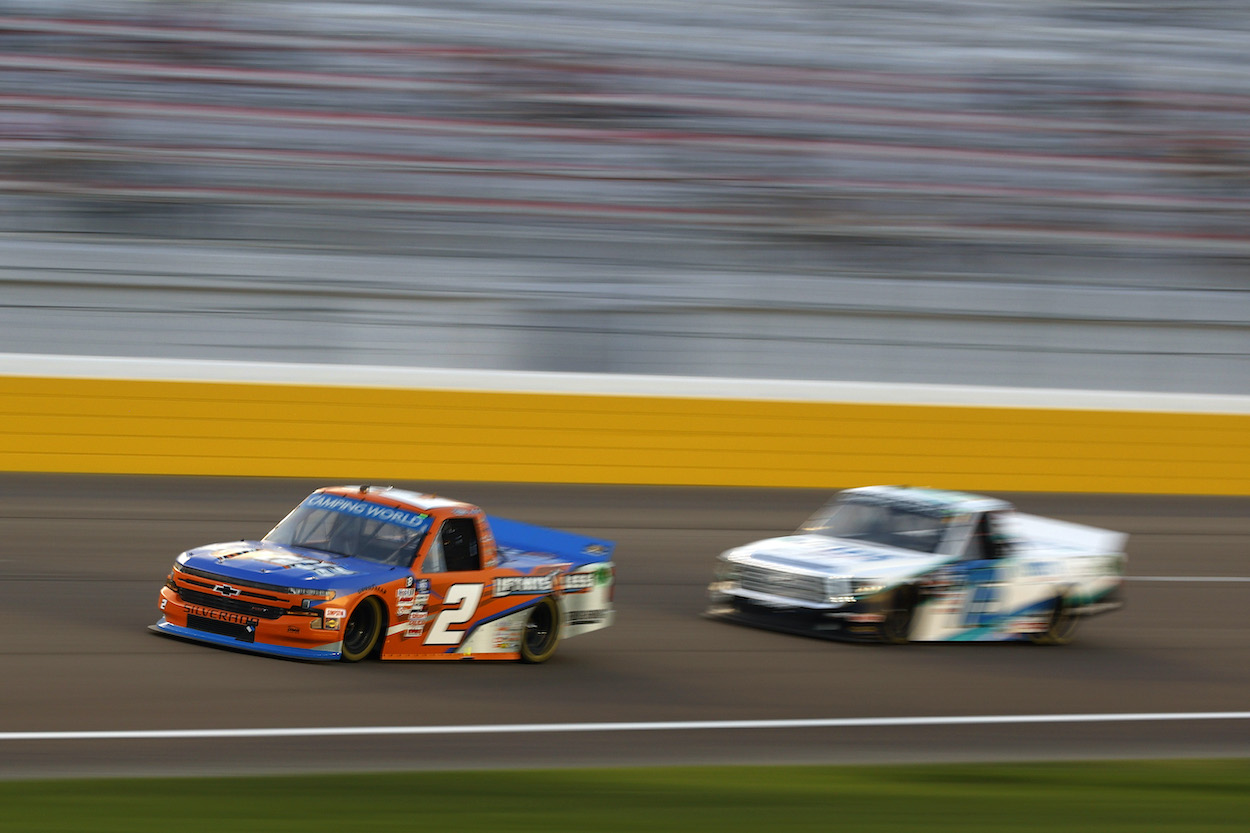 Sheldon Creed Frantically Escapes Truck Engulfed in Flames After Violently Slamming Into Chandler Smith at Las Vegas
Sheldon Creed frantically escaped from his truck engulfed in flames after he had violently slammed into Chandler Smith just moments before.
Sheldon Creed was the dominant driver through the opening round of the NASCAR Truck Series playoffs. He won the first two races and was in position to win at Bristol when late-race trouble dropped him back in the field and ended his streak. 
During the first two stages of Friday night's race in Las Vegas, Creed found himself in a familiar spot near the front of the field. However, everything changed early in Stage 3 in a violent crash. At that point, the 23-year-old, who is moving to the Xfinity Series in 2022, wasn't thinking about wins or playoff points. He was more concerned about escaping a truck engulfed in flames and checking on the driver whose truck he had just driven through just moments before.  
Sheldon Creed races near front in early stages at Las Vegas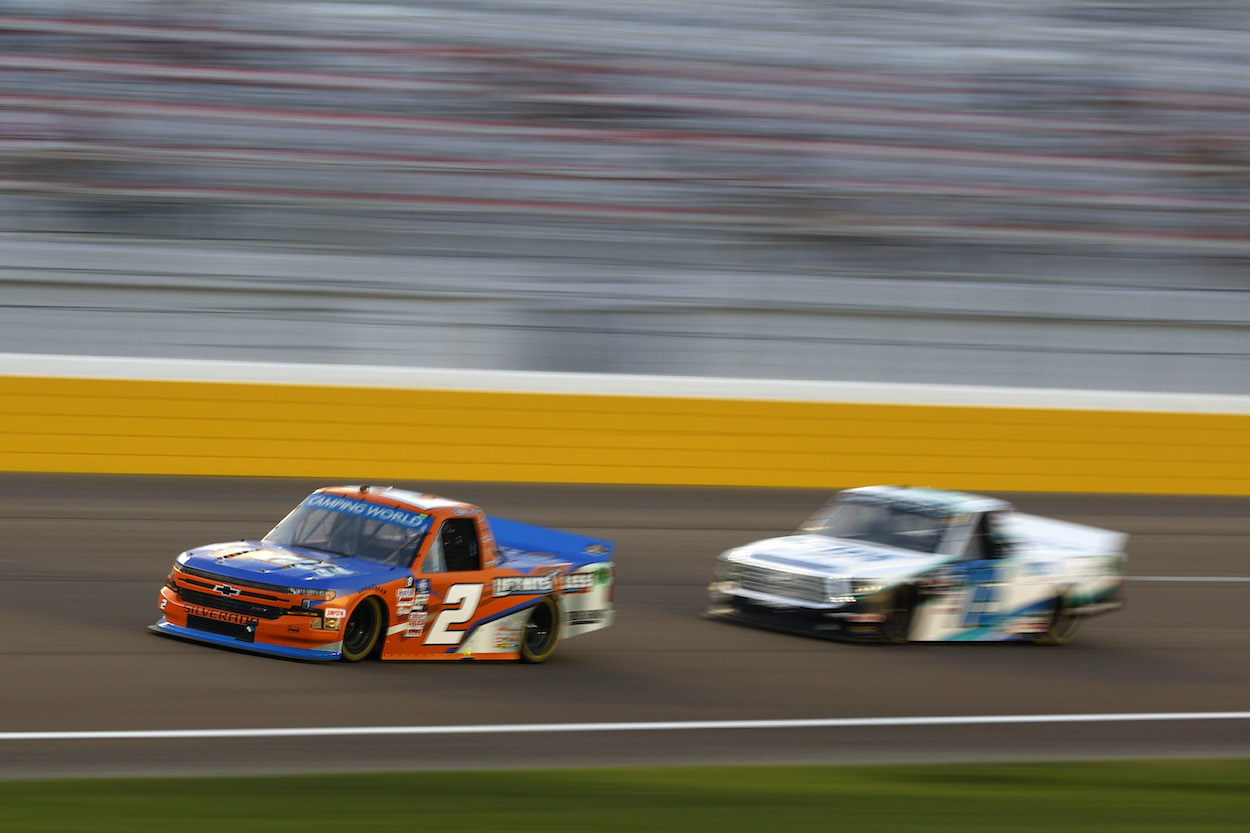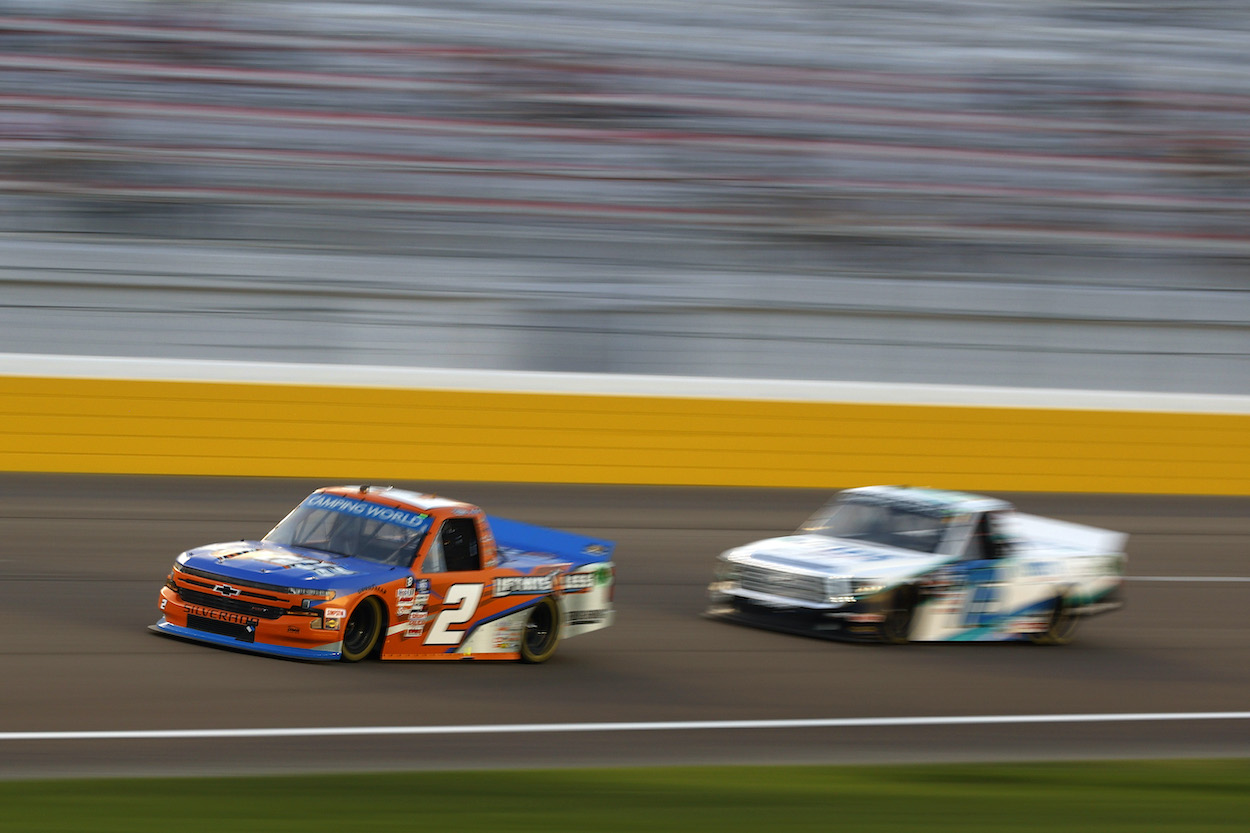 Sheldon Creed was predictably one of the favorites heading into Las Vegas for the first race in the second round of the playoffs. Despite a 19th-place finish at Bristol, the defending Truck Series champion had won the first two postseason races at Gateway and Darlington and appeared to have captured the same form that won him the title last season.
After starting ninth in Sin City, Creed picked up one position in an uneventful first stage. Following a good restart to begin Stage 2, he moved his way up into the top-5 and stayed there, getting as high as second. 
Late in the stage, the No. 2 team made the same pit strategy call as the rest of the leaders, staying out during a caution with eight laps to go while numerous cars further back in the field headed to the pits. That decision would change the course of his race. 
He finished fifth in Stage 2.
Sheldon Creed violently slams into Chandler Smith and truck is engulfed in flames
After a pit stop at the stage break, Creed restarted Stage 3 in 17th position. The stage began ominously when just a couple of laps in the No. 2 truck got loose and slid up into the outside wall. That incident was a precursor of things to come.
Just a lap later, things got considerably worse for Creed and multiple other trucks. It started when Tyler Ankrum got sideways going into the corner. Chandler Smith tried to sneak by on the outside but couldn't make it through and slammed into the back of Ankrum's truck, sending it spinning. A chain reaction followed.
Smith's truck dramatically slowed and veered down toward the infield. Hailie Deegan and several other trucks got collected in the accident. A fast-approaching Creed stayed low and in the throttle trying to avoid Deegan and Ankrum. He never saw Smith when he slammed into the No. 18 truck at a high rate of speed, sending it up in the air. 
Moments later, the front of Creed's truck erupted in flames. The driver frantically lowered his window net, unhooked his steering wheel, loosened his belts, and climbed out of the truck. He stumbled upon exit and immediately rushed over to check on Smith in his severely damaged truck.  
When Smith exited, the two drivers walked with the safety team and headed to the infield care center together. 
Drivers react to violent crash
Fox visited with both drivers after they had been examined and released from the infield care center. Interestingly, Smith accepted responsibility and said it could have all been avoided had he listened to his spotter.
"Some tracks like this I've had some experience when people are spinning up next to the wall and they come back down the racetrack and take out a good portion of the field with them," Smith said. "Spotter told me to go low so I should have listened to him. It's completely my fault. I went high and went with my gut. Bit the bullet for it. Is what it is. Just a heartbreaker. Disappointed in myself."
From his vantage point, Creed wasn't looking ahead but to his side and rushing to avoid a pair of trucks sliding down the track.
"Right here, I see the 1 (Deegan) get hit and spin," he said while watching the replay. "Honestly, I didn't even see the 18. I was paying attention to the 1 so I didn't hit her and I was watching that 26 (Ankrum) to make sure he didn't come down the hill. Just destroyed the 18. Just unfortunate. Maybe should have short pitted under caution and then would have started up front in this stage."
Creed and Smith both ironically look to get back on the right track next weekend in second-round playoff action at Talladega, a track known for its high-speed violent crashes.
Like Sportscasting on Facebook. Follow us on Twitter @sportscasting19.