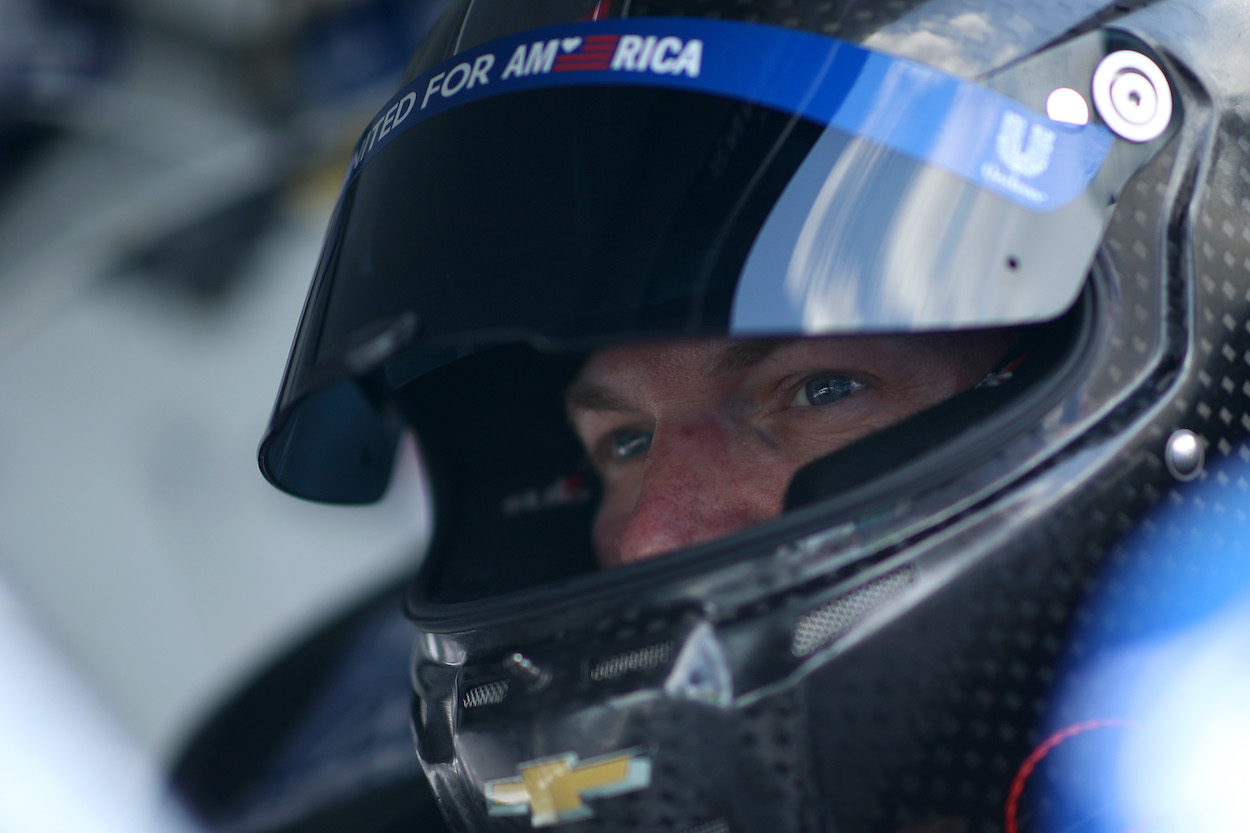 Frustrated Dale Earnhardt Jr. Goes Off and Directs Multiple F-Bombs at His Spotter TJ Majors During Richmond Xfinity Series Race
Dale Earnhardt Jr. drove in his lone Xfinity Series race of the year at Richmond on Saturday and had a few choice words for his spotter TJ Majors early in the race.
This week Dale Earnhardt Jr. talked on his podcast about his upcoming Xfinity Series race at Richmond and reuniting with his former spotter TJ Majors. He also recounted a story that made fun of Majors when the spotter was first getting his start in the business. 
During Saturday's race, Earnhardt made it abundantly clear early on that he was in no mood for jokes. It happened when the two-time Daytona 500 winner got upset at his spotter and dropped a couple of f-bombs in the process, showing he was not happy with their line of communication. 
Dale Earnhardt makes fun of TJ Majors on podcast
Dale Earnhardt Jr. talked for months on the Dale Jr. Download about his one-off Xfinity Series race of 2021 in Richmond. In the most recent episode, he talked about working again with former spotter TJ Majors, who he worked with for years during his Cup Series career before he retired and who has spotted for him each time in the one-off Xfinity races. During that conversation, Earnhardt recalled when Majors made his spotting debut as a fill-in for Matt Kenseth. 
"If everybody wants to give TJ a hard time, his first job as a spotter was at Dover for Matt Kenseth," Earnhardt recalled. "Matt's spotter had an illness or a family issue and had to go home, and in the last minute, they're looking for somebody. I don't know how we did it, but I convinced them to let TJ do the spotting."
Earnhardt said Majors wasn't completely unfamiliar with the role and had some experience working with him as a second or third spotter on road courses. However, this was his first time as the main guy. 
"And so Matt Kenseth is going to get some spotting from TJ in the Xfinity race," Earnhardt said. "So TJ is on the radio. They're coming around Turn 4, getting ready to start the race. And TJ is like, 'Get ready, get ready, get ready.' And when the flagman waves the green TJ is like, 'Green, green, green, green.' And he kept saying the word green until Matt exited Turn 2," Earnhardt said as the crew broke out into laughter. "I've never let him forget it."
Dale Earnhardt Jr. directs f-bombs at Majors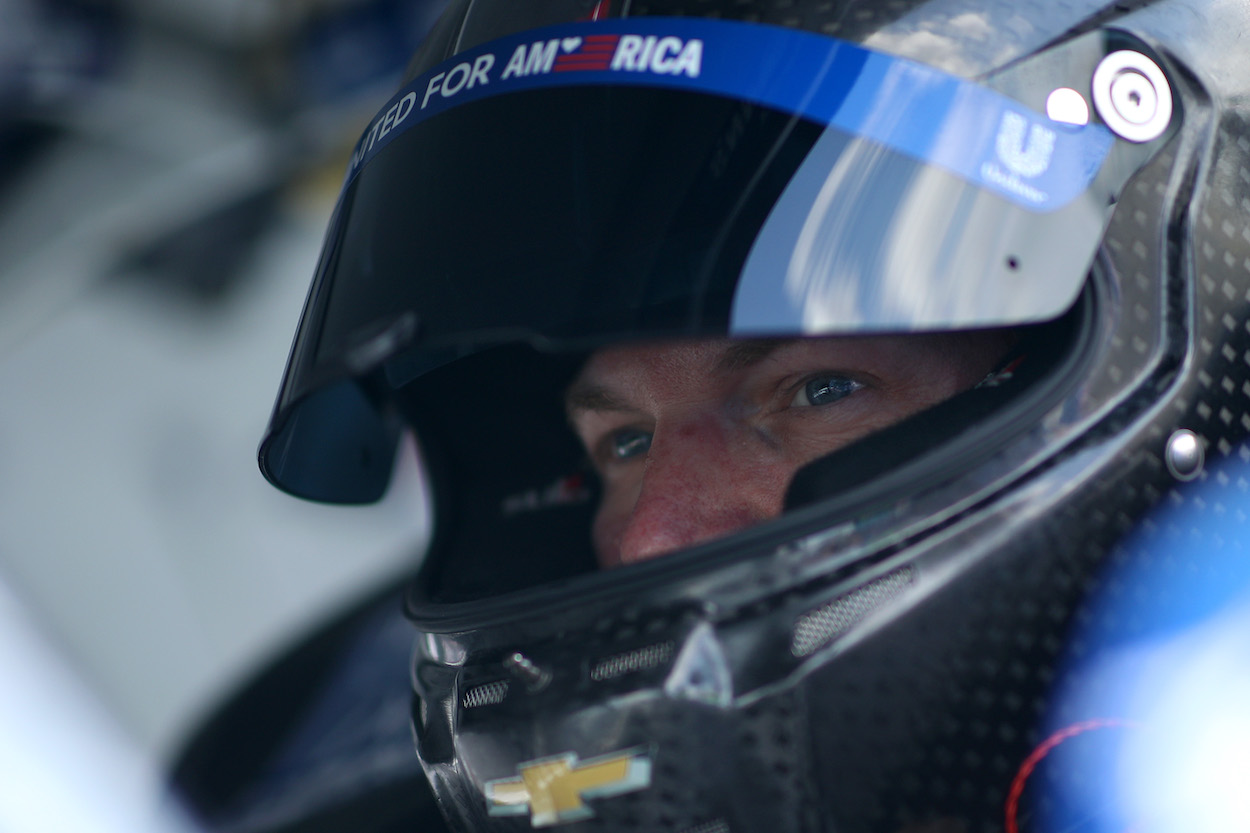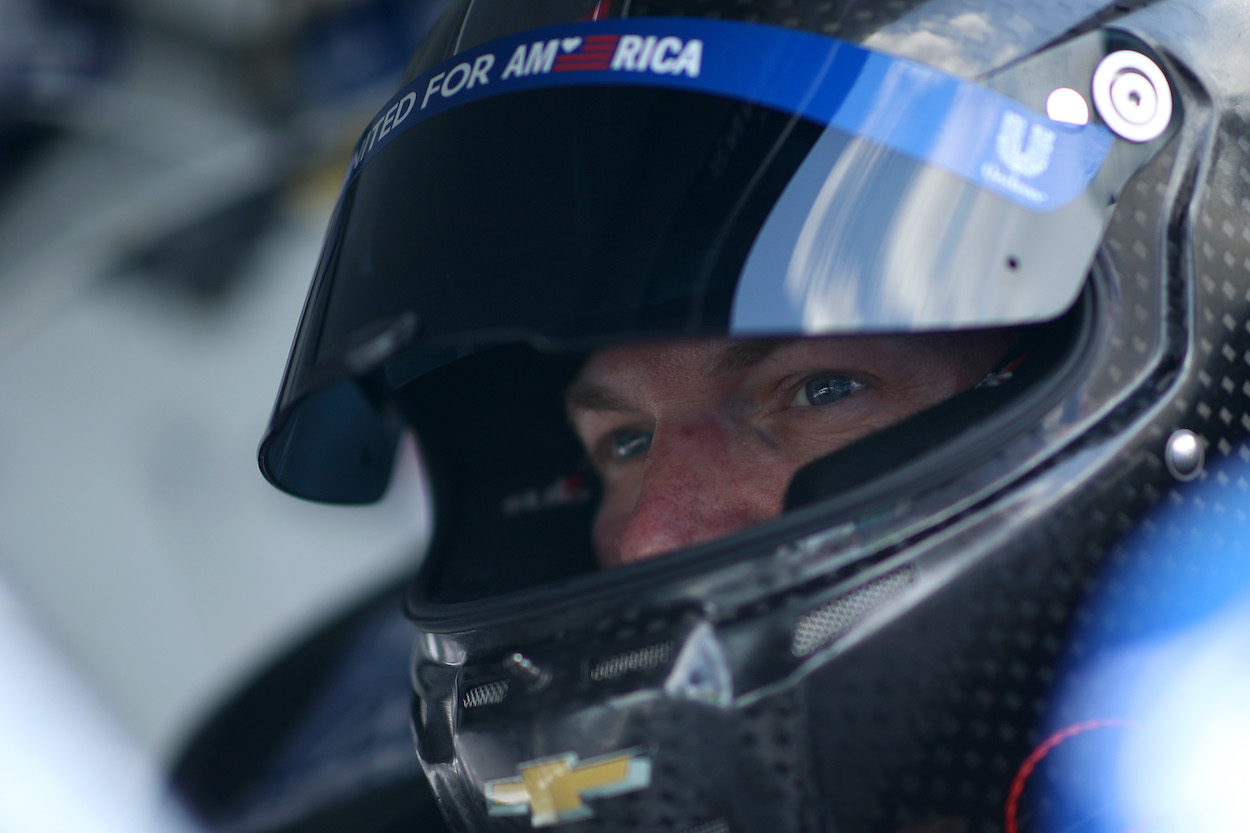 Dale Earnhardt Jr. opted to race Richmond this year because he likes the track, as evidenced by his success in the past, including 2018, when he finished fourth in his first one-off Xfinity Series race. Starting 30th on Saturday, Earnhardt didn't have high expectations for a top finish. He also admitted before the race that he doesn't do it for the competition, but to refresh his memory on what drivers experience inside the car and to have fun.  
While intent on enjoying the experience, Earnhardt revealed early in the race that he still took it seriously when he got upset with TJ Majors regarding lap times and how he had no interest in receiving that specific type of information.
"Last lap was 25.29," Majors relayed over the radio to his driver. 
"I don't care. I don't know what the f*** the lap times mean," an agitated Earnhardt told his spotter.
"10-4," his spotter answered with a changed tone.
"I don't know what a good lap is. So what the f*** kind of information is that, TJ?" the driver asked. "We talked about this for two decades."  
A couple of minutes later, a cooled-down Earnhardt clarified what he wanted from Majors.
"I guess TJ, you can say good lap if you want to, but I don't know what the lap times mean," he said. 
"Well, that was a good lap," Majors told him. "That was a 23, about a tenth better than what you've been doing." 
"OK," the driver responded.
Finishes 14th at Richmond
Dale Earnhardt Jr. fought with his car and the field all day long. He made his way into the top 10 on multiple occasions, including in the third stage, but a pit strategy call late in the race dropped him out of the top 20. However, with new tires, he made his way through the field and finished 14th. 
"We didn't have the car I think that I was looking for," Earnhardt said in the postrace interview. "Maybe I just couldn't figure out how to get it around the track. We tried hard and tried to make adjustments and couldn't really figure out how to get the left front to work. Car was real tight. But it was fun. I love racing with the Xfinity Series. All these guys got so much heart and they just race so hard. You can tell they're trying to prove themselves. It's so fun to be out there with him and learn about those guys. That's how you learn who's who is to be out there on the race track with them. You get to see how they race. That's a firsthand experience today." 
Earnhardt gained important knowledge from the race that he'll be able to use in the broadcast booth in the future. He also got a reminder of what it's like working with his former spotter, who many consider one of the best in the business. By the sounds of it, he'll be just fine going another year without being inundated with information, especially lap times.
 Like Sportscasting on Facebook. Follow us on Twitter @sportscasting19.