Dale Earnhardt Jr. and His NBC NASCAR Broadcasting Crew Take Teamwork to Another Level
For Dale Earnhardt Jr., teamwork has always been a part of life. From growing up in a home where his sister Kelley looked out for him to becoming a NASCAR driver and team owner, being part of a team has always been important to Junior.
Now that he's a television analyst, Earnhardt Jr. has taken teamwork to another level.
Teamwork started for Dale Earnhardt Jr. at a young age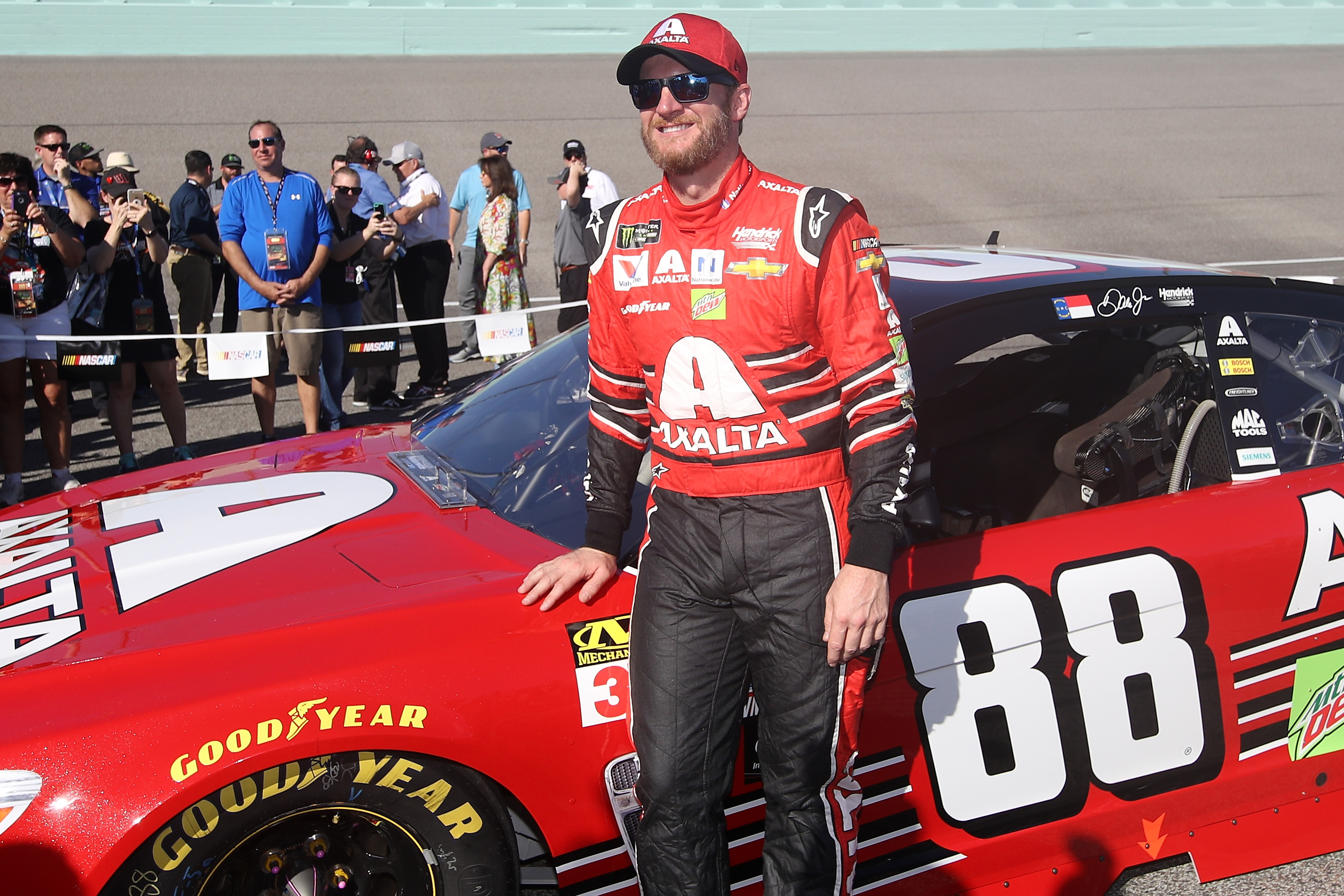 Earnhardt Jr. woke up to a house fire when he was 6 years old, and that's when he found out the true meaning of teamwork. His mother had to move out of state to be with family, and Junior and Kelley went to live with their dad, the legendary Dale Earnhardt Sr.
Earnhardt Sr. was consumed with his racing career and spent most of his time at the race track. Kelley took on the role of caretaker as the two developed a strong bond that still lasts today.
Teamwork spilled over into Junior's professional life as both a NASCAR driver and a team owner. While drivers get all the credit for wins and much of the blame for losses, the race can't take place without the pit crew, crew chief, team owner, sponsors, etc.
While it may seem like NASCAR is an individual sport, that couldn't be further from the truth.
Dale Earnhardt continues his teamwork in the NASCAR booth
Now that Earnhardt Jr. has retired from racing, he remains active in the sport as a broadcaster for NBC. Even though he's no longer behind the wheel, he still understands and utilizes the concept of teamwork. He believes he and the NBC group of analysts, Jeff Burton and Steve Letarte, along with play-by-play analyst Rick Allen, work well together is because they genuinely like each other.
"We all really do hang out away from work," he said on the Ask Junior portion of his most recent Dale Junior Download podcast. "We have a group text and we're in there talking every day, and we know what's going on in each other's lives. Like, I know what Burton's up to this week. I know where Letarte's at, and I know what Rick's doing.
"When someone has this thing that they're like, 'Man, I got this thing that's bothering me' or 'I got something that I gotta fix or I got a choice to make that's difficult,' we bounce that off each other. Not that other booths aren't friendly or don't have that type of connection, but the guys that I work with at NBC, with Steve and Jeff and Rick, we're pals and we go to bat for each other."
Earnhardt Jr. and his NBC crew have taken the teamwork thing to a new level
Junior wasn't kidding when he said the booth crew hangs out away from work. He and Burton were competitors on the track but said they "weren't pals." He already knew Letarte, but he didn't know Allen at all.
"Getting to know Rick's been amazing," he said, "because I had no clue who Rick was other than just his work in the booth and hearing him on TV.
"He's really freaking good as a carpenter. He literally built — he has this new house — and he built it. He built the cabinets. The man can do it. He is so good. I actually had some doors at my house start sticking with the humidity. I painted my doors, and that locked in the moisture, I guess, that was in the wood.
"With the temperature change in my house, the dang doors are swelling and jamming and getting stuck. Rick comes over and he brings all his tools, and we worked on each door individually and fixed them all. That's the kind of friend he is."
If you're wondering why those NASCAR conversations on NBC seem so authentic on Sundays, it's because they are.