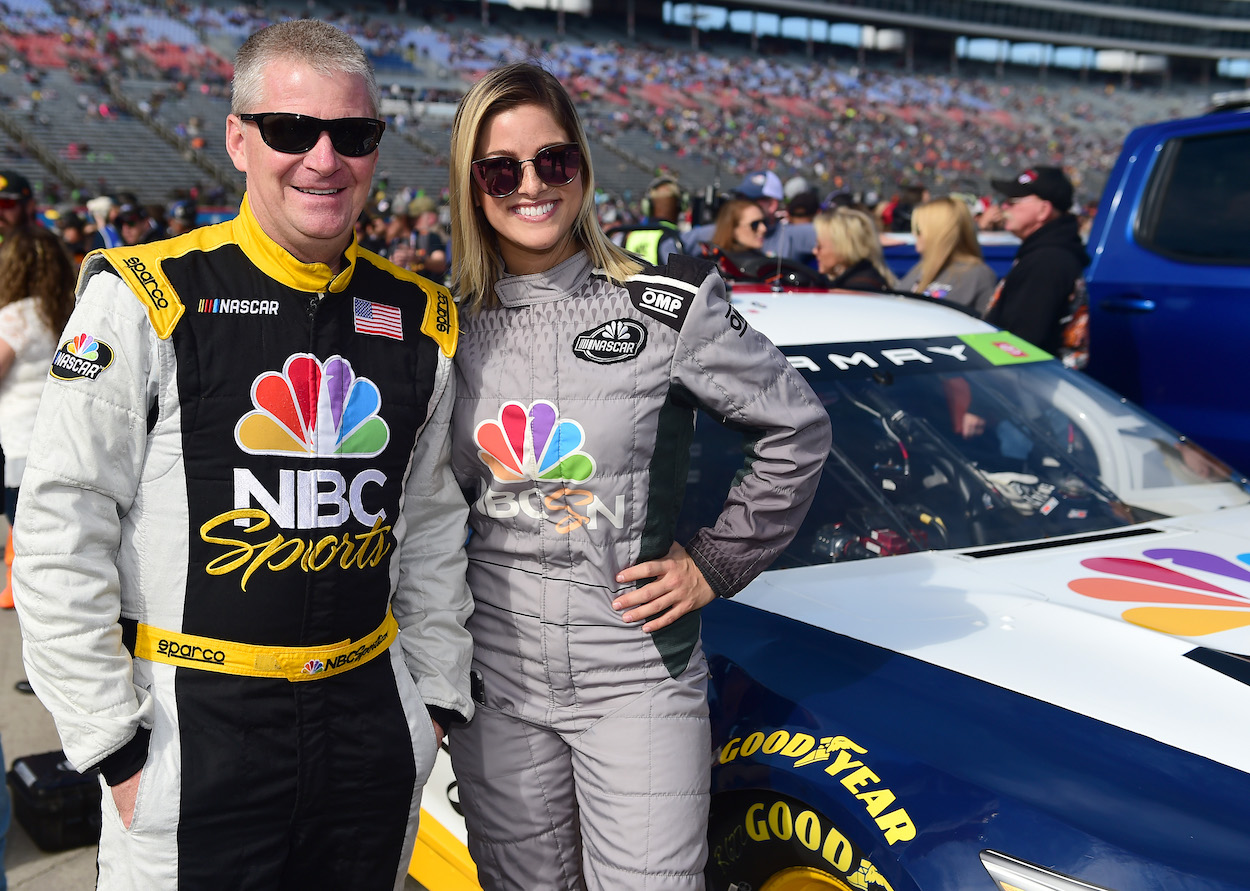 Jeff Burton Drove to a Surprisingly High Net Worth in His NASCAR Career
Jeff Burton raced for 22 years and won 21 times. He has worked for NBC Sports since 2016 and has a surprisingly high net worth.
Jeff Burton had a successful run of 22 seasons with the NASCAR Cup Series, winning 21 times, including a pair of victories at the Coca-Cola 600 and one at the Southern 500. He retired after the 2014 season and has worked as a commentator for NBC and its NASCAR coverage.
But what is Jeff Burton's net worth? 
Jeff Burton had a successful NASCAR Cup Series career
Jeff Burton debuted with the NASCAR Xfinity Series back in 1988 and raced for five seasons before moving to a full-time ride with the Cup Series in 1994. During that rookie season, he finished with three top-10s, including a pair of top-5s, which was good enough to earn Rookie of the Year honors.
In 1997, Burton had a breakthrough year and won at Texas for the first win of his career. It was the first of three wins during a season in which he finished fourth in the points standings. That season also started the most successful stretch of Burton's career. From 1998-2001, he won 14 times, including a career-best six wins in 1999 that included a couple of crown jewel victories at the Southern 500 and Coca-Cola 600.  
Burton continued racing for 14 more seasons, winning three more times before retiring after the 2014 season. 
Burton has a surprisingly high net worth
In 2015, Jeff Burton transitioned to the broadcast booth for NBC, where he serves as an analyst for the network's Cup and Xfinity Series racing coverage, working alongside race announcer Rick Allen and fellow analysts Steve Letarte and Dale Earnhardt Jr.  
As one of the most respected former drivers and an advocate of the sport, Burton has worked closely with NASCAR on numerous safety issues and programs, including the creation of safer seats, track walls, cockpits, helmets, uniforms, and HANS devices. Because of his many connections to the sport, Burton is often referred to as "The Mayor" by fans, fellow drivers, and the media.
According to Celebrity Net Worth, Burton has accumulated a reported net worth of $45 million in his career on and off the track.  
Family legacy in racing continues
In addition to Jeff Burton racing to more than 20 Cup Series wins, his brother Ward was also a successful NASCAR driver with five wins of his own, including victories at the 2001 Southern 500 and 2002 Daytona 500. 
With racing in the family bloodlines, the legacy continues with Ward's son, Jeb, and Jeff's son, Harrison, competing with the Xfinity Series. Jeb has raced a limited schedule in the last seven years and earned his first victory in 2021 at Talladega. 
Harrison made his Xfinity debut in 2019 and had a breakthrough season in 2020 when he won four times and finished eighth in the points standings. In 2021, the 20-year-old has yet to make it to victory lane but has four top-5s in 15 races. His future looks bright, and all would agree he's got a pretty solid adviser helping him navigate his way to the top.
Like Sportscasting on Facebook. Follow us on Twitter @sportscasting19.