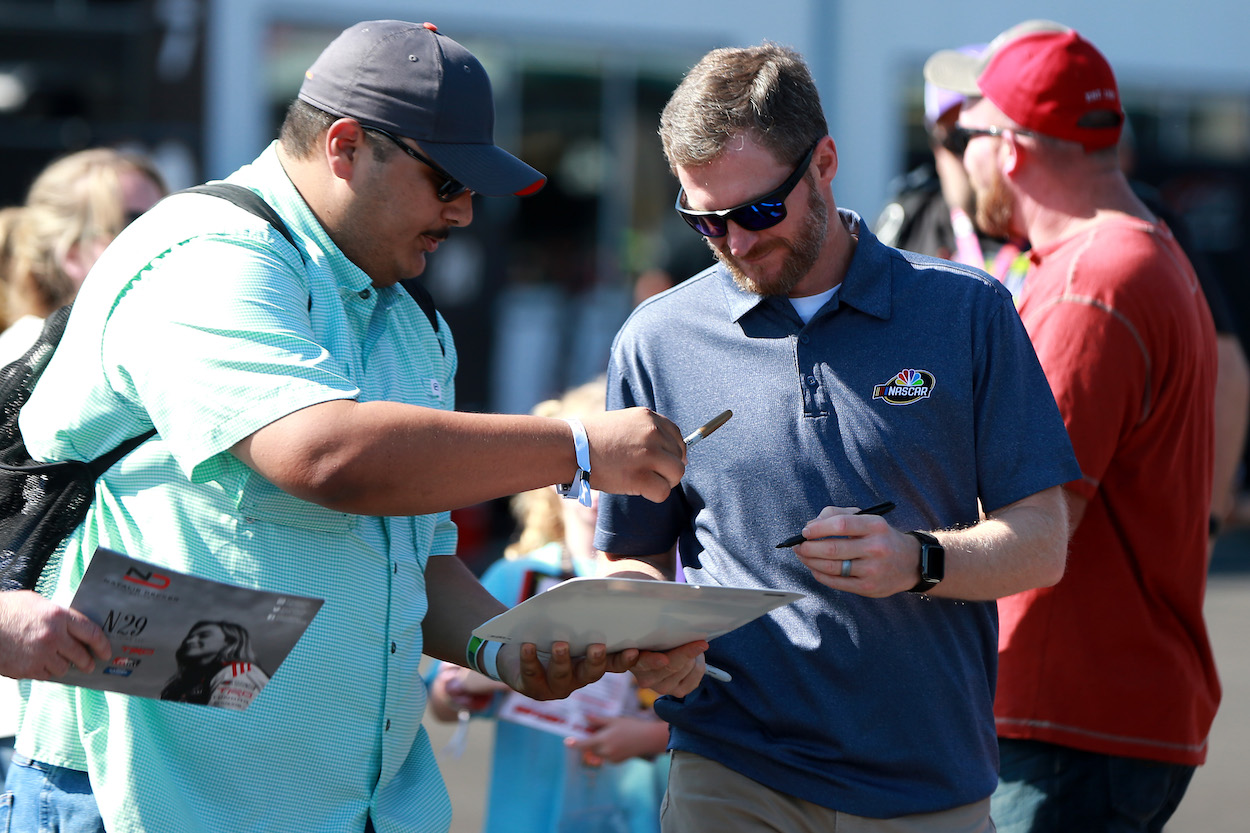 Dale Earnhardt Jr. Candidly Admits He 'Secretly Pulls' for 1 Cup Series Team Each Sunday, and It's Not Who You Think It Is
Dale Earnhardt Jr. recently admitted that he secretly pulls for one NASCAR Cup Series team, and it's not who you think it is.
Dale Earnhardt Jr. is a NASCAR Hall of Famer for his racing career, which included 26 wins with a pair of Daytona 500s. In 2017, he retired from full-time racing. While no longer involved in the Cup Series from a competitive standpoint, his ties to the series remain strong, including his work at NBC as a broadcaster in its NASCAR coverage.
On a recent episode of his podcast, Earnhardt admitted that while he's supposed to remain objective each Sunday when calling races, he does have a favorite team that he "secretly pulls" for in Cup racing, and it's not who you would expect. 
Dale Earnhardt Jr. has watched his Xfinity Series teams have up and down seasons in 2021
Since Dale Earnhardt Jr. retired from racing, he has still been very much involved in NASCAR as a broadcaster for NBC and owner of JR Motorsports, his organization that fields four Xfinity Series cars. The team has won three championships since 2014.
This year, JRM has had an up-and-down season, with Justin Allgaier earning a couple of wins and Josh Berry getting the first win of his career at Martinsville. 
After a couple of wins last season, Noah Gragson has yet to make it to victory lane, coming close a few times, including a second-place finish behind Berry at Martinsville. The fourth driver in the stable, Michael Annett, has seven top-10s in 15 races but no top-5s. 
Dale Earnhardt Jr. admits he secretly pulls for 1 Cup Series team
With JR Motorsports and its four cars, it's understandable Earnhardt devotes most of his attention to the NASCAR Xfinity Series instead of the Cup Series.
Earnhardt had former Dale Earnhardt Inc. Executive VP and GM Ty Norris on a recent episode of the Dale Jr. Download, and the pair talked about a range of topics, including the first time Junior stood up to his father and earned his respect. Near the end of the conversation, they talked about Norris' new gig as team president with Trackhouse Racing and Daniel Suarez's No. 99 car, which includes entertainer Pitbull as a co-owner, and that's when Earnhardt made a surprising admission.
"You were an amazing great friend to my dad," Earnhardt told Norris "Very loyal and protective of his vision. Things were going to be amazing there had they worked out like we had hoped. But it sent us somewhere else, in a bunch of different directions. And now, here you are, kind of back where you started with an opportunity to build something pretty amazing. It's been fun to watch you guys this year. 
"I love y'all's crew chief. Travis has been a part of my life for several years, and I've always believed in him. It's great to see him get that opportunity. But I'm wishing y'all the best, and I'm secretly pulling for you guys every Sunday to have success."
It's quite evident how much Earnhardt values Norris and what he did for his dad and the family business and why he would be more inclined to cheer for him than he would his other strong Cup Series ties, which include Hendrick Motorsports, where he drove for a decade, and the Richard Childress Racing Team, where his father drove for 18 years.
Talk of JR Motorsports jumping to Cup Series
While Earnhardt currently pulls for Daniel Suarez and the Trackhouse Racing Team, he might potentially be rooting for his own Cup Series team in the near future. With the NextGen car debuting in 2022, Earnhardt has changed his tune in recent months about the possibility of fielding a team at NASCAR's top level:
"That's thinking pretty big all around. But we used to say, 'Never. Never going into the Cup Series.' We love where we're at in the Xfinity Series; it's a great series to have a lot of fun in. You have days like today in the Xfinity Series, and we've got a great business model for that, but the new car forced us to sit down and have a conversation about whether we were missing the opportunity to go into the Cup Series in the future." 
If Earnhardt does ultimately decide to jump up to the Cup Series, there's no doubt he'll be rooting for his own team, and he'll have a lot of his longtime fans cheering right along with him.
Like Sportscasting on Facebook. Follow us on Twitter @sportscasting19.