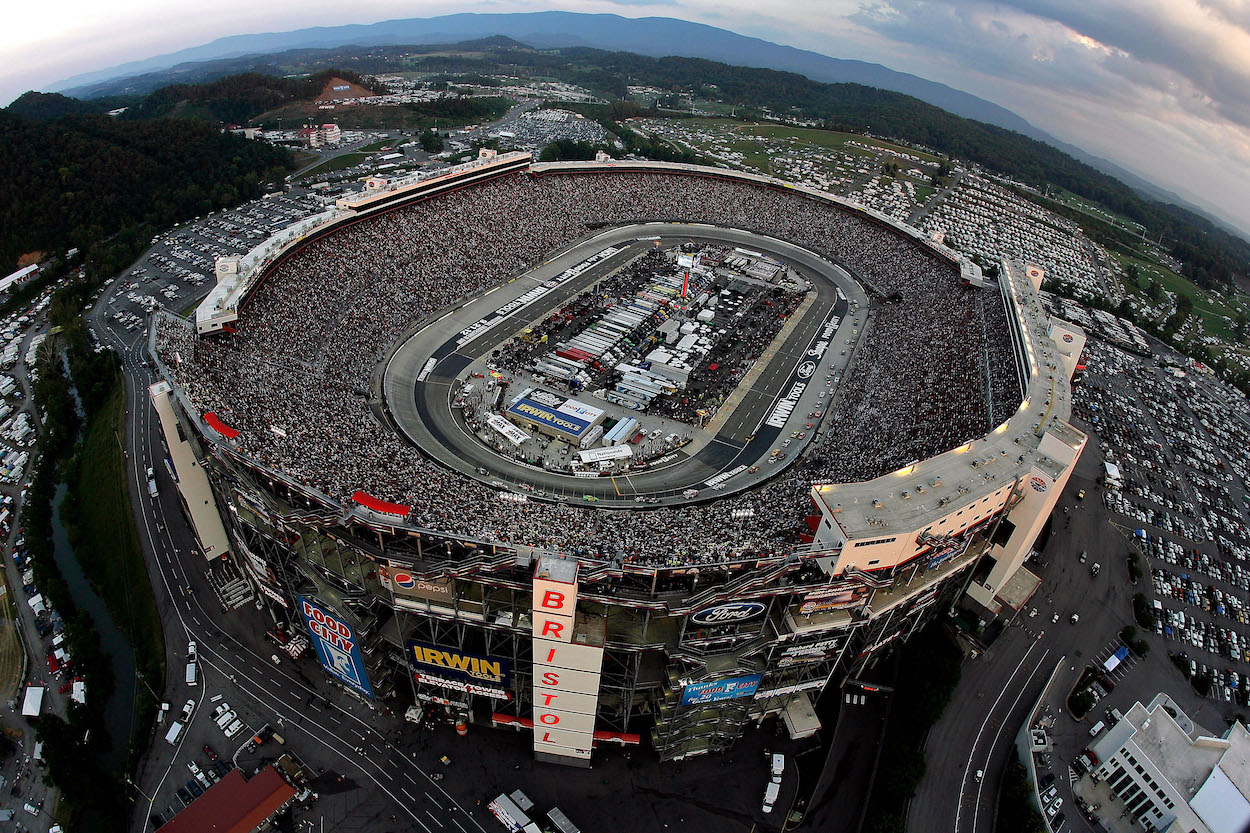 Dale Earnhardt Jr. Podcast Breaks Major NASCAR News About Big Changes Coming to Bristol Motor Speedway
Dale Earnhardt Jr.'s podcast broke major news about big changes coming to Bristol Motor Speedway.
Since Dale Earnhardt Jr. launched the Dale Jr. Download podcast in 2013, he's interviewed countless guests through the years. Marcus Smith of Speedway Motorsports is the reigning champion and has been a guest on the show the most times with four total appearances. During his latest visit, Smith dropped a bomb on the podcast about the future plans for Bristol Motor Speedway.   
Dale Earnhardt Jr. enjoyed Bristol Motor Speedway dirt race
For months Dale Earnhardt Jr. and the entire NASCAR community talked about the dirt race at Bristol Motor Speedway. And with good reason considering it was the first Cup Series race on dirt in 50 years. 
The anticipation continued to build last week as the event approached, and it went into overdrive as fans and drivers got their first taste of what to expect during practice and qualifying laps. Then, the rains came. The deluge turned the track into a muddy mess. Outside of The Last Great Colosseum, some parking lot sections were submerged under feet of water and impassable unless you had a canoe or boat.
Once the weather cleared out, both the trucks and Cup cars ran a day later than scheduled, but it turned out to be well worth the wait. Drivers, fans, and everyone involved enjoyed watching the drivers slip and slide their way around the red clay track. 
Joey Logano etched his name in history, becoming the first driver to win on dirt since the legendary Richard Petty did it in 1970.
Bristol Motor Speedway has a roof in its future
On the latest episode of the Dale Jr. Download, Dale Earnhardt Jr. interviewed Speedway Motorsports president and COO Marcus Smith. The conversation naturally covered the weekend's overwhelming success with Bristol's dirt race, including how the organization managed to overcome the weather, and how they are looking forward to next year's event.
Both Earnhardt and show co-host Mike Davis admitted they were both impressed with Smith's organization and how they pulled off this weekend's event. The conversation then shifted toward the future and Davis asked where Smith planned to be in five years. That's when the Speedway Motorsports top guy dropped a major bomb of breaking news.
"Five years from now, we need a roof on Bristol," Smith said matter-of-factly. Earnhardt then asked if a roof is added would dirt still be a possibility. Smith didn't hesitate with his response. 
"Yeah, I think so. The sun baking the dirt takes the moisture out."  
How would you put a roof on Bristol?
With Smith talking about adding a roof to Bristol, Dale Earnhardt Jr. asked the next logical question — how? Smith had clearly given it some thought and provided some clear-cut answers.
"Here's where I would start. We hung the biggest center-hung television over the top of Bristol. That thing is massive. To hang what is called the Colossus TV, it is huge. The cables are as big as my leg. The engineering feat was fantastic."
Smith said the original idea for a roof popped into his head back in 2016 when Bristol Motor Speedway hosted a college football game between Virginia Tech and Tennessee.
"Man, if we can hang this TV, I bet we could put a roof on this place. A roof has been talked about before. Now that we have done the TV, it kind of gives me confidence that we could do a cover."
Smith said the technology is readily available and other big structures have been covered before. He sees no reason why it can't be done at Bristol.
First dirt. Now a possible roof. Bristol Motor Speedway is already one of the most popular tracks in NASCAR and has developed a reputation for its distinct features, including the steep banking, dual pit roads, and stadium-like seating. It may be a small track but its ownership group is big on ideas and could, appropriately enough, pave the way for other big changes for NASCAR in the future.
Like Sportscasting on Facebook. Follow us on Twitter @sportscasting19.