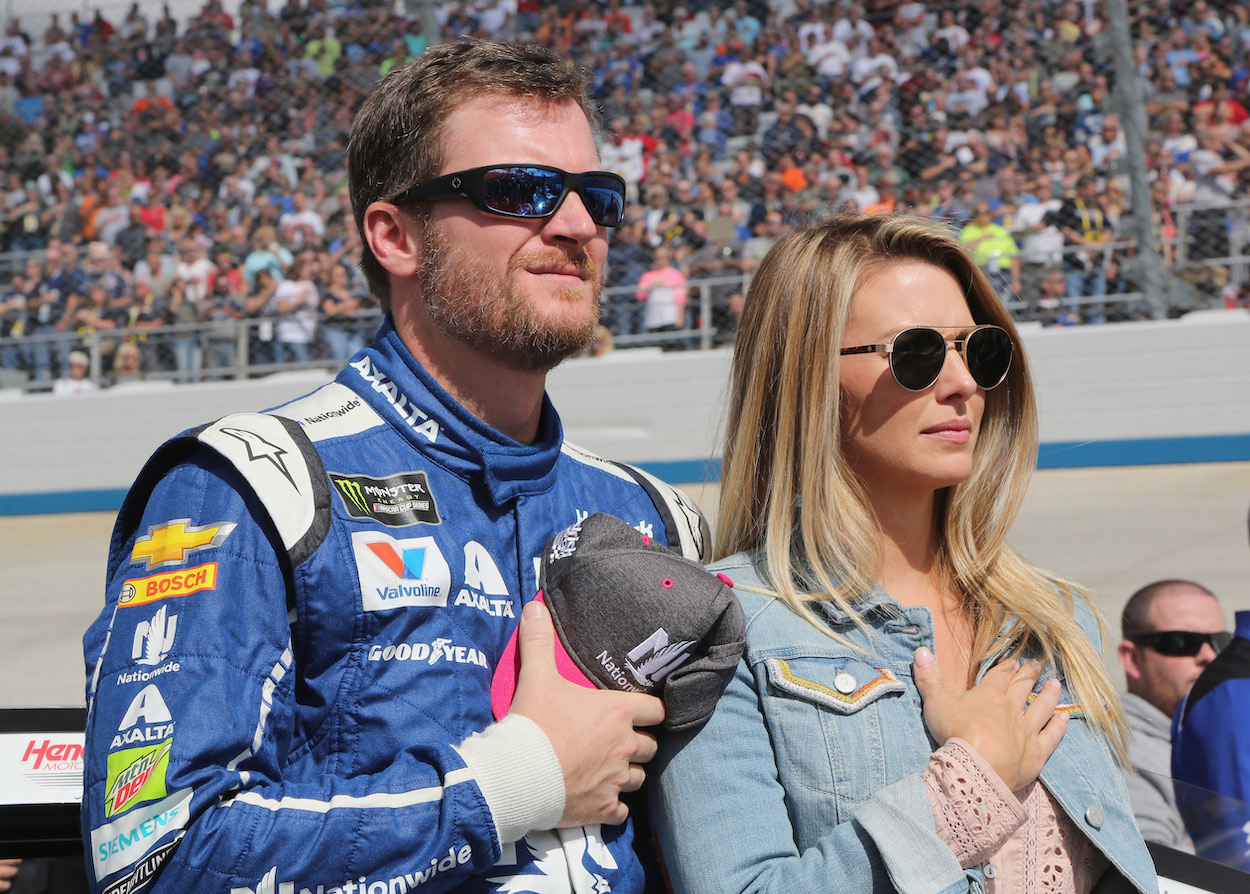 Dale Earnhardt Jr. Recently Asked by Multiple NASCAR Teams to Race but Wife Shut Them All Down and Refused to Grant Permission
Dale Earnhardt Jr. has been asked to drive by multiple NASCAR teams in the last year but his wife Amy has shut them all down and refused to give him permission.
Dale Earnhardt Jr. retired from full-time NASCAR Cup Series racing after the 2017 season. He has still managed to get his racing fix by strapping in behind the wheel once in each of the last three seasons and racing on the Xfinity Series, where he's been quite successful with three top-5 finishes. Interestingly, in the last year multiple teams have recognized that success and asked him to drive. His wife Amy has shut them all down and refused to grant permission.
Dale Earnhardt Jr. and life after full-time racing
When Dale Earnhardt Jr. retired from full-time racing in 2017, there wasn't much to decide as far as what he planned to do next. He still had every intention of being involved with the sport, including his role as co-owner with the JR Motorsports team running in the Xfinity Series. 
Less time behind the wheel meant more time behind the mic and his podcast, the Dale Jr. Download, which launched in 2013. In addition to working more on the podcast, Earnhardt joined NBC for its NASCAR coverage in 2018 in a deal that also included simulcasting his podcast. 
Outside of racing, Dale Earnhardt Jr. had big plans with wife Amy, who he married in 2016. Since then, the couple have had two children, Isla, who is two and Nicole, who was born in October 2020.
Successful in limited racing during the last three seasons
While Dale Earnhardt Jr. officially retired from racing full-time in 2018 and has filled that void with other NASCAR-related activities and his role as a father in a growing family, the two-time Daytona 500 winner has still managed to get behind the wheel.  
Earnhardt has raced once per season with the Xfinity Series in each of the last three years and done so with considerable success. In 2018, he raced at Richmond during the second stop of the season and finished fourth. The following year he ran at Darlington and earned a fifth-place finish. Last season, Earnhardt raced at Homestead and finished fifth.
Dale Earnhardt Jr. has proven, even with limited time behind the wheel, he is still capable of high-level driving, earning top-5 finishes on a consistent basis. 
Dale Earnhardt Jr.'s wife Amy has shut down opportunities to race
Dale Earnhardt Jr. and his success in limited appearances with the Xfinity Series has not surprisingly caught the attention of other teams. In fact, according to Earnhardt's wife Amy, in 2020, the number of requests spiked because of drivers missing races due to COVID.
"Knowing that one race is what he's going to do every year is exciting for him, so we look forward to it together," Amy Earnhardt told WCNC. "He has had a lot of requests this season, especially with drivers getting sick to fill in, and so he'll tell me, 'So and so asked me to drive their car.' I'm like, 'That's super cute. I love it,'" she said with a laugh.
When the reporter asked if her response meant she was against her husband returning to the track and racing more frequently, she didn't mince her words.
"That's a hard no from me. If you're trying to get an answer or you're asking permission, my answer is no. We have enough going on."
In addition to teams wanting Dale Earnhardt Jr. behind the wheel, the fans of the most popular driver in NASCAR from 2003 to 2017 would love to see him back on the track as often as possible. It appears everyone will have to be content with Earnhardt's one race each season.