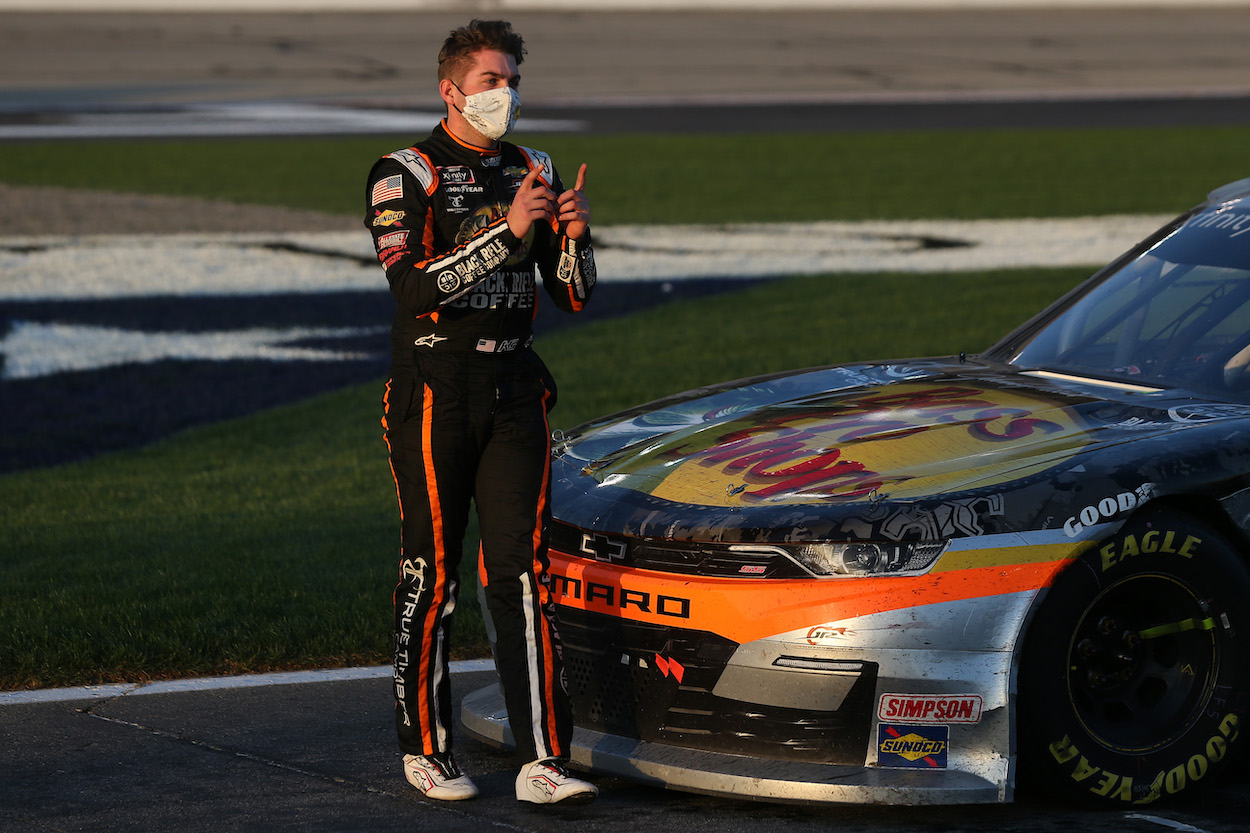 Dale Earnhardt Jr. Endorses Noah Gragson Fighting in Atlanta But Disappointed in Him for a Couple of Other Reasons
Dale Earnhardt Jr. endorsed Noah Gragson fighting with Daniel Hemric after the race in Atlanta but didn't like that he did two other things.
As co-owner of JR Motorsports, Dale Earnhardt Jr. understands a part of his job includes managing his Xfinity Series drivers and their different personalities. Early in the 2021 NASCAR season, Earnhardt has already had quite a bit to manage with multiple very public displays by a couple of his drivers that has drawn negative attention to the organization.
In the latest Dale Jr. Download podcast, Earnhardt addressed the most recent incident, where Noah Gragson was confronted during an interview by Daniel Hemric, and it ended with both drivers throwing punches. Earnhardt discussed the situation and what he said to Gragson. Interestingly, the two-time Daytona 500 winner was completely fine with his driver throwing a punch. It was a couple of other things that he wasn't too happy about.
Dale Earnhardt Jr. believes Noah Gragson needs to be more respectful
In the third race of the Xfinity Series season at Homestead, Noah Gragson was destined for victory lane and the first win of the year for Dale Earnhardt Jr. and JR Motorsports. Those expectations all came crashing down late in the race when veteran driver David Starr developed a tire issue and shot right up in front of a passing Gragson. The 22-year-old, who had led 34 laps, slammed into the back of Starr's car, ending his day. 
In the post-race interview, an upset Gragson referred to the crash and "dipsh**s in the way every single week."   
MBM Motorsports team owner Carl Long, who has been in stock car racing for years, responded to Gragson's comments with a post on Facebook and called him an "over-entitled mouthpiece."
Dale Earnhardt Jr., who has had a lengthy relationship with both Starr and Long, addressed the incident on the Dale Jr. Download podcast.
"I'm hoping through this experience, somehow or another, he can kind of get some appreciation for Carl and David," he said. "Not just what they're trying to do out there on the race track today, but kind of who they were and who they've been. The guys deserve a little respect. We know David through some other things we do off the race track. But I'm watching him. It'll be interesting to see how it goes. I still plan to talk to Noah and just get his opinion on where things are and how he plans to move forward."
Noah Gragson has pit road incident with Daniel Hemric and exchanges punches after race
Fast-forward to the Xfinity race in Atlanta, and Noah Gragson once again found himself in the headlines for all the wrong reasons. During the race, Daniel Hemric overshot his pit box as Gragson tried to enter his. Hemric's error forced Gragson to miss his box. Gragson proceeded to back his car into the nose of Hemric's car, which caught several members of Hemric's pit crew by surprise and sent them scrambling.
Immediately following the race, Hemric decided to address the incident and confronted Gragson while he was in the middle of a post-race interview. After the two drivers initially shoved each other, Gragson took a swing. Hemric threw a counterpunch and then the pit crews intervened. 
Gragson was interviewed by Fox just moments later. He described what happened, thanked his sponsors and the fans, and then fired a personal shot at Hemric. 
"I'd be mad if I was in his shoes, too, based off what he's done in his career," Gragson said. "It is what it is. We'll move on and keep on fighting. Man, what a day. Top five. We'll go celebrate that." 
Dale Earnhardt Jr. responds to Noah Gragson's second incident of season
During the latest episode of the Dale Jr. Download podcast, Dale Earnhardt Jr. talked about the most recent incident with Noah Gragson. He admitted his feelings are different in a fight that involves one of his own drivers versus one where he has no vested interest.
"When it's two drivers that aren't JR Motorsports drivers, you're like, yeah, fight. Get 'em. Let them fight. Don't get involved crews. Let the drivers fight it out. But when it's one of your drivers, it feels different. You feel like it's almost a personal attack. So when Daniel steps up to Noah and grabs him on pit road, Daniel is stepping to JR Motorsports, not just Noah… I think going forward, just let them fight. You got to let them brawl."
Earnhardt said after the race, he talked with Gragson and told him he wasn't upset with him throwing punches, but he wasn't happy with a couple of other things that happened. 
"I think he should have taken some ownership of it. In the post-race interview, say that was careless. That was reckless. It was unintentional but I can try and not put myself in that position…The other part that can be completely avoidable, in the post-race interview, Noah takes a dig at Daniel's career. If you listen to that interview, everything is great about it until that point and if he takes that comment out of the interview, he looks like a completely different person. But when you say something to slam a guy, that's personal. You're going after their career. You're going after their talent. That's not good."
Dale Earnhardt Jr. was once a young driver who could get emotional when things didn't go his way. Now he's learning what it's like to be on the other side when you're trying to harness that energy and point it in the right direction. 
Like Sportscasting on Facebook. Follow us on Twitter @sportscasting19.