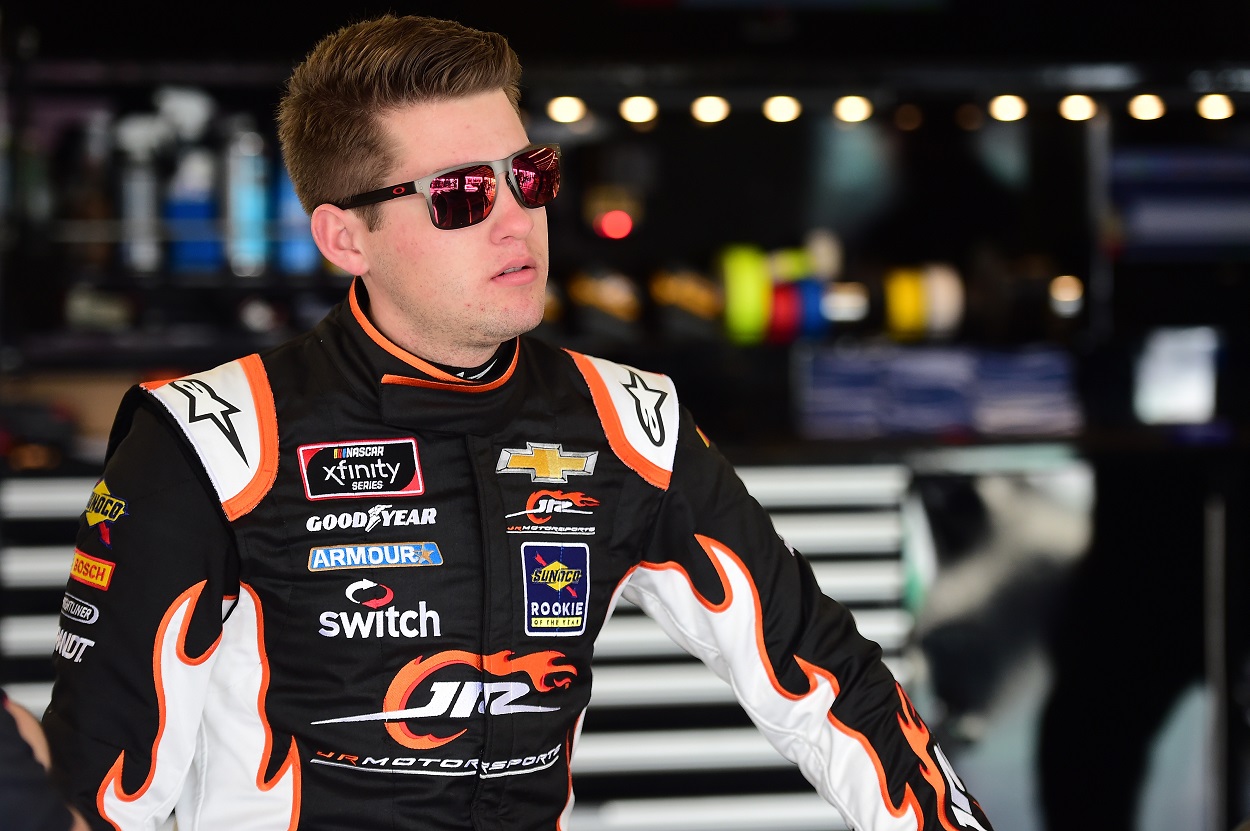 NASCAR Driver Noah Gragson's Father Is Paying $21 Million and Serving up to 20 Years in Prison After Devastating Accident
The father of rising star NASCAR driver Noah Gragson is serving up to two decades in prison after his involvement in a tragic accident.
Noah Gragson is one of NASCAR's top young talents, competing full-time in the Cup Series as a 24-year-old during the 2023 season. But his rise to prominence came alongside a troubling personal situation involving his father, Scott Gragson.
His dad's actions in a fatal crash turned everything off the track upside down.
Noah Gragson's father involved in a tragic incident
Scott Gragson, the son of former Las Vegas Mayor Oran Gragson, was at the center of a tragic May 2019 incident after crashing his 2015 Range Rover SVR in Summerlin, Nevada, with four other passengers in the vehicle. The crash occurred after Gragson turned into a curve, lost control, and went off the road, where he collided with several trees.
The passengers in the car were not wearing seatbelts and were ejected from the vehicle. A 36-year-old woman, later identified as Melissa Newton, suffered fatal injuries in the crash. A then-50-year-old man, Christopher Bentley, and a then-46-year-old woman, Christie Cobbett, suffered severe injuries.
Meanwhile, Gragson and then-44-year-old front passenger Greg Tassi suffered only minor injuries. However, Gragson was later booked on suspicion of DUI after failing a sobriety test following the crash.
He also admitted to the Metropolitan Police Department officers that he drank for about five hours at a charity golf event and consumed "four to five mixed drinks" and Coors beers before the crash.
Not long afterward, Gragson was charged with six counts, including DUI resulting in death.
NASCAR driver Noah Gragson's father sentenced up to 20 years in prison after devastating accident
In February 2020, following a lengthy trial, Gragson pleaded guilty to DUI causing death and DUI causing substantial bodily harm. Following the guilty plea, prosecutors asked for a 10-to-25-year sentence in prison. In late August, Gragson's legal team asked for a lighter punishment of between six to 15 years.
The following month, Judge Michael Villani sentenced Gragson to eight to 20 years.
"I can still hear those screams," John Newton, Melissa Newton's widower, said as he recalled the moment in which he told his three children about the crash, per Racing News. "I will always hear those screams."
Gragson's legal troubles didn't end there as he also went through a significant financial settlement.
Agreement reached to pay a $21 million civil case settlement
According to Fox 5 KVVU-TV, Scott Gragson and his insurance agreed in May 2020 to pay $21 million in a partial settlement with Newton's family. He also paid more than $6 million in attorney fees.
Gragson also faced another civil court case as Christopher Bentley levied a $470 million lawsuit against him in June 2019. It included $68 million in compensatory damages and more than $400 million in punitive damages for Bentley, who has ongoing health issues linked to brain damage.
Gragson is currently serving his prison sentence.