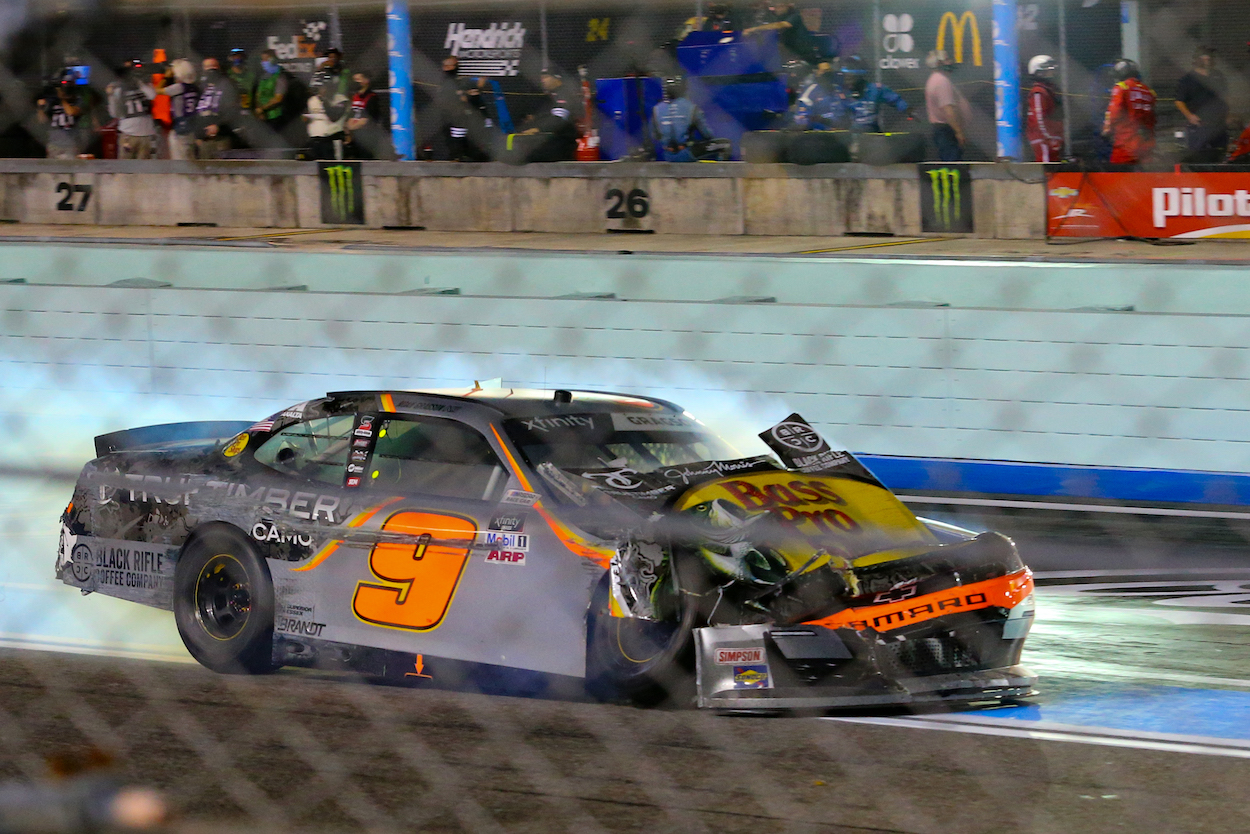 Dale Earnhardt Jr. Takes Surprising Stance on His Driver Noah Gragson and Thinks He Needs to Show Respect to Team That Wrecked Him Last Weekend at Homestead
Dale Earnhardt Jr. admitted on his podcast that his driver Noah Gragson should be more respectful of the veteran blue-collar team that wrecked him this past weekend in Miami.
Like most NASCAR drivers, Dale Earnhardt Jr. could get heated immediately after a race when he believed another driver had done him wrong. It makes sense as a team owner that he would want drivers with that same type of fiery mentality and burning desire to win. He has just that in Noah Gragson in the No. 9 car on the Xfinity Series. 
This weekend, Gragson showed just how fiery he could be when he cussed on live television during a post-race interview following a late-race wreck that cost him a win at Homestead for the third time in as many tries. When asked a couple of days later about his post-race comments during an interview on SiriusXM NASCAR Radio, Gragson didn't back down. He doubled down.
Team owner Dale Earnhardt Jr. revealed on his podcast this week what he thought of the whole situation, and, interestingly, he didn't side with Gragson.
Dale Earnhardt Jr. driver Noah Gragson gets wrecked at Homestead-Miami
After signing with Dale Earnhardt Jr. and JR Motorsports in 2019, Noah Gragson has been successful on the Xfinity Series, including a victory at the 2020 season-opener in Daytona, followed up by a win a few months later at Bristol. He had several near-misses, including a pair of races at Homestead-Miami where he led more than half the laps in both races, but settled for third and fifth, respectively.
Last weekend, Noah Gragson was in prime position to win his third Xfinity Series race. He held a big lead with just three laps to go when the ghosts of Homestead haunted him one more time. David Starr, who was running 12th, had a serious tire issue and shot up into the wall right in front of Gragson, who slammed into the back of his car, ending his day. Gragson, who led 34 laps in the race, finished 33rd.
After the race, the 22-year-old Gragson had a few choice words for Starr in the post-race interview with Fox's Jamie Little.
"What are you going to do? You've got dips**ts in the way every single week. It's a shame we've dominated the last three races, including this race and have had stuff happen like that."
Carl Long responds to Gragson's post-race remarks
David Starr is a 53-year-old veteran driver with more than 200 starts on the Xfinity Series and more than 300 on the Truck Series in the last 16 years. He never responded to Noah Gragson's comment, but MBM Motorsports team owner Carl Long, who has also been in stock car racing for years and has a relationship with Dale Earnhardt Jr., took the time to respond on Facebook. And he wasn't happy. 
The post included a picture of the tire that came apart and an explanation of why Starr unsuccessfully avoided the fast-approaching Gragson. And then Long addressed Noah Gragson's post-race comments.
"Gragson made a statement that we were dip$**s that did not belong on track! Well this over-entitled mouthpiece did not have enough talent to miss our wreck. We were happy to take home a top 12 finish, that rolled right out of our hands just like the tire rubber rolled off of this tire. There are not many people left in this garage who have worked as hard and sacrificed as much as myself to get to this level. Statements like his could and usually does come back and cost him."
Dale Earnhardt Jr. thinks Noah Gragson should be more respectful
Noah Gragson appeared on SiriusXM NASCAR Radio on Tuesday and addressed the incident and his post-race comments. Instead of backing down, he doubled down. 
"I don't really feel any differently about what happened. I feel like in this form of motorsports you should be able to feel a tire cording. You should be able to hear the cords unraveling with how bad that tire was. We corded a right-front tire in the first stage. So, it's really hard to get your point across with uneducated people or ignorant people. So I'm just kind of over it at this point."
On the Dale Jr. Download podcast, Dale Earnhardt Jr. begrudgingly addressed the situation. Earnhardt said he had played phone tag with Gragson this week and hadn't had a chance to visit with him about everything that had happened. Earnhardt tried to walk a fine line between being loyal to his driver while not discounting the importance of his relationships with Starr and Long and appreciating how long they've been in the business.   
After Earnhardt acknowledged he didn't want to be a helicopter team owner and micromanage Gragson, he said ultimately he hoped at some point his driver would see Starr and Long from a different perspective.
"I'm hoping through this experience, somehow or another, he can kind of get some appreciation for Carl and David," Dale Earnhardt Jr. said. "Not just what they're trying to do out there on the race track today, but kind of who they were and who they've been. The guys deserve a little respect. We know David through some other things we do off the race track. But I'm watching him. It'll be interesting to see how it goes. I still plan to talk to Noah and just get his opinion on where things are and how he plans to move forward."
Dale Earnhardt Jr. signed Noah Gragson because of his aggressive style on the track. Now, he's trying to help his driver properly channel that same aggression off the track in the right direction. 
Like Sportscasting on Facebook. Follow us on Twitter @sportscasting19.