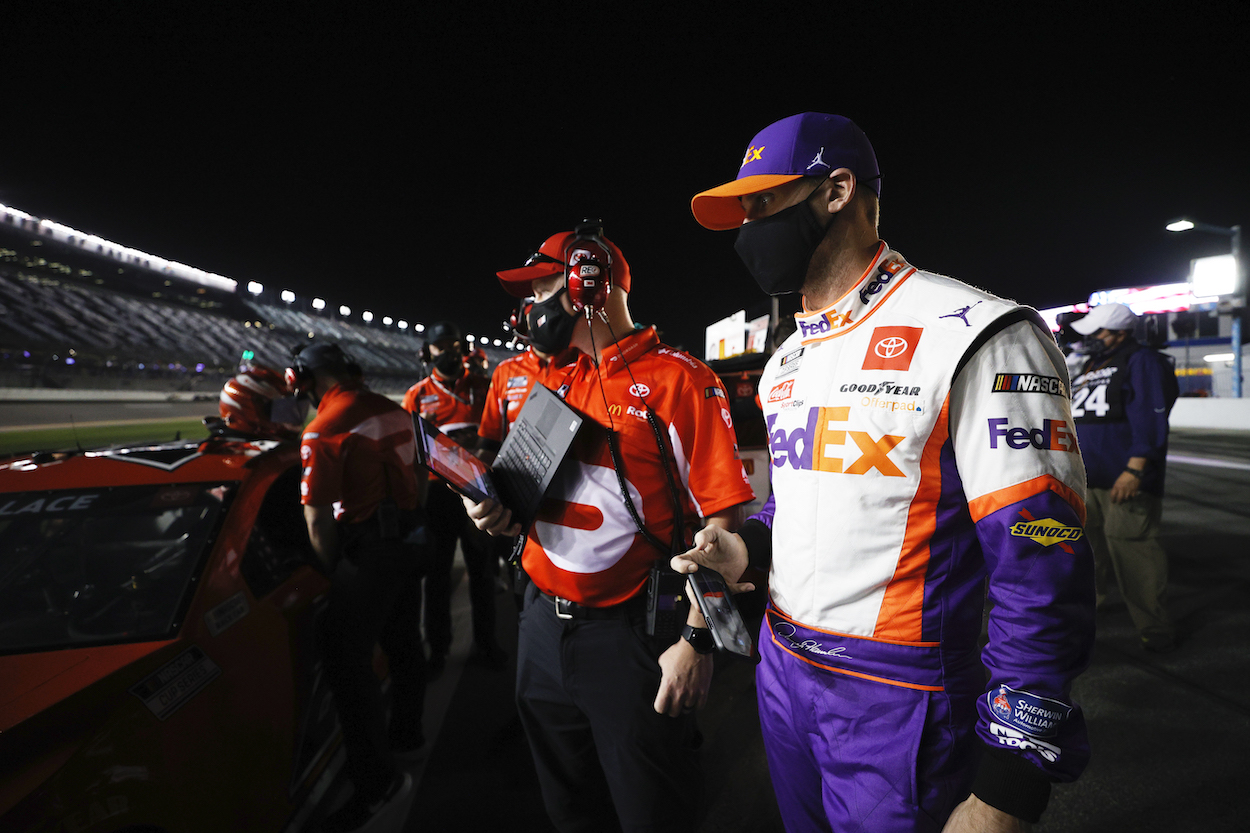 Dale Earnhardt Jr. Warns Denny Hamlin Fans Not to Get Hopes Up in 2021
In a recent episode of the Dale Jr. Download podcast, Dale Earnhardt Jr. warned Denny Hamlin fans about the 2021 NASCAR season and why they might want to lower expectations.
Denny Hamlin has been a consistent presence near the top of the season-ending NASCAR Cup Series points standings since he arrived on the scene back in 2006. While he's yet to win a title, he's come close on several occasions. He finished fourth the last two seasons. 
According to Dale Earnhardt Jr., the chances the three-time Daytona 500 champion finally collects his first Cup Series championship are a lot less likely in 2021 for one simple yet very complicated reason. On a question-and-answer episode of the Dale Jr. Download podcast, Earnhardt explained why. 
Denny Hamlin is a three-time Daytona 500 champion
Like many NASCAR Cup Series drivers, Denny Hamlin got his start racing go-karts at age 7. By 16, he was running mini stocks. In 2004, at 24, Hamlin made his NASCAR debut with the Truck Series in five starts.
A couple of years later, Hamlin transitioned to a full-time Cup Series race schedule. It yielded impressive results as he won twice at Pocono, and finished in the top ten 20 times, which resulted in a third-place finish. He won Rookie of the Year honors. That first season was a precursor of things to come.
Denny Hamlin has raced 542 times on the Cup Series in the last 16 years with 280 top tens and 44 wins, including three Daytona 500 crowns in 2016, 2019, and 2020. While Hamlin has achieved great individual race success, he's still yet to capture a Cup Series championship. His best overall season was 2010, when he won eight times and finished second. 
Denny Hamlin joins Michael Jordan to form NASCAR team
This past year Denny Hamlin made headlines when he, along with his friend and NBA Hall of Famer Michael Jordan, announced the 23XI Racing Team, which would feature driver Bubba Wallace. 
"Bubba has shown tremendous improvement since joining the Cup Series, and we believe he's ready to take his career to a higher level," Hamlin said in a statement. "He deserves the opportunity to compete for race wins, and our team will make sure he has the resources to do just that. Off the track, Bubba has been a loud voice for change in our sport and our country. MJ and I support him fully in those efforts and stand beside him."
While it's a big and exciting step for Denny Hamlin to move into team ownership, he now has an entirely new set of responsibilities to manage while attempting to maintain the standard he set for himself as one of the Cup Series' top drivers.  
Dale Earnhardt Jr. warns Hamlin fans about 2021
As a driver, Dale Earnhardt Jr. had a career similar to Denny Hamlin. He won a pair of Daytona 500s in his 19-year career. He never won a Cup Series championship.
In 2003, Earnhardt branched out into team ownership. On a recent episode of the Dale Jr. Download podcast, Earnhardt was brutally honest when asked about Denny Hamlin's 2021 season, considering he has a whole new set of responsibilities as a co-owner of the new team.
"When he's in the car, it's not going to bother him. When he's on the race track, it's not going to be a distraction at all. He's absolutely going to have more stuff on his plate. I'm not going to sugarcoat it and say that it's going to be a breeze. It's going to be tough. Being an owner is a difficult job on its own. You couple that with also being a driver for a different car, and different company. He's got to worry about the performance of his team and his performance as a driver. And have all those same exact concerns for a whole other race car as the owner. 
"All those people in the company are going to look to him, and like, hey man – where are we headed? What are we doing? What is the next step? He's going to have to answer to those people and direct and steer the organization throughout the years. But also continue the success he wants to have as a driver. It will be a big challenge for anybody in that position. I can't imagine trying to tackle that. But I think that he can do it and be successful at it. He is going to be a busy boy. His mind is going to be running 100 miles an hour. He's not going to have a minute to rest."
If anyone knows the challenges that await Denny Hamlin as a driver and owner this 2021 NASCAR season, it's Dale Earnhardt Jr. And based on his own experiences, Hamlin fans might just want to temper their expectations for capturing that elusive first Cup Series title.  
Like Sportscasting on Facebook. Follow us on Twitter @sportscasting19.