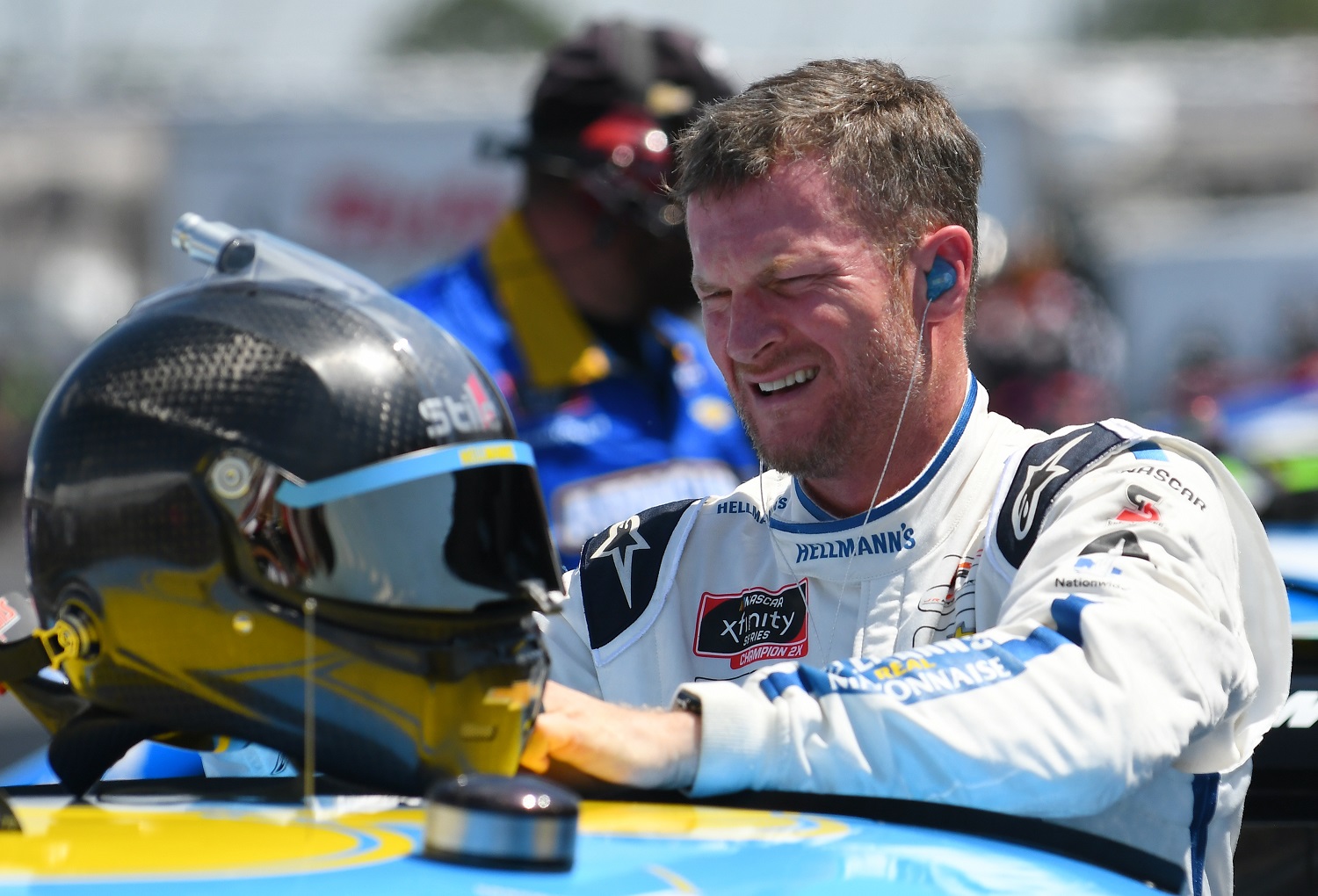 Dale Earnhardt Jr. Had Heartfelt Reasons for Not Driving the No. 3 Car
Dale Earnhardt Jr. said taking the feelings of others into consideration shaped his decision not to race full-time in the No. 3 Chevy following his father's death at the 2001 Daytona 500.
Had Dale Earnhardt Jr. wanted it, NASCAR would have moved heaven and earth to arrange for him to spend the last 16 seasons of his career racing in the No. 3 Chevy. Earnhardt's father made it one of the best-known numbers in motorsports, and the racing world would have considered it appropriate to see No. 3 pass from one generation to the next.
To his credit, Earnhardt said no. Aside from realizing he would be wrestling with his own emotions every time he stepped into the car, he understood the effect that seeing him in the No. 3 could have on those around him.
Dale Earnhardt Sr. and the No. 3 Chevy were inseparable
There have been many great drivers in the history of the NASCAR Cup Series, but few could legitimately carry the "legend" label. Dale Earnhardt Sr. certainly qualified. Earnhardt began driving full-time in 1979 and racked up 76 victories and 428 top-10 finishes in the top NASCAR series. Along the way, "The Intimidator" captured the season championship seven times in a 15-year span.
Earnhardt drove a No. 3 Pontiac for Richard Childress Racing for a portion of the 1981 season, spent two years in the No. 15 Ford for Bud Moore Engineering, and then returned to Childress in 1984. From that point until his death in 2001 after a crash on the final lap of the Daytona 500, Earnhardt was always in the No. 3 Chevy.
His success made Earnhardt an iconic figure in racing, and his merchandising sales en route to racking up race wins and series championships in the No. 3 Chevy dwarfed all other teams. The Dale Earnhardt Jr. net worth wasn't hurt my the connection to his father either.
Dale Earnhardt Jr. could have taken over the No. 3 Chevy
The death of Dale Earnhardt Sr. in the season-opening Daytona 500 stunned the racing world in 2001 and necessitated quick action by team owner Richard Childress. There was no way that he could fathom running the No. 3 car again that season, so Childress petitioned NASCAR to assign his team No. 29, the lowest available number that did not contain a "3."
Childress overhauled the black paint scheme to further avoid upsetting Earnhardt's fans as they mourned, and Kevin Harvick was brought in to drive. Childress kept the No. 3 in mothballs until the 2014 season, when he assigned it to his grandson, Austin Dillon.
Those outside the sport wondered why Dale Earnhardt Jr. wouldn't have simply inherited his father's No. 3, but the matter was complicated. Dale Jr. came into the NASCAR Cup Series on the Dale Earnhardt Inc. No. 8 Chevy team owned by his father and Dale Sr.'s wife, Teresa. When he left for Hendrick Motorsports in 2008, Dale Jr. took over the No. 88 Chevy.
In simplest terms, car numbers remain the property of the teams and not the drivers in NASCAR series, so the No. 3 belonged to Richard Childress Racing even though the team opted not to use it again for more than a decade after Dale Sr. died at Daytona.
The son did drive the No. 3 car on rare occasions
Had Dale Earnhardt Jr. wanted to change from No. 8 to No. 3 beginning with the 2002 season or afterward, there's little doubt that NASCAR would have put the wheels in motion with Richard Childress Racing to make it happen.
In fact, Earnhardt drove the No. 3 Chevy for RCR for the season-opening Infinity Series race at Daytona in 2002. Earnhardt started fourth and ended up edging Michael Waltrip for an emotional triumph that he celebrated by spinning his car around in the grass on his way to Victory Lane. Childress later displayed the car in his team's museum in North Carolina.
Later that year, Earnhardt ran the No. 3 Chevy at Charlotte Motor Speedway, only to get caught up in a wreck and finish 36th.
His final ride under Dale Earnhardt Sr.'s signature number came in 2010 in another Xfinity Series race, holding off Joey Logano and Kevin Harvick in a green-white-checkered finish at Daytona International Speedway. Afterward, Earnhardt said he was done competing in the No. 3.
"I'll never consider it. I think it's important for everybody to know that's as concrete as it gets. I enjoyed it, but it's hard for me," he said, according to Autoweek. "It's a balancing act between the public and me and my own feelings. It was real emotional, preparing for it and putting it together. Is Rick (Hendrick, his team owner) OK with it? Did he mind? Is Richard happy with his role? Is Teresa (Earnhardt) truly OK? It's just so damn hard to know how everybody feels about it."
Like Sportscasting on Facebook. Follow us on Twitter @sportscasting19.