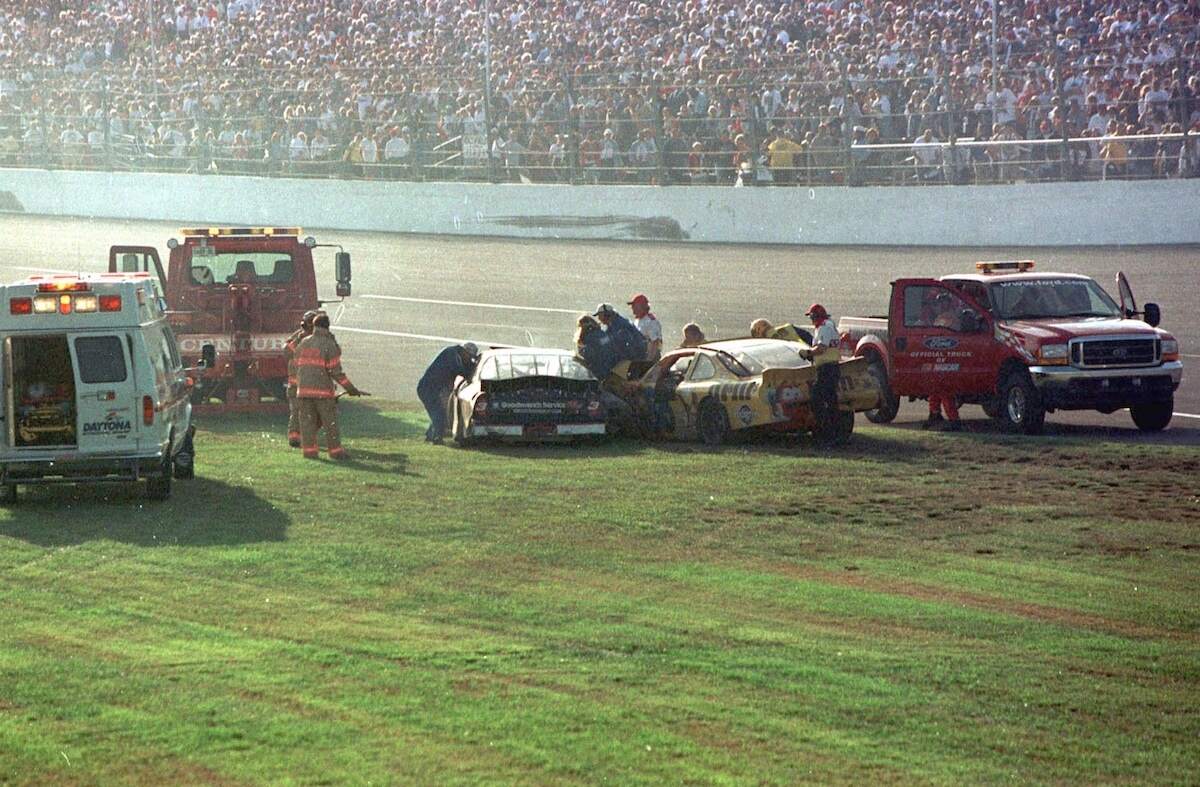 Dale Earnhardt Delivered Chillingly Prophetic Words Multiple Times Just Before His Untimely Death 20 Years Ago at Daytona 500
Dale Earnhardt's death at the 2001 Daytona 500 shocked the sports world. In the weeks, days, and even minutes before he died, Earnhardt prophetically spoke about dying.
February 18, 2001. It was the tragic Daytona 500 that shocked the entire sports world with Dale Earnhardt's death. Many fans took solace in knowing that one of the greatest and most beloved drivers in NASCAR history died doing what he loved.
That's exactly the way Earnhardt wanted to be remembered. In the final weeks, days, and even the last hour of his life, Earnhardt made multiple comments about death, which, in hindsight, were chillingly prophetic. 
Sterling Marlin and Dale Earnhardt discussed his death a month before Daytona 500
Following the fatal accident at the 2001 Daytona 500 that killed Dale Earnhardt, many fans blamed Sterling Marlin for causing the whole thing. In a press conference, Marlin defended himself and surprised reporters when he revealed that he and Earnhardt discussed dying in a race just a month earlier, according to ABC News.
"Dale said, 'If I ever get killed in a race car…I don't want nobody crying and moaning and groaning… It's what I love to do, and don't worry about it,'" Marlin said. "That's the way Earnhardt was, and when he buckled that seatbelt Sunday, he knew anything could happen."
Every NASCAR driver recognizes the inherent risks each time they strap inside the vehicle and whip around the track traveling nearly 200 miles an hour. Fans know this as well. It's a big part of the appeal, watching humans push the boundaries of speed and endurance while avoiding accidents or, even worse, death, which potentially lurks around every turn.  
Tells Fox NASCAR audience about to witness something 'never seen'
Dale Earnhardt was at peace with himself and the world on February 18, 2001. Darrell Waltrip would later recall how Earnhardt told him before the running of the 2001 Daytona 500, "I'm the happiest I've ever been in my life."
For Fox Sports, it was a happy day. It was the network's first time broadcasting the Daytona 500, the Super Bowl of NASCAR. Fox had been promoting the race for weeks with a big focus on Earnhardt, a favorite to win the race. He was chasing his second Daytona 500 victory and 35th overall win at the famous track.
Before the race, cameras showed a relaxed Earnhardt, resting in his pits a few hours before the race. Fox's Matt Yocum got the last interview with Earnhardt, and what he had to say was chilling.
"A little wind today. A little exciting. I think it's going to be some exciting racing. You're gonna see something you probably had never seen on Fox," Earnhardt concluded with his trademark smirk. 
Dale Earnhardt talks about death just moments before it happens
It was a very clean Daytona 500. Through three-quarters of the race, there were just a pair of caution flags. That lack of accidents and thinning of the field meant the "big one" happening wasn't a matter of if, but when.  
On lap 173, it happened in spectacular fashion. Tony Stewart took the brunt of it on the back straightaway when he got turned, and his bright orange No. 20 car went airborne backward, sailing through the air down the track, before flipping and repeatedly tumbling over and over. When the smoke cleared, 18 cars were eliminated from the competition. 
The race was red-flagged. During the break, many of the drivers were talking with their teams about upcoming strategy and the awful accident they had just witnessed. Dale Earnhardt communicated over the radio with car owner Richard Childress about what had just happened. 
"Richard, if they don't do something to these cars, it's going to end up killing somebody," Childress said, recalling his final conversation with Earnhardt in the documentary, The Day Remembering Dale Earnhardt. Twenty laps later, Earnhardt died in a crash on turn four. 
Dale Earnhardt's death jolted the system. NASCAR turned that heartbreakingly painful moment into a whole host of safety changes. There hasn't been a death in NASCAR since. And considering all the things Earnhardt said about dying, including just moments before his own death, he was at peace. He died doing what he loved. Life was indeed good.